'Broken Biscuits,' crumbly play (1812 Productions)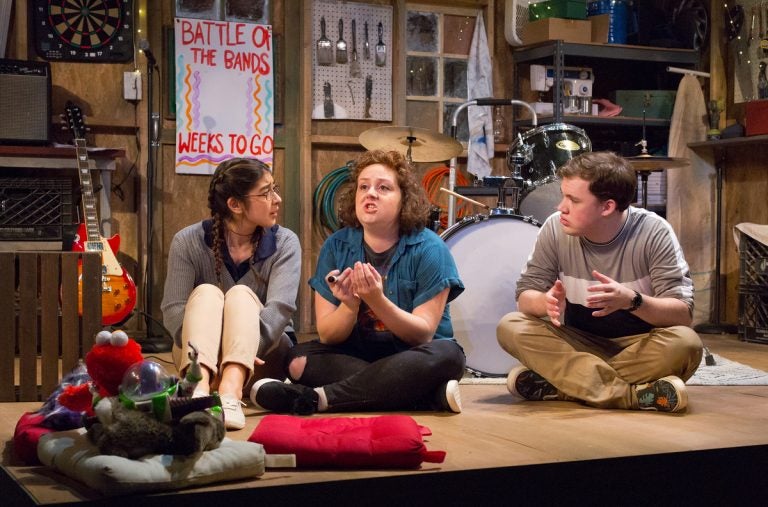 "Broken Biscuits" is so meandering and inconsequential, it erases itself even as it's playing on stage. I'm not saying that a play has to have impact to work. But "Broken Biscuits," about three unexceptional teens graduating from high school, leaves you struggling to appreciate two hours of the mundane.
To make matters worse, this play by British playwright Tom Wells feels forced in its American premiere from 1812 Productions. In fairness, the script offers 1812's artistic leader Jennifer Child's little to work with, and she directs "Broken Biscuits" to move as swiftly as a talky play can. Yet there's much fluff posing as comedy – silly dancing that goes on too long toward the front end, discordant singing that takes up the middle and back ends. The lead character is a girl overwritten as bossy, arrogant and negative about everything but herself. Childs directs the role to be played with ebullience, but that doesn't cover the fact that no audience member with any judgment would spend more than five minutes with her in real life.
Wells wants us to look at outcasts, so he makes his three characters feeble in whatever they do – instead of full-blown characters, we get a one-dimensional picture of failure. It comes from their talk, often about nothing, and from a thin plot. The story's set in a small British town, and inside the garage where a Type-A girl (played by Amanda Jill Robinson) has installed a drum set she's picked up on the cheap. She entices her two friends – a shy computer-geek girl (Leigha Kato) and a decidedly unacademic boy who's gay (Michael Macri) to form a band and enter a Battle of the Bands contest. This, she says, will make them cool and even glamorous.
The play is bald with stereotypes, especially in its pedestrian references to being gay and to sex in general. The lead character can't play the drums, the other girl can blow out only a few notes on a flute and the boy acquires a guitar he knows nothing about – these kids are all about the fame and glamour and nothing about the real work.
There's plenty of music in the play (by Matthew Robins) as the characters try to write songs, sing them and back them up instrumentally — always badly, of course, which gets old fast. By the show's sudden feel-good turn, the three of them play and sing as if they've been studying for years. And we are supposed to believe it.
Maria Shaplin's design forces annoying side-stage lights on us for no apparent reason during some later scene changes; one of them does serve the purpose of masking a major change on stage by not allowing us to see past the light.  Most surprising, though, is the work by Marla Burkholder, a dialect coach of well-deserved ample reputation. She has all three characters speaking English quite differently; one has a firm but overdone British accent throughout, one loses his lesser accent in the second act, one has a weird accent that seems warped from mouth-marbles. This means it's especially hard to make out some of the dialogue and also the lyrics although neither, to me, mattered much after a while.
_
"Broken Biscuits," from 1812 Productions, runs through Oct. 28 at Plays & Players Theatre, on Delancey Place between 17th and 18th Streets. 215-592-9560 or 1812productions.org.