'Bold, systemic change': Philly Chief Defender Keisha Hudson says criminal justice reform requires it
Listen
7:00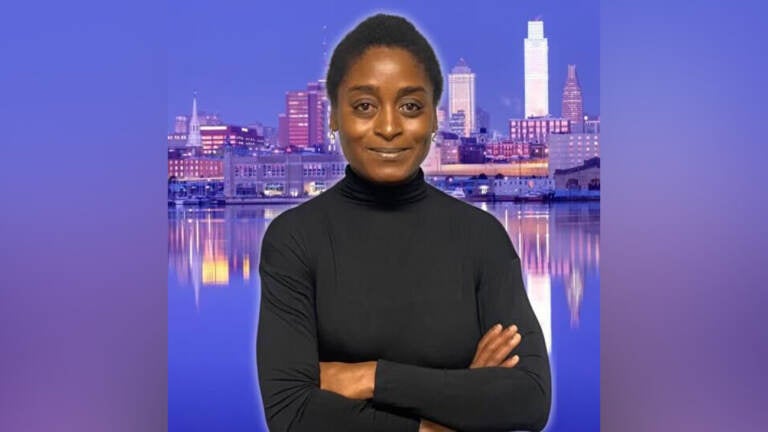 The Defender Association of Philadelphia has a new leader. Keisha Hudson was recently named chief defender, to head the team of more than 500 attorneys and staff. Hudson is no stranger to this type of work. One of her more recent posts was as deputy chief public defender in Montgomery County, but her tenure ended in controversy and with a lawsuit after she was fired for advocating for bail reform.
Now, Hudson is back in Philadelphia, landing the top job at the office where she began her career 19 years ago. She spoke with WHYY host Cherri Gregg.
—
Keisha, welcome.
Thank you for having me.
So how does it feel to be back where it all began?
You know, it feels incredible. This is where I began my public defense career. I was here in 2002, as a young public defender, and this is where I learned how to be a trial attorney, but also how to be an effective, zealous public defender. And I'm thrilled to be back to work with an incredible staff to lead this organization forward.
For folks who have an idea or think they know what a Defender Association does, can you give me a little short, brief explainer on that?
The Defender Association has been around since the mid-1930s. We have been here prior to the landmark United States Supreme Court decision Gideon v. Wainwright, which said that every indigent person has a Sixth Amendment right to counsel. So we were Gideon before Gideon was Gideon. We represent about 70% of the people accused of crimes in the city of Philadelphia. We are the line between the people who are coming into the criminal justice system who cannot afford an attorney and the immense resources that the prosecution's office in the state could bring to bear in every criminal prosecution. And we take that mantle seriously in terms of the quality of representation. But what I'm really incredibly proud of is not just the work we do in the courtroom, which is critical, but also identifying and working to change the systemic issues in the criminal justice system. We know the issue of race and racism and structural racism really is at the heart of the criminal justice system.
When I first heard of you, you criticized the bail system in Montgomery County at the time you were the deputy chief defender. You and your chief, Dean Beer, were fired for zealous advocacy. You sued the county and settled the case. Could you talk about what it was like for you as an advocate going through that and the lesson you learned from it?
Let me just take the time to say Pennsylvania is the only state in the country where the state legislature does not provide a single penny to support public defense agencies. And so every public defense organization in Pennsylvania, except for the Defender Association in Philadelphia, is funded through the counties. So chief defenders are very much appointed by political entities and serve at the pleasure of political entities. So that's one, I think, systemic issue that we have to change statewide. So both Dean and I understood that we served at the pleasure of the county commissioners, and that did not impact the way that we approached the work that we had to do. We have a duty to our clients. That is our focus and [we] knew that that may come at some cost. And ultimately, in our case, it did come at a cost. But advocating for pretrial reform, advocating for bail reform was really crucial. So we filed an amicus brief in support of the ACLU of Pennsylvania's litigation in Philadelphia because we wanted to shine a light on what is going on in Montgomery County and, quite frankly, every other county in Pennsylvania. I don't regret the decision that we made because, again, these decisions are always informed by what's in the best interests of our clients and what do we need to do to advocate strongly for our clients.
That sort of thrust you into the spotlight in a way. And there were protests and a lot of people came to your defense. That sort of fits in with the way it is in Philadelphia because your predecessor was not afraid to take some fire when it was time. How do you see your role? Because some defenders prefer a more quiet advocacy. How do you view it? 
Well, I've never been quiet since birth. Quite frankly, I feel compelled to strategically, to make sure that I'm working collaboratively, particularly and most importantly with the staff here and our community and criminal justice stakeholders. But at the end of the day, we are in a crisis of mass incarceration. It is the civil rights movement of our time, and we are not going to impact criminal justice and mass incarceration footprint with small incremental changes. We're going to have to take bold, systemic change and bold systemic reform.
As a follow-up to that, we've seen a lot of progress when it comes to criminal justice reform. And right now, though, the city is dealing with a record homicide count. We're also dealing with a gun violence crisis. How do you hold the line? And what are your plans for holding the line as folks live in fear as we see the numbers tick up?
What we have to be really mindful of this is that we cannot be reactive when we have these crises — that is, rising gun violence and a rising homicide rate. We tend to see the narrative shifting towards it should be punitive solutions, and that people convicted of gun possession or gun crimes need to be given really high sentences. That is a playbook that we have followed for many years now, and it has not worked. I mean, if we're going to even meet the moment, we have to have some new approaches, and the solutions are there. We have to invest in those solutions on the prevention points in terms of really getting to the root causes of what is driving gun violence, and maybe put our resources there and think strategically about what we need to prioritize in terms of getting to the root causes of those issues.
And as we wrap up, got to ask you: Where do you get this motivation and passion from? Because this is not easy work.
No, it is not. I have to say it's from my upbringing. I was born and raised in Jamaica, a very humble upbringing, but by incredibly strong women role models in my life who were advocates, who were going to fight and push to make life better, not just for their families, but for their community. That sense of injustice was further cemented when I immigrated to America at the age of 15 and looking around and seeing the injustice and the issues around racism and the experience of African Americans and immigrants and Jamaican Americans, everyone from the diaspora. At that point, a very strong conviction developed that I sensed I had to do something about that and whatever I decided, whatever life was going to be aimed at working alongside people to advance racial and criminal justice reform.
—
Keisha Hudson is the new chief of the Defender Association of Philadelphia. For more information, go to phillydefenders.org.