Bill seeks more protection for pedestrians during sidewalk closures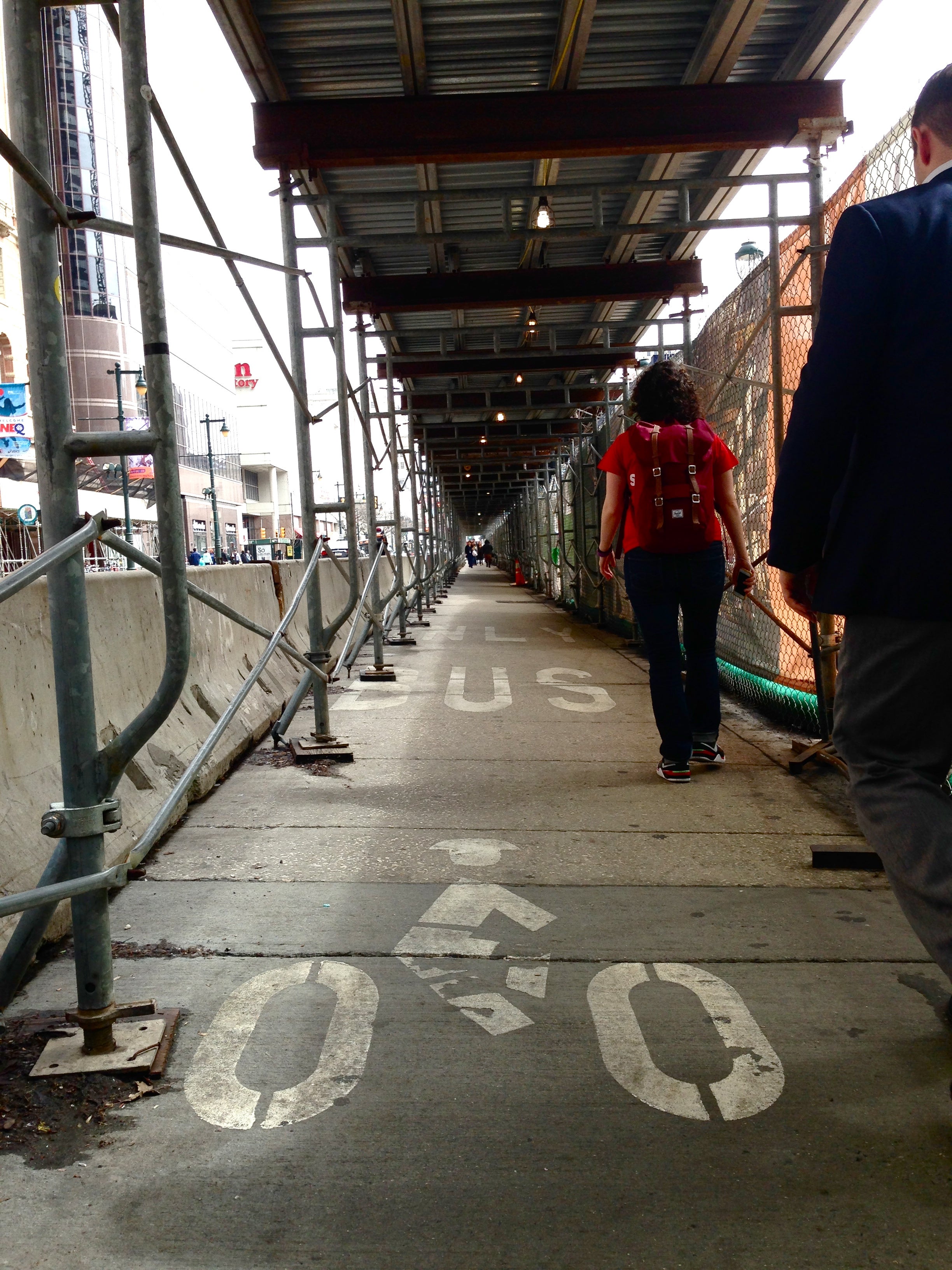 At the last City Council session of the year, Councilwoman Helen Gym introduced a bill, cosponsored by Councilman Mark Squilla, to bolster pedestrian safety requirements at construction sites that impede sidewalks.
The legislation would amend a law crafted by then-Councilman Jim Kenney that requires those seeking permits for sidewalk closures to prove that a protected walkway would be infeasible. Gym's legislation would alter the law to expand the requirement to permits for partial sidewalk closures in addition to full sidewalk closures. If covered walkways are not possible, Gym's bill would require the permit-seeker to instead have an engineer analyze whether a different sort of protected walkway can be installed in its stead (as long as it doesn't obstruct traffic).
The new bill defines a protected walkway as "A portion of a sidewalk, roadway or street open to pedestrian traffic that is bordered by barriers adequate to protect the safety of pedestrians. "
After the permit applicant's engineer performs the analysis, the Streets Department's engineers will review their findings.
In an interview after the end of the council session, Gym told PlanPhilly that her office receives numerous complaints about obstructed sidewalks, especially from disabled and elderly residents. She said that the current construction boom makes this new legislation a priority.
"We are finding that there are instances where a covered walkway is not possible, so now we need the developers and construction company to prove they are still going to protect pedestrians anyway," said Gym. "We want to work very closely with the Streets Department to strengthen Mayor Kenney's already good law and enact stronger safeguards to ensure pedestrian safety."
Gym declined to comment about the Streets Department's role in the process further, but she talked broadly about what she hoped to see in the future.
"There needs to be an incentive for pedestrian safety and there needs to be a disincentive for blocking both sidewalks and traffic lanes," said Gym. "It shouldn't be easy or cheap to do. We think a covered walkway would be the most ideal situation, as it both protects pedestrians and doesn't take up a lane of traffic. If a developer isn't able to do that they have to prove why they can't. We want to make sure they don't just sit on the project for a really long time."
As the tempo of constriction increases in the city, numerous obstructed sidewalks have forced pedestrians into the street in densely populated and highly walkable areas like Center City and University City. These neighborhoods often also host dense automobile traffic, creating hazardous conflicts. The issue prompts much consternation among pedestrians (and much coverage in PlanPhilly).
"It does take aim at one of our biggest concerns," said Deborah Schaaf of pedestrian advocacy group Feet First Philly. "We've been pushing for more use of protected walkways."
Schaaf also expressed a desire that the engineering analysis be posted online so the public can review the findings.
"Enforcement is a continuing problem because of limited city staff," Schaaf explains. "It would be great if the city could inform the public with better signage and by making these those reports available to the public so we could help to do that."
David Feldman of the Development Workshop said that the bill will be of interest to his members too and that they will review the language at their December membership meeting next week.
"We were aware that both City Council and the administration are looking at ways to move towards Vision Zero and reduce pedestrian casualties," said Feldman, when informed of the legislation. "Although we hadn't [previously] heard specific proposals about how to address construction phase of large projects."
Council is now recessed until the new year. The first full council session will be held on January 26 and Gym's office hopes that committee hearings could be held as early as February.
WHYY is your source for fact-based, in-depth journalism and information. As a nonprofit organization, we rely on financial support from readers like you. Please give today.