Bike, pedestrian improvements connect Spring Garden Street, Schuylkill River Trail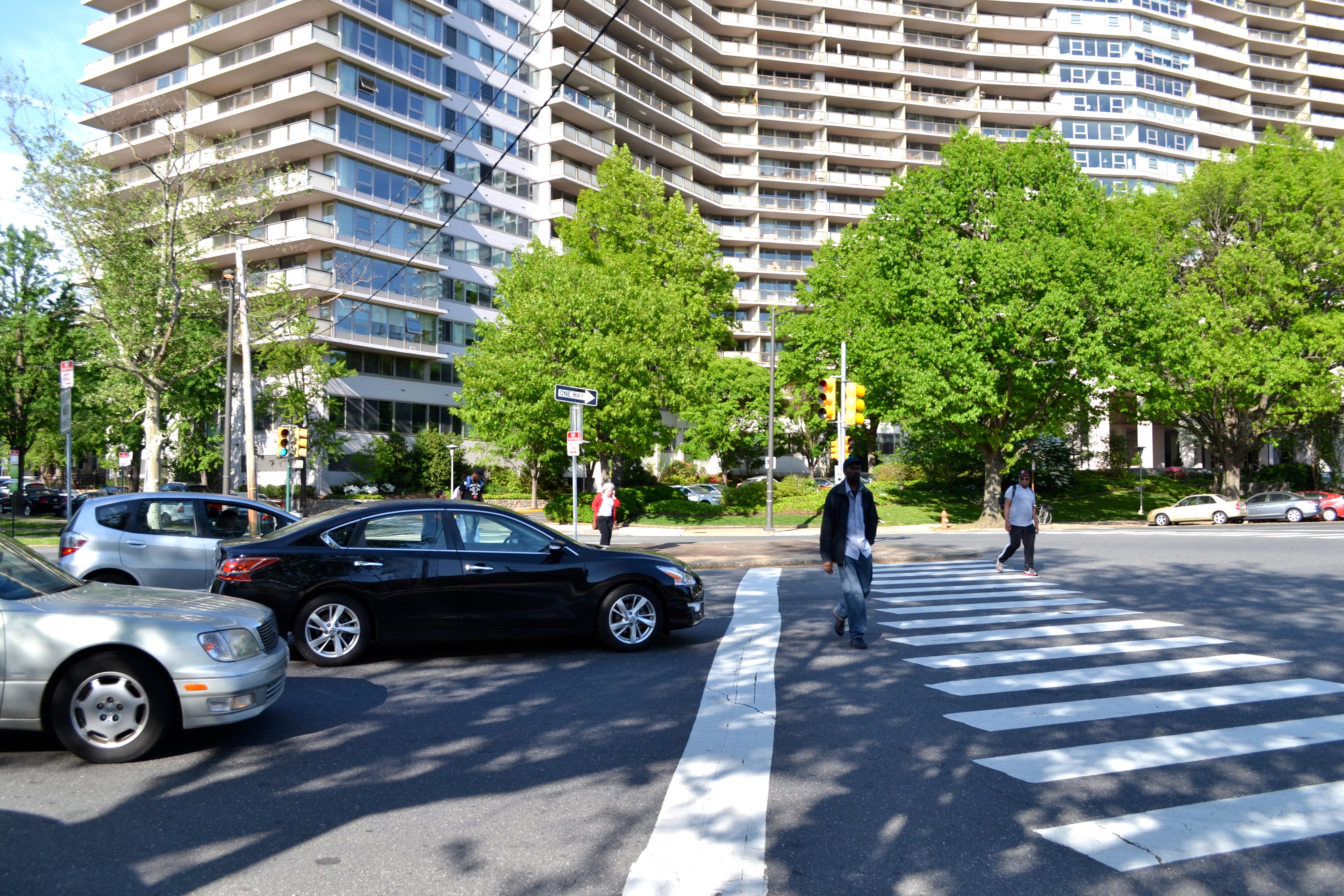 Long overdue bicycle and pedestrian improvements will soon help people cross from Spring Garden and 25th streets to the Schuylkill River Trail – an early action step in plans for the Spring Garden Street Greenway.
Improved markings will make it easier to navigate from Spring Garden Street across Pennsylvania Ave and Kelly Drive

Some of the bike lanes will be repositioned between through travel lanes and new turn lanes

25th Street will also see improved markings and signage

At this point at Kelly Drive and 25th Street a bike box will help cyclists navigate across Kelly Drive

At key intersections stop bars will be moved back 12 feet from crosswalks
NEW MARKINGS:
Improved crosswalks will be painted where Spring Garden and 25th streets meet Pennsylvania Avenue and Kelly Drive, and the vehicle stop bars at key points will be moved back 12 feet from the crosswalks.
25th Street will get bike lanes between Kelly Drive and Pennsylvania Ave. A bike box will help cyclists travel from 25th Street, across Kelly Drive to the Schuylkill River Trail.
Right-turn lanes will be installed on both east and westbound sides of Spring Garden Street between Pennsylvania Ave and Kelly Drive. The bike lanes will be shifted away from the curb in these areas so that cyclists are positioned between the through travel lane and the turn lane. A bike box will be installed to help cyclists travel eastbound from Spring Garden Street, across Kelly Drive. Another will be installed where the westbound Spring Garden Street meets Pennsylvania Ave.
"The main thing we're trying to do is make it so people can find their way from Spring Garden Street, which is the route of the East Coast Greenway and is one of the few ways to get across town easily, to the Schuylkill River Trail at Lloyd Hall," said Mayor's Office of Transportation and Utilities (MOTU) Bicycle/Pedestrian Coordinator Charles Carmalt.
"It's really about making a seamless connection from Pennsylvania Ave and Spring Garden Street to the Schuylkill River," said Pennsylvania Environmental Council (PEC) Program Manager Tony Spagnoli.
The project also includes improved directional signage.
"The most important piece of this is that wayfinding aspect," Spagnoli said. "People just don't know where to go."
Carmalt said the improvements are not rocket science but are expected to help all roadway users – even drivers.
"It's amazing how much that type of paint helps," he said.
The improvements should appear shortly. They are included in a current contract, and the contractor has been instructed to get to these sites sooner rather than later.
"This has been a very slow project that has taken a very long time to finally get ready," Carmalt said, noting that the contract took a long time to get approved.
Spring Garden Street Greenway – Phase One
These roadway markings and the new directional signs were identified in phase one of the Spring Garden Street Greenway (SGSG) plans. The SGSG effort, led by PEC, envisions transforming Spring Garden Street into a greened corridor with separated bike lanes for travel between the city's two rivers and along the East Coast Greenway – a developing Maine-to-Florida bicycle route.
"Currently, the Spring Garden Greenway, there's not a lot of momentum behind it right now," Spagnoli said.
PEC is working to assemble funding sources, doing more research and working with MOTU. Funding for these upcoming roadway changes was provided by the William Penn Foundation.
"We have to work with what we have, and we have to work within the financial constraints that we have," Spagnoli said. "This is kind of the best that we can do for right now."
Regardless of the full SGSG vision being built, Spring Garden Street is still part of the East Coast Greenway and still provides a vital cross-city bicycle route that these new road markings and signs will enhance.
"I think increasing connections in any fashion helps build positive pressure on building better infrastructure," Spagnoli said. "A lot of what we're doing is trying to increase awareness and build a base of support for the greenway, so by doing these small improvements we're hoping that helps build that base of support."
This summer PEC will work with businesses to install more bike racks on Spring Garden Street and with volunteers to plant more trees along the corridor.
"That's one of the things that we think is just a visual improvement to the corridor," Spagnoli said. "It doesn't do much to get a greenway built, except it makes the space a little nicer – that's our ultimate goal."
WHYY is your source for fact-based, in-depth journalism and information. As a nonprofit organization, we rely on financial support from readers like you. Please give today.