'Every damn ugly thing in the world': Biden bemoans dangers of burn pits in return home to promote new law that helps veterans
Biden stressed that the new law doesn't require vets to prove that burn pits caused a range of maladies and certain cancers, including brain cancer.
President Biden made a rare official appearance Friday in his home state of Delaware, commiserating with vets and touting a new law that expands benefits to those exposed to burn pits, Agent Orange, and other toxic substances in U.S. conflicts since the Vietnam War.
Biden has blamed burn pits in Iraq for causing the brain cancer that killed his son Beau in 2015. The president described them in graphic detail during his 20-minute speech at the Army National Guard base near New Castle that's named after his late son.
"Every damn ugly thing in the world was burned in it. Everything. Poisonous chemicals, jet fuel. The toxic smoke was thick with poison spreading in the air and in the lungs of our troops,'' he said.
Biden didn't quite repeat his claim about Beau's cancer, but did point out that Beau was exposed to burn pits when he served in Iraq with the Delaware Army National Guard as a lawyer for soldiers while he was the state's attorney general.
"I remember Beau calling, saying how he collapsed on a run,'' he told the crowd of about 200 people, including several of his son's colleagues in the Guard. "This is personal to them and it is personal to all of us. It's not unique to me and my family."
Biden's voice was mostly subdued during his speech, except when he stressed that the new law doesn't require vets to prove that burn pits caused a range of maladies and certain cancers, including brain cancer.
"Why should the burden be on the victim,'' the president shouted, "to demonstrate the problems they've suffered since then?"
Before the president arrived, Veterans Affairs officials held a health and testing fair for vets, including assessments for toxic exposure, support targeted to women who served, and benefits enrollment assistance.
Retired Army mechanic vet Tyrone Hall, who lives in Townsend, said he will seek benefits for the chronic fatigue, irritable bowel syndrome, and short-term memory loss he's suffered since his tour in Iraq in the early 1990s.
Hall said he and other members of his unit spent plenty of time in battle zones.
"We were around oil well fires. It looked like the end of the world,'' Hall recalled. "And we sat there for about three hours and then also we went to Basra, a little town, where when the wind shifted, it blew the smoke from the oil fires, which we didn't, we didn't know we was breathing in. So, yeah, I've been exposed to it."
The Honoring Our Promise to Address Comprehensive Toxics Act, or PACT Act, was a rare bill that passed overwhelmingly in both chambers of the divided Congress. Biden told the audience he was adamant that it become law, "come hell or high water."
He signed the bill in August, but said that while it was working its way through the legislative process, "I made it real clear to the United States Congress, if they didn't pass this damn burn pit bill, I was going to go on holy war. Not a joke."
Biden urged residents of Delaware and every state to visit va.gov/pact to learn about the law, and if they think they are eligible, apply for benefits. He stressed that no one needs a lawyer, and that officials are obligated to help them qualify for treatment and compensation, if applicable.
As he spoke, the president was flanked by U.S. Department of Veterans Affairs Secretary Denis McDonough, Gov. John Carney, the state's congressional delegation, and Major General Michael Berry, adjutant general of the Delaware National Guard.
U.S. Sen. Tom Carper, who served in the Navy and is the only Vietnam veteran in the Senate, said "it's critical to get the word out about what benefits and services are available to our nation's veterans."
Sen. Chris Coons said the "PACT Act helps us repay the debt we owe to those who have served our country, but there's more work to be done to ensure that every veteran in Delaware and across the country receives the benefits they have earned."
Biden did pivot once from his remarks on the new law. That was to praise the most senior member of the audience — 101-year-old World War II bombardier Ray Firmani, who lives in neary Elsmere.
Biden praised Firmani for flying "25 missions in World War II over Germany,'' the president said. "And my claim to fame is I used to be his county councilman. Thanks for being here, pal. You're the best."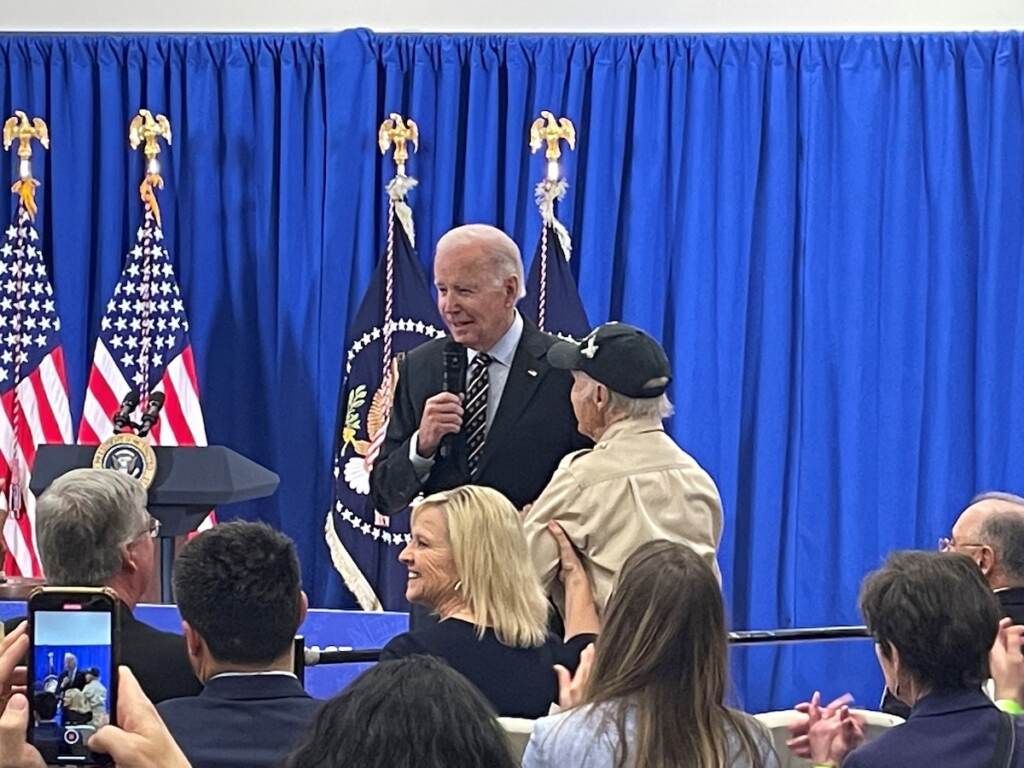 After Biden departed, Firmani wore a wide smile.
"It was a thrill, of course,'' Firmani said.
The former airman isn't very familiar with the PACT Act, but said, "I'm sure the president will take care of this."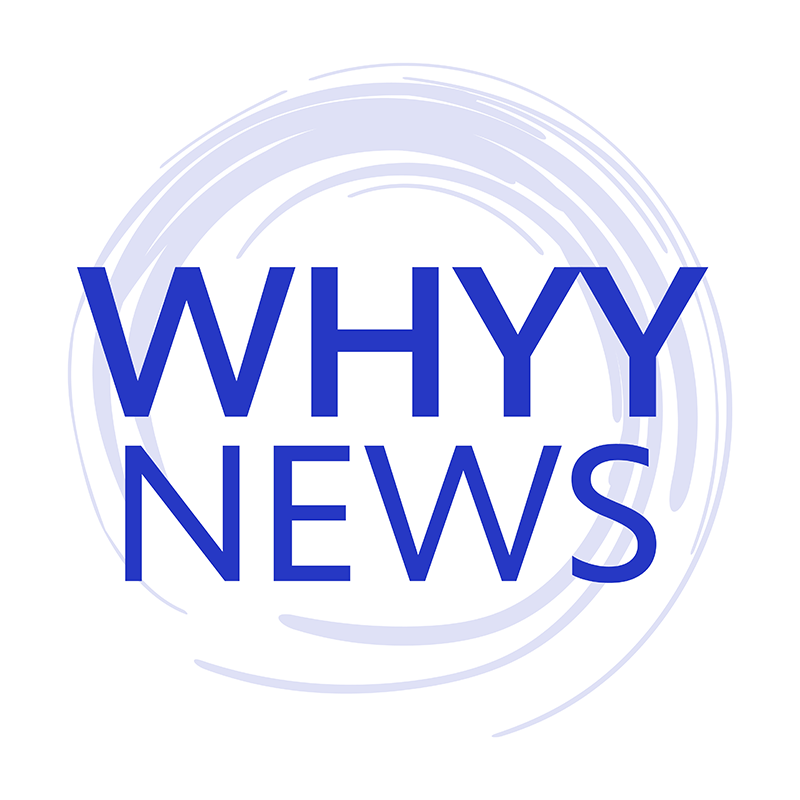 Get daily updates from WHYY News!
WHYY is your source for fact-based, in-depth journalism and information. As a nonprofit organization, we rely on financial support from readers like you. Please give today.