Bears awaken to ongoing debate about their place in N.J.
Hunters and preservationists clash on the best means for dealing with New Jersey's bear population. And no one seems to agree with Gov. Phil Murphy's decision to halt hunts.
For Carol Stypulkoski, spring means time in the gardens around her Boonton, New Jersey, home, longer days, and bringing in the bird feeders at night.
A registered nurse who works in neonatal intensive care, Stypulkoski enjoys feeding the birds. But she knows from long experience if she leaves a feeder out overnight, bears will tear it apart for the seed and suet. Stypulkoski lives at the edge of New Jersey's bear country, in the northwest corner of the state.
According to some wildlife experts, New Jersey has the densest population of black bears in the nation, most living and breeding in a stretch roughly defined as north of Route 76 and west of Route 287. Stypulkoski's house is just about a kilometer from Interstate 287, on a quiet cul-de-sac away from downtown Boonton at the top of a hill. The woods that start at the edge of her backyard are dense, but not very deep.
Bears are just part of life for Stypulkoski and her neighbors, as they are for many residents in the northwestern counties of New Jersey. They are a common sight in the spring and fall. Sometimes she worries that one might approach while she's focused on gardening, unheard until it is nearby. Years ago, she said, a bear interrupted a neighbor's garden party, helping itself to the buffet while the adults hustled the kids inside. "They're usually not that aggressive. They usually just run away," she said.
Bears like South Jersey too
While bear sightings are more common in places like Morris County, their presence farther south can lead to calls to police and, perhaps, an appearance on the local news. In 2012, Vineland police spent a summer day chasing a young bear before shooting it with a tranquilizer while it sat in a tree.
South Jersey will likely see more bears in the years ahead. According to the state Department of Environmental Protection, the bears' range has been increasing steadily over the past 20 years. Black bears have been seen in each of the state's 21 counties. This week the DEP sent out a warning to remind the public that hibernation season is coming to an end and black bears are starting to come out of their winter dens and will be searching for food.
Bear population control
Each year, protesters demonstrate against New Jersey's bear hunt. Last winter, Gov. Phil Murphy, who had pledged to end the hunt during his election campaign, instead banned hunting on state land, a move that pleased almost no one. Animal rights activists saw it as a betrayal, while hunting groups sued to reopen the lands.
"We felt he broke a commitment by allowing the hunt to continue," said Jeff Tittel, director of the New Jersey Sierra Club.
Cody McLaughlin, the lead spokesman for the  New Jersey Outdoor Alliance, called ending the bear hunt on state lands "a huge slap in the face to the people that literally pay for those lands" through licenses, fees, and other charges.
State officials are not certain if the moratorium will continue for this year's hunt. Last year, fewer bears were killed. Among the many facts in dispute are whether that is due to Murphy's restrictions or an indication that, after decades of growth, the bear population is now declining.
For most of New Jersey's history, bears were killed indiscriminately, with the population declining sharply in the 1800s, according to a history posted by the DEP. In 1953, bears were classified as a game animal in New Jersey. That limited the hunting, but numbers continued to decline. Estimates vary, but by the beginning of the 1970s, few bears were left in New Jersey, possibly only 50 to 100 throughout the state.
Officials ended the bear hunt in 1971.
The comeback has been remarkable. Since 1980, New Jersey's bear population has increased, with the animals spreading steadily to the south and east, finding their way into communities that had not seen a bear in generations. Some have come from the forests of Pennsylvania and New York into New Jersey, but Jersey bears also breed faster, producing the largest litters of any bear population in the country. Most survive to adulthood.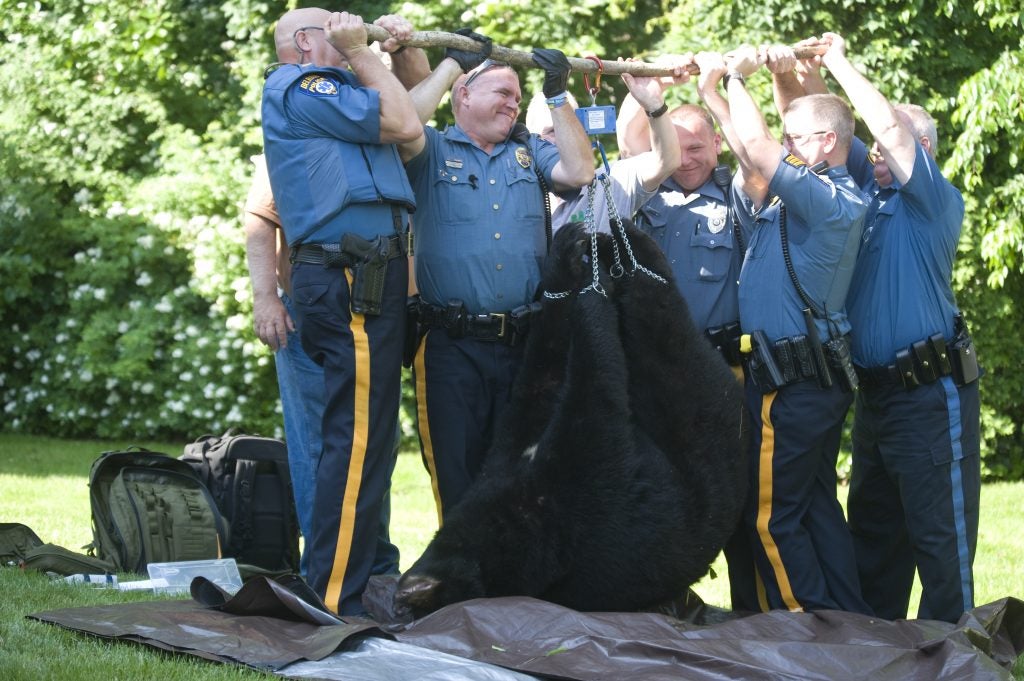 Big animals
Each year, the DEP takes hundreds or even thousands of bear reports. Some are just sightings, while others can be more serious. In 2018, there were 20 reports of bears entering homes.
A 400- to 500-pound bear is about average for New Jersey, according to Larry Hajna, a spokesman for the state Department of Environmental Protection. They can get much larger, with some topping 800 pounds. It's difficult to get a good estimate of the total bear population in the state, but he said between 2,500 and 2,800 roam that northwest corner of the state, with a smaller population spread across the rest of New Jersey. Some estimates put the statewide number at 5,000.
"They do need large tracts of open space. Even in the northwest of New Jersey, there's really not a lot of true wilderness. There is some development sprinkled in all areas," he said.
In late April through early May each year, the DEP puts out a bear warning as the animals begin to wake from their dormant winter, as hungry as you'd expect for a large omnivore that went months without food.
The DEP publishes a list of bear safety tips. Some may seem obvious, such as never feed a bear or approach one. Do not try to take food from a bear or get between a mother and her cubs. Make sure the bear knows you are thereby making noise.
Others may seem counterintuitive. For instance, you should never run from a bear, but instead back away slowly. And avoid making eye contact.
Each year, bears kill livestock and rabbits penned outside. The most common issue by far is bears getting into trash cans. According to Hajna, bears rarely harm human beings.
Rarely is not never.
On Sept. 21, 2014, Darsh Patel, a 22-year-old Rutgers senior was hiking with friends in the Apshawa Preserve in West Milford when he was mauled to death by a 300-pound bear. The bear was later shot and killed by police. The incident is one of a small number of bear attacks on record, and the only fatal bear attack in New Jersey history.
Few areas of agreement
Tittel and McLaughlin do not seem to agree on much, presenting fundamentally different assessments of the state's bear hunt, the bear population and the best course for the future. But they both see bears as a vital part of New Jersey's ecosystem.
"It's still a symbol that we have wild places in New Jersey. That we're not just all paved over with shopping malls and McMansions," Tittel said. "I think the black bear symbolizes that."
"Nobody cares more about the species we pursue than hunters," said McLaughlin. "People are kind of Disney-fied, if you will, that hunting is bad. When, in fact, we're helping the population in the long term."
According to McLaughlin, New Jersey's bear population far exceeds what the environment can support, leading to increasing conflicts with human beings. He described the issue as simple math, with too many bears and too many people in a relatively small state.
People have overpopulated the area, countered Tittel, who said the bear population has started to decline after a long increase. He cited the reduced number of bear incidents included in state reports in recent years, in addition to the few bears taken during the most recent hunt. It's unlikely the bears and people have both begun behaving better, he said, and more probably that fewer bears inhabit the state.
While some activists want an end to the bear hunt, according to Tittel, the Sierra Club is not against all hunting. But he argued that any hunt should be part of an overall bear management plan, including nonlethal means of population control and better rules on dealing with human sources of food such as trash.
"This hunt is really a trophy hunt, because everybody's looking for the biggest bear they can bag," Tittel said.
"This is a conservation hunt. It's not a trophy hunt," McLaughlin said in a separate interview. He said hunters face criticism if they kill small bears, or if they look for the largest bears.
Stypulkoski enjoys her occasional bear sightings, although she said she respects the animals and keeps her distance. Her husband, Peter, will sometimes warn neighbors with children if there is a bear in the area.
While McLaughlin said he loves bears, he believes the current population is too much of a good thing. The density of human and bear populations is not sustainable.
"You're not supposed to see bears in your backyard. That's just asking for conflict," said McLaughlin. "They should be in the woods where they belong."
WHYY is your source for fact-based, in-depth journalism and information. As a nonprofit organization, we rely on financial support from readers like you. Please give today.