Back to the future to renew Fairmount Park
Fairmount Park is like Philadelphia itself: A legacy asset with unrealized potential.
We are the lucky beneficiaries of the prescient 19th century Philadelphians who protected great green lungs astride the Schuylkill River as parkland. The modern-day question: How do we perpetuate Fairmount Park as a treasured public and environmental amenity for the 21st Century city?
The New Fairmount Park plan* released Tuesday offers answers by building on Fairmount Park's strengths to inform its future. The plan is about rebuilding missing links in the park's networks of trails, creeks and sites; connecting with Philadelphians; making equitable investments; emphasizing robust engagement with the park while balancing diverse demands; enhancing ecological systems; and fostering a new culture of stewardship. Some solutions presented are elegantly simple, cost-effective, and achievable. Others will take time.
Earlier this week PlanPhilly's Christine Fisher explained the plan's emphasis on connectivity. In the coming weeks we'll also be taking you up close to a few of the plan's focus areas – exploring issues around assets, access, and near-term fixes. Here are key ideas threaded through The New Fairmount Park plan that seek to build on three of the park's existing advantages: Hydrology, heritage, and park users.
Water, water everywhere
As much as The New Fairmount Park is about the park itself, it's very much about enhancing the river that runs through it and connecting Philadelphians with our city's water systems – natural and manmade.
Fairmount Park was founded, in bits and pieces, to help protect the city's major water source from encroaching industrial development. Or in the language of the 1860s: "ground appropriated for the preservation of the purity of water." Today Fairmount Park still serves this original purpose: 1.1 million Philadelphians get drinking water from the Schuylkill River, through Fairmount Park. All of that green also helps manage stormwater and filter runoff – priorities very much in line with the Water Department's celebrated Green City, Clean Waters green infrastructure plan – which also helps the improving health of the Schuylkill.
If the Schuylkill River is the park's spine then the 16 creeks that flow through Fairmount Park are its ribcage. The plan casts these creeks as a key framework for drawing park visitors through the park and down toward the river in ways that existing infrastructure can't or doesn't.
Roberts Run and Chamounix Creek both begin outside of the park, and could serve as neighborhood trailheads that help draw residents from West Park neighborhoods into the park on paths alongside the creeks. Others, like Randolph Creek, running from the reservoir in Strawberry Mansion and along the Boxers Trail and down to Kelly Drive, already have attractive trails along them that should help draw more people into nature. Some of these creeks are impared by pollution and runoff, others are covered and culverted in spots. By fixing trails, stabilizing creeksides, these waterways could become healthier and contribute to a cleaner Schuylkill.
Sites in East and West Park – from historic fountains and springs to the Fairmount Water Works and the Belmont Intake on MLK Drive – present special opportunities to tell the story of city water systems and create new ways to enjoy nature.
16 Creeks in East and West Park | PennPraxis, 'The New Fairmount Park'

(Ashley Hahn, EOTS)
Revive and reuse heritage assets
If Fairmount Park is itself the big idea in the plan, many of its recommendations focus on improving public landscapes that date from the park's earlier eras. The initial investments in these places were made more than a century ago, and now it's time to "use what we have," reassess, and reinvest.
Many of the park's abundant heritage resources are ripe for new purposes, better connections, and relevance. It might be time, to enliven the expansive, formal landscapes of the Centennial District with active uses (swimming and play, "learning landscapes") that invite neighbors in more regularly. Fairmount Park's historic houses could offer consistent "open house" hours, but also be places where visitor amenities – like bathrooms, water fountains, guides, and interpretive materials – are located. There's also great potential in retooling some of the park's transportation assets, such as returning pedestrian/cycling to the Columbia Bridge and turning a forgotten trolley right of way into a trail. These moves would captialize on the park's existing assets, instead of reinventing the place for the sake of it.
(Ashley Hahn, EOTS)

(Ashley Hahn)

Mt. Pleasant, 2013 | Ashley Hahn, EOTS/PlanPhilly (Ashley Hahn, EOTS)
Balance users, Cultivate stewardship
The New Fairmount Park seeks to strike a balance between big attractions and neighborhood needs. On fair-weather weekends Fairmount Park is busy, from races to concerts at the Mann and the Dell on top of steady users who come for a family picnic or exercise. But the park has a capacity. How can the burdens of heavy use be balanced with the desire to have more people experience more of East and West Park, and in turn become park stewards and advocates?
The plan recommends capping the number of permit events in Fairmount Park, to ease the demands big events exact on the park and adjacent neighborhoods, and to prioritize events that directly engage the public with the park. When there are big events the park should also collect more revenue to pay for maintenance and upkeep.
At the same time the plan suggests that the park should feel like a neighborhood amenity, help boost economic development outside its boundaries, and invite more users to experience its diverse pleasures. One way to invite more people in is by improving park edges and entrances. By planting rain gardens, improving transit stops, adding new public art, and providing clear visitor information there are myriad opportunities to create better gateways to Fairmount Park that welcome visitors and signify the importance of the link between city and park. Targeted investment in these spots can help improve already active community hubs and stimulate activity beyond park borders. Clear signage can help different park users and neighbors know precisely what there is to experience in the park.
By welcoming more users, Fairmount Park advocates have an opportunity to create a broader base of political support and park advocates. Parks don't vote but users do. We all have a stake in Fairmount Park. Some people may be able to contribute as volunteers while others can make financial contributions that boost stewardship coffers. That, above all else, may be what propels a better Fairmount Park into the future.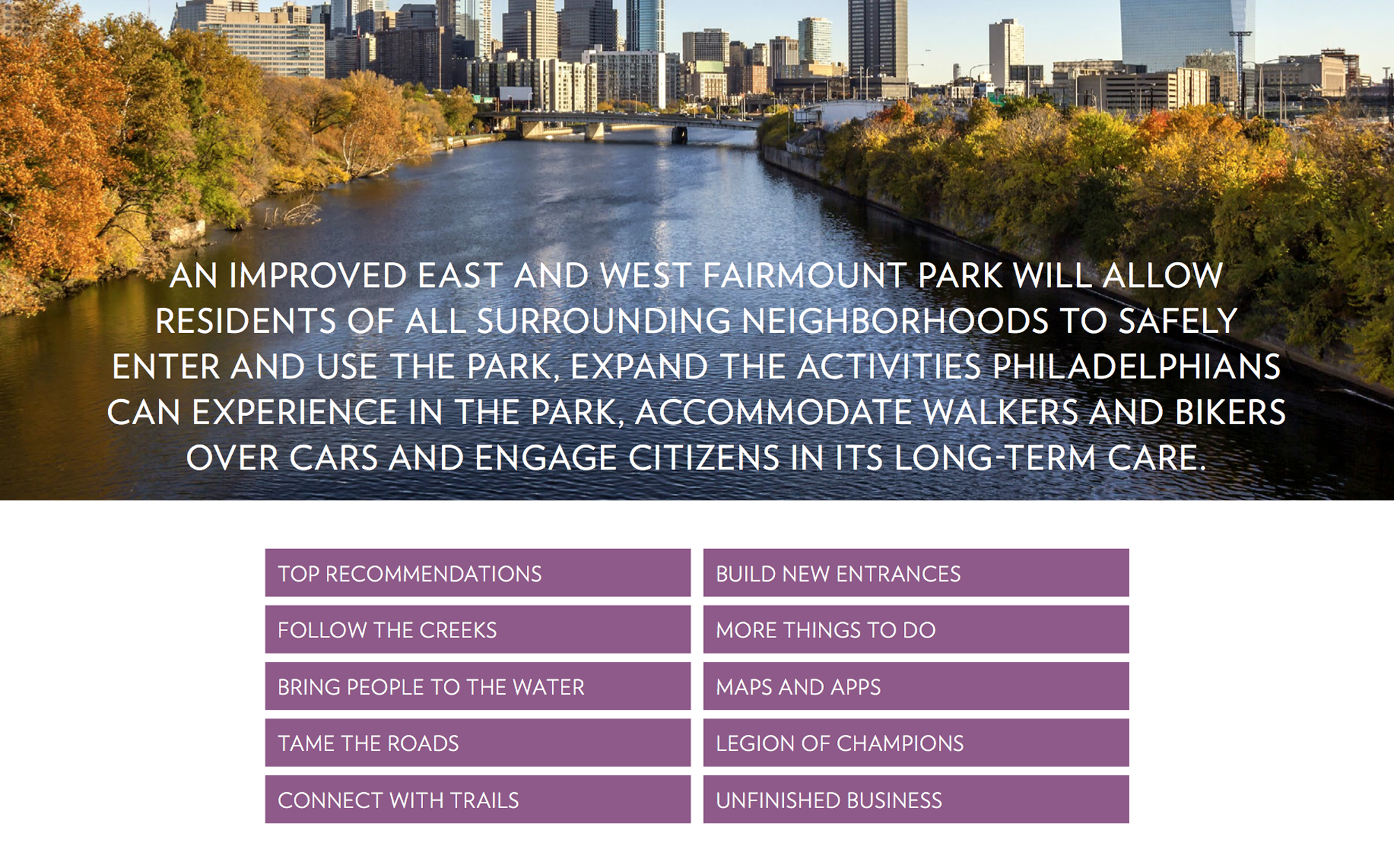 There is so much in the plan, it's worth thumbing through yourself. You can find The New Fairmount Park by clicking on the image below. Here's what some others are saying about the plan too:
*DISCLOSURE: The New Fairmount Park plan was developed by PennPraxis with Philadelphia Parks & Recreation, the Commission on Parks and Recreation, and Fairmount Park Conservancy. PlanPhilly is a project of PennPraxis, the applied research arm of PennDesign.