Audit uncovers security problems at 30th Street Station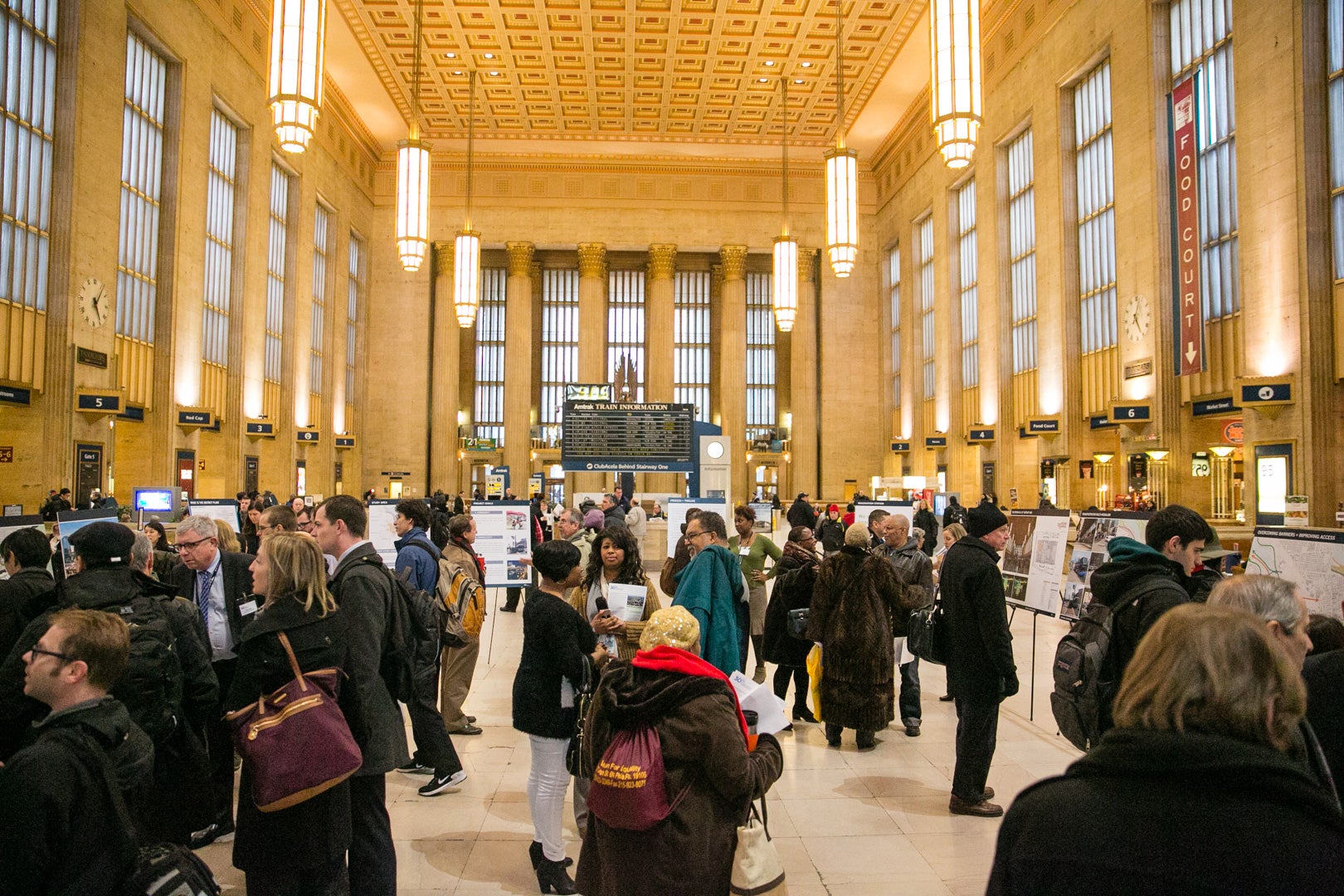 Amtrak's staff don't have the keys to lock 30th Street Station in the event of an emergency, but someone else might, according to Amtrak's inspector general in an audit released Monday. The report revealed some severe security problems for Amtrak's third-busiest station, including exterior doors without locks, security cameras that don't work, and a security code to the train yard that remains unchanged over 20 years.
"An inspection in November found an undisclosed number of the station's doors can't be locked because they either lack locks or because staff don't have keys for them," NBC10 reported. "For the keys that do exist, management is unsure who may have copies of them."
The security issues were first uncovered in 2009; NBC reports that "officials in Philadelphia requested $750,000 to fix the door lock issue, but that request was denied by the company's finance department saying internal teams could handle the project. Inspectors said that left the project at a stalemate."
Amtrak's inspector general also found that while 450 employees have security badges that open doors and elevators, only 26 of them work at 30th Street Station and more than two dozen employees have more than one duplicate security badge in their possession. Furthermore, staff members said "they lacked the proper training to deal with major security events like an active shooter or terrorist attack." Auditors found that "training classes focused on these events were removed to 'reduce the length of required training for frontline employees.' "
The report states that Amtrak plans to fix the door locks, badging, and surveillance systems by December and will address security in the train yard and training for staff by March 2019.
Drexel president John Fry testified before the House appropriations committee's subcommittee on transportation and housing in April, arguing that the Northeast Corridor requires $50 billion in repairs and upgrades. Failing to make those investments, Fry warned, would devastate business from Washington to Boston, an area that accounts for around 30 percent of all U.S. jobs. "What I'm about to say is, therefore, so alarming: that the Northeast Corridor is simply crumbling, and in its current state, it is actually an economic crisis waiting to happen," PlanPhilly's Jim Saksa reported.
Parking Amnesty
People were in line as late as 3 a.m. Tuesday morning to get the coveted green vouchers during the final day of the PPA's parking ticket amnesty program, 6ABC reports. All the voucher is good for is an extension of the program until the end of business day on Friday, a gift for those who waited until the very last minute to get their parking tickets forgiven.
"It's the best thing Philadelphia has had since sliced bread. If they're giving away something free you better take advantage of it," said Deborah Hill of North Philadelphia.
Some people began arriving to line up at 9th and Filbert streets before 4 a.m. Monday and waited for more than five hours, 6ABC reported. "Several people passed out after standing in the line for so long…paramedics gave one woman oxygen before transporting her to a hospital."
The PPA started handing out green vouchers around 10 p.m.
PSA: PlanPhilly is giving away a pair of VIP tickets to meet Sir David Adjaye, the lead designer of the Smithsonian National Museum of African American History and Culture in D.C. THIS THURSDAY
Speaking of hot vouchers, PlanPhilly has a pair VIP passes for the Center for Architecture and Design and AIA Philadelphia's 33rd 2018 Louis I. Kahn Memorial Award + Talk on Thursday honoring Ghanaian British architect Sir David Adjaye OBE RA. What does VIP mean? Not only do you get to attend the talk and awards ceremony, you will also get to meet and mingle with Sir Adjaye at the VIP reception, while snacking on heavy hors-d'oeuvres and chilling with an open bar. What does OBE RA mean? The Most Excellent Order of the British Empire (OBE) and Royal Academy of the Arts (RA), obviously.
You want to kick it with Sir Adjaye? Share a photo that shows why you love Philly's architecture and urban design. The best submission, determined by a jury of discerning PlanPhilly readers and staff, wins a free VIP pass to the event.
Pictures of buildings, streetscapes, parks or other public spaces welcome! Creative and clever submissions strongly encouraged.
Tweet @PlanPhilly your picture (and no need to stop at one) and use #PlanPhillyDesignLove for your chance to win
We will announce the winners Thursday morning. If you are feeling shy you can purchase a VIP ticket for $75. Event details:
Thursday, May 03, 2018
2018 Louis I. Kahn Memorial Award + Talk
Honoring architect Sir David Adjaye
NEW LOCATION: Irvine Auditorium at the University of Pennsylvania
3401 Spruce St, Philadelphia, PA 19104
5:00 p.m. to 6:15 p.m. | VIP Reception | Hall of Flags at Irvine Auditorium (requires VIP ticket)
6:30 p.m. to 8:00 p.m. | Talk by Sir David Adjaye | Irvine Auditorium
WHYY is your source for fact-based, in-depth journalism and information. As a nonprofit organization, we rely on financial support from readers like you. Please give today.