Could Atlantic City's Tennessee Avenue become the next 'South Street?'
A group of developers is hoping to create the kind of mixed use, walkable area sometimes called "new urbanism," close to the beach and in sight of the casinos.
A Google Earth view of Tennessee Avenue looking west. The area highlighted in bright yellow is the block where local investors plan to open several businesses.

Tennessee Avenue hits the boardwalk two blocks north of the Ripley's Believe it or Not museum. (Bill Barlow/for WHYY)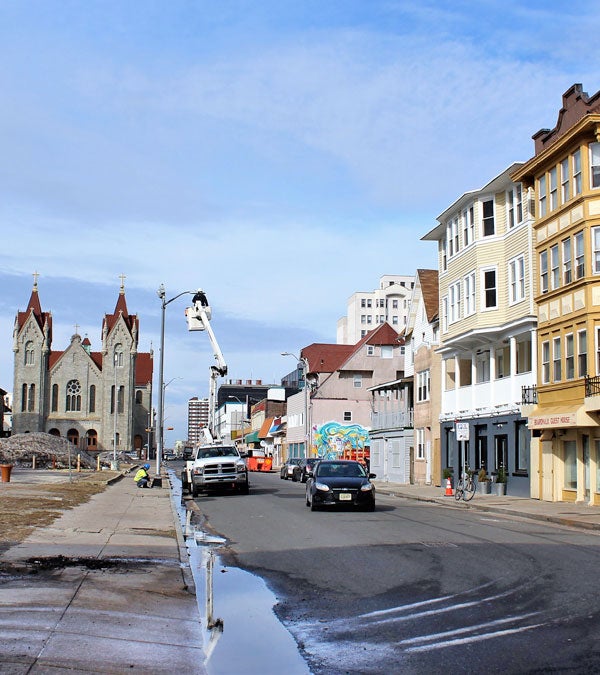 The beach block of Tennessee Avenue does not look all that much different than other blocks in Atlantic City. A few motels and boarding houses dot the street, along with some vacant buildings and empty lots. At one end of the long block stands the twin spires of St. Nicholas of Tolentine Catholic Church, and at the other, the beige rectangle of the Casino Control Commission offices.
By this summer, things could be far different if the plans of a group of local investors pan out. They envision handmade chocolates, an independent coffee house, yoga classes, a beer garden and a thriving scene welcoming visitors and locals alike.
"What we're really trying to do is create a destination," said Evan Sanchez, one of the founders of Authentic Partners, along with Zenith Shah. Both grew up in Atlantic City, and are working with Mark Callazzo, whose Iron Room Restaurant at the other side of town has draws a hip crowd night after night.
The trio have been buying up vacant buildings along one block of Tennessee Avenue, laying the groundwork for a transformation they think could set the mold for a new approach to Atlantic City development.
"We already have the bones of it in place," Sanchez said.
In building after building, workers have gutted the first-floor retail areas, making way for the new shops Sanchez hopes to see open by the spring. He said the partnership is working with aggressive young entrepreneurs to offer the things that will bring life to the block.
Expected to open are Made, a chocolate and wine bar where patrons can watch the chocolate-making process; Hayday Coffee, named for William Hayday, the inventor of the rolling chairs that still ply the boardwalk; and the Tennessee Avenue Beer Hall, which will include an extensive beer garden and room for events.
Sanchez hopes to get more people walking the block, potentially drawing some foot traffic from the boardwalk.
The avenue once was a center for dining and nightlife. Today, the Pic-A-Lilli Pub remains open. There is a café in the Howard Johnson at the end of the block, and The Irish Pub is around the corner, but most other places shut years ago.
"I'd say it was struggling. It was a block that had not seen much new investment," said Sanchez.
What ghost town?
Gambling came to Atlantic City 40 years ago to reverse decades of economic decline. For a time, it worked, with a massive surge of jobs, construction, and cash flowing into town. But throughout that process, some complained that little of that windfall flowed into the city's poorest communities. More recently, hard times seemed to be coming back. Earlier this decade, five casinos closed, one after another, putting thousands out of work and slamming the local economy. In the fall of 2016, Business Insider ran a story with the dire headline "How Atlantic City went from a bustling tourist hub to a ghost town," outlining the city's economic woes.
But the casinos remain a multibillion-dollar industry, and on a weekday afternoon in January, the city seemed far from abandoned. Stollers hit the boardwalk in the thin winter sunlight, and there were people on the sidewalks both in the Tangier Outlets, a multi-store development downtown, and along the retail corridor of Atlantic Avenue, where Halal delis rub elbows with peep shows and fast food joints share the block with nail salons and barber shops.
Plans call for heavy investment in the city in 2018, including a new Hard Rock Café at the old Taj Mahal and a new Atlantic City campus for Stockton University. In all, Sanchez said, about $1 billion in projects are underway or coming to the city this year, far beyond what his group has planned for Tennessee Avenue.
His group plans to invest "a couple of million," Sanchez said. Once the first phase is completed, they plan to develop housing in the units above the storefronts, in hopes of breathing more life into the area. Their goal is to create the kind of mixed use, walkable area sometimes called "new urbanism," close to the beach and in sight of the casinos.
"We want to show that you can do this kind of development in Atlantic City," he said.
Non-profit yoga
The yoga studio is the first of the new enterprises. Leadership Yoga opened in the fall, and founder Allie Nunzi believes it's the only yoga studio in the city. She's the founder of Grace & Glory Yoga, and began Leadership Yoga as a non-profit organization, offering pop-up classes at various locations.
She wanted to find a permanent location when Authentic Partners reached out to her.
"When they came to us, it was perfect," she said. "We're the first to open our doors as part of this."
Leadership wants to be more than a yoga studio, offering training for potential teachers, space for events, and programs throughout the day. Nunzi said things get underway at about 5:30 each morning, with people heading in for the 6 a.m. class. She said the biggest effort is in leadership training for local youth. She sees working with the existing community as vital part of making the project work.
"What's really unique about the Tennessee Avenue Renovation Project is we're actually an anti-gentrification project, at least the way gentrification typically works," she said. "We're not coming in as outsiders saying we're here to take up your real estate."
The investment group doesn't own the entire block, and Sanchez said they plan to work with their neighbors.
"It's really important to us to find a way to better the block as a whole," said Sanchez. "We want to figure out how we can be a good partner to people who are already there. It's challenging stuff we're trying to do. It's not cookie cutter."
Competition welcome
At least one neighbor welcomes the project.
Picket "Kip" Russell IV's family owns the Pic-A-Lilli, which he said combines the names of his grandfather and grandmother. He describes the wings-and-beer place as a "classic American dive," and has no concern about potential competition coming to the block. While Tennessee Avenue may have once been a hotspot, he said in recent years there have been problems with drugs, prostitution and other illegal activity. Since the partnership began working, though, he's seen a greater police presence and a marked improvement.
"It's like night and day," he said. "It's still a depressed area, but the shenanigans that were going on have dropped off."
He said when he first heard about the plans for the block about two years ago, "I gave it a 50-50 chance." Now, he's far more hopeful. He said the group got the support of both former Mayor Don Guardian and new Mayor Frank Gilliam.
On a recent afternoon, an Atlantic City police officer was on the block with a police dog while a utility crew replaced a street lamp. A number of people came and went from the boardwalk, speaking in English, Spanish, and Chinese.
Sanchez described Atlantic City as one of the most diverse places in the world, calling it South Jersey's city. While there seems to be plenty of awareness of its big city problems like crime and drugs, there hasn't been much attention to the best parts of city life, he said, and in tourism, perception can be everything.
Tennessee Avenue could become what South Street is for Philadelphia, he said, and potentially set a path for similar development in the city and beyond.
WHYY is your source for fact-based, in-depth journalism and information. As a nonprofit organization, we rely on financial support from readers like you. Please give today.