At Union League talk, author pushes charter schools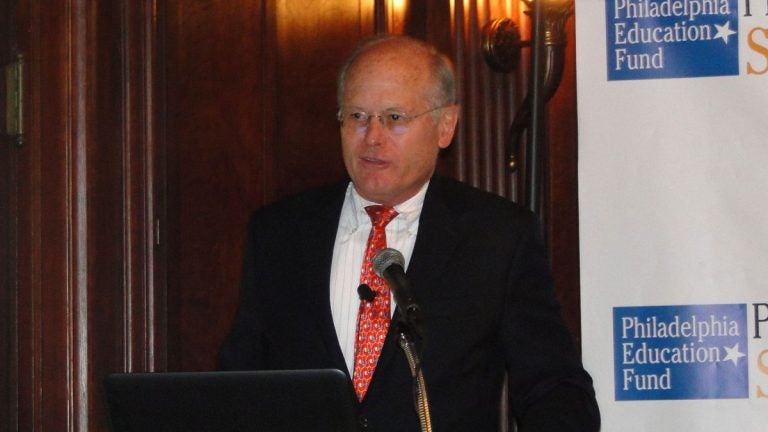 In remarks before a cross-section of the city's elite, author David Osborne argued cities such as Philadelphia should create more charter schools — as long as the expansion is accompanied by meaningful accountability — to improve education for poor students.
Osborne, who works at a moderate think tank called the Progressive Policy Institute and formerly advised Al Gore, spoke at the Union League, a longtime haven for Philadelphia's political and financial power brokers. His talk and a subsequent round table were organized by the Philadelphia Education Fund, which is headed by School Reform Commission member Farah Jimenez.
Osborne's book, "Reinventing America's Schools," focuses on three cities that he said improved education for low-income students through charter growth accompanied by rigorously enforced performance standards. They are New Orleans, Washington, D.C., and Denver.
New Orleans remade its school system after Hurricane Katrina; today, almost all its public schools are charters. In Washington, D.C., about 45 percent of students now attend charters after Congress passed a law authorizing their creation in 1995 — and the proportion of students in charters has been steadily growing. In Denver, an elected school board has reshaped the education landscape by closing many district schools and creating charters in their place, while also giving some district schools more autonomy.
All three districts primarily educate low-income students of color, and student achievement has improved in each, he said, presenting charts to back his point.
Osborne calls these cities "21st Century School Systems." Beyond simply promoting charters and autonomy, he said, school districts must shed their industrial-era roots and adapt to a time where jobs require more advanced skills. That shift, he believes, requires more flexibility in schools around instruction and staffing. He argued that entrenched bureaucracies and union contracts create "rigidity" that limits reform.
Finding fault
A roundtable discussion afterward included Superintendent William Hite, Kevin Shafer of the Camden City Schools, and parent activist Quibila Divine. U.S. Rep. Dwight Evans, D-Philadelphia, was scheduled to be there, but had to return to Washington for a vote.
There was little disagreement among the panelists, but some interesting talking points emerged from the discussion.
For instance, when Osborne called the current inequitable arrangement of public schools "nobody's fault," Divine pushed back. She intimated the public education system had been structured to purposefully disadvantage poor and minority families.
"I respectfully disagree, I think it was somebody's fault, somebody wanted it," she said. Families in the poorest neighborhoods "don't know how to advocate for children, how to obtain a higher quality education," she said. That makes it easier to "build a school-to-prison pipeline" that results in the employment of "more police officers, more judges, more corrections' officers."
Shafer, the Camden district's chief innovation officer, who was sitting in for Superintendent Paymon Rouhanifard, backed Divine.
"I echo that," he said. "The root of our problem is systemic poverty and institutional racism. If you drive from Cherry Hill to Camden, it's hard not to miss."
Hite suggested that what stood out for him in the three cities Osborne mentioned is "stability" or sufficient time for new models to take root, as opposed to continual change in leadership and approach. He also stressed the importance of adequate funding.
He explained that the Philadelphia district gets state funds as a "block grant," with revenue tied not to actual enrollment, but to the previous year's disbursement. When the district reimburses charters for their expenses, however, it is on a per-student basis. Today, about 70,000 city students attend charters, compared with 133,000 in district-run schools.
As a result, "If we increase the population, we actually spend less per child, and if we decrease the population, we actually spend more. We've been increasing across the total sector," meaning that the available resources are being stretched more thinly.
"That's not a function of charters or any decisions. That's a function of a bad funding structure at the state level," Hite said. It was the only line of the morning that got any applause.
Osborne also repeatedly emphasized the importance of creating a centralized, accessible application process for students in charter and traditional public schools. If the most disadvantaged families cannot navigate a choice-driven system, he argued, it will lead to further stratification.
Questioning test scores as barometer
Four years ago, the Philadelphia School Partnership pushed an effort to create a universal enrollment system for city high schools. District, charter, and parochial schools would have been on a single application where families ranked five high schools in order of preference, and an algorithm would match students. The effort failed amid concerns and criticisms that the system would limit parent choices and further disadvantage some students.
On the issue of how to evaluate schools and determine which should be replicated or closed, Osborne said cities should de-emphasize student test scores. He believes it's important to look at other data, including graduation rates and attendance, as well as qualitative measures, including student, teacher and parent satisfaction surveys. As a model, he pointed to England, where teams of educators conduct periodic in-person evaluations of school climate.
In an interview after the roundtable, Osborne had harsh words for teachers' unions. Although he said he understood their initial purpose in an era where worker abuses were rampant and turnover high, he believes unions today often obstruct progress due to self-interest. A professional model based on partnership in which teachers helped run schools would work better than the industrial union model of "labor vs. management," which, he said, is not a good fit for education.
"I understand why teachers unionized, and there were good reasons, and they have every right," he said. "What bothers me is when they stand in the way of poor minority kids getting opportunity, and they actually fight hard to do that." Last year in Massachusetts, he said, unions spent $10 million defeating a law that would have raised the cap on how many charter schools could exist in the state.
"They're actually doing what [former Alabama Gov.] George Wallace did, standing in the schoolhouse door, denying opportunity to poor minority kids," he added. "And that really bothers me. But that's their political activity."
Osborne did not, however, back all facets of the school choice platform. In the interview after his talk, he said he did not look in depth at cybercharter schools, but he said many are "terrible" and "probably ripping off a lot of people." He also said school vouchers won't work because they'll increase divides between the haves and have-nots.
"Would you really like an education place that looked like the marketplace for homes and automobiles?" Osborne said. "We need more equal opportunity and equality in this society, not less."
He further said he did not support the appointment of Betsy DeVos as U.S. Secretary of Education, and he slammed some of the reforms she backed in Michigan as a philanthropist and political donor.
DeVos, he pointed out, lobbied against a bill in Michigan that would have increased accountability for charters because she believes the only thing that matters is whether parents choose to send their children to a school.
Stumbling blocks — in system, at event
In a polarized political climate, Osborne represents an increasingly imperiled position: that of the liberal-leaning education reformer. Allied with free-market conservatives on some issues and equity-focused progressives on others, Osborne admitted he and his ilk have found it more and more difficult to forge compromises.
He also said charter schools in some states haven't produced the desired results, singling out DeVos' Michigan and Ohio. Osborne believes, however, the flaws there stem from lax oversight and a glut of authorizers.
The audience was made up largely of business leaders, representatives of foundations, charter school leaders and school district officials. There were few, if any, parent or teacher activists in the room.
There was one parent activist who tried to get in and was stopped at the door by Union League employees — even though she had a ticket — because she did not meet the venue's dress code.
Allison McDowell, who has a child at Masterman and biked to the event, was dressed in jeans and a sweater. When barred from entry, she sat in the middle of the corridor between the entrance and the staircase as others arrived, forcing them to step around her.
McDowell also chalked the sidewalk in front of the building, saying "Philanthrocapitalism can take a hike, (heart) Philly," and "fund schools, don't disrupt them."
In a later phone interview, McDowell said the idea of "reinvention" is just a way of reducing investment of public schools and shifting the responsibility for educating children to nonprofit and for-profit organizations and venture capitalists.
"I don't think that public education funded through foundations and impact investing is going to be good for kids," she said.