At the Pa. Shakespeare Festival, 'All's Well' ends that way
The festival produces the play the way Shakespeare would have, from what we know today.
Listen
3:13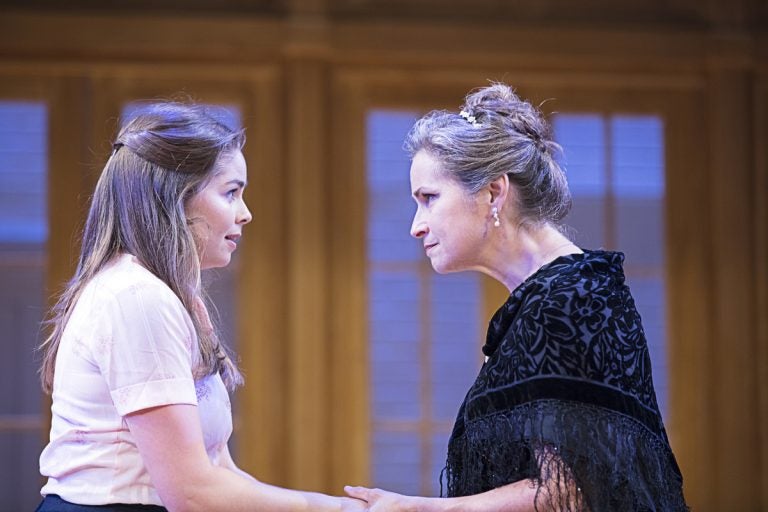 In Shakespeare's day, no one heard of a director. Where to move on stage? Actors: Figure it out among yourselves. A costume designer? Preposterous! Lighting, sound and scenery? Oh, please…
Nowadays, it takes a creative village to raise a curtain.  But at the Pennsylvania Shakespeare Festival, a few miles north of Quakertown, 15 brave actors are reaching back four centuries to Shakespeare's time. They're doing a playful, zippy "All's Well That Ends Well" the way they would have done it back then. And yep, it ends well.
There's no director, no designers and no standard three-plus weeks of rehearsal – the actors had four days to get it together. That was followed by two nights of previews (a nod to modern times; Shakespeare never heard of such a thing). Then Friday, when I saw this gamely and borderline-crude play about a young woman who saves a king's life but loses the guy she adores, was opening night.
The cast had rummaged through the festival's storage rooms to find appropriate costumes that sort-of fit. They chose weaponry from whatever was in the prop shop, figured out basic lighting among themselves, found a sound enhancement (a recorded warlike horn riff of about 12 seconds, signaling Elizabethan tension and sounded several times between scenes) and interpreted the comedy together. They'd arrived knowing all their lines, as in Shakespeare's day. Their parts had been cast beforehand by the festival's producing artistic director, Patrick Mulcahy — a role Shakespeare would have taken or, in his place, the owner of an Elizabethan theater.
Academics and theater artists call these productions "original practice Shakespeare," and the Pennsylvania Shakespeare Festival calls them Extreme Shakespeare in its marketing verve. The festival has been producing one of its plays a summer in this manner for eight seasons and I've seen most of them and been impressed by the casts, their ideas and the execution.  Maybe it's adrenaline that pushes everyone, but I think it's more. These actors are consummate professionals – Mulcahy takes care in his casting for Extreme plays, and "All's Well" uses several actors familiar with the bare-bones process. They're able to see through bad ideas and seize quickly on good ones, editing their own impulses as they move forward.
Or at least it seems that way. "All's Well That Ends Well" comes off as a production neither over-thought nor under-focused – if you didn't know how it was produced you'd probably not be able to guess. That's the highest compliment for an original-practice production, not to be able to tell it from one with weeks of polish and a team of off-stage specialists.
The cast does make use of a one-size-fits-all set Steve TenEyck created for this summer's "Twelfth Night" – it's a handsome wall with places for entrance and exit and little more. And the veteran Philadelphia-based actor Greg Wood, who plays the king in "All's Well," was charged with cutting the script. No one did that in the 1600s except maybe Shakespeare, but without such cuts today his plays would be interminable and, in some cases, confounding.
Wood makes an authoritative King of France, dying from an unnamed ailment his doctors have pronounced fatal. But a young woman named Helena (Emiley Kiser), an orphan being raised by a countess (the elegant actress Susan Riley Stevens, married in real life to Wood), has a potion to bring the king back to good health. When it does, the King makes like a genie newly released and grants Helena any wish. She wants the countess' son (Spencer Plachy) as her husband. He wants nothing to do with her and flees to fight in the nearest war.
What ensues and resolves the play is absurd and to top it off, a step away from a #metoo moment (not a Shakespearean term). But by the second half of "All's Well," the characters have grabbed you – they include the countess' house clown (Eric Hissom), Anthony Lawton as a trusted French lord, and a bloviated coward played spot-on by Jim Helsinger. Anyone who seriously questions the credulity of the plot fails to appreciate the spirit of the play. That spirit's palpable here – fully alive, no matter how it was created for this particular production.
—
"All's Well That Ends Well" runs through August 5 at the Pennsylvania Shakespeare Festival, on DeSales University campus, 2755 Station Ave. in Center Valley, Pa., a few miles north of Quakertown. 610-282-9455 or pashakespeare.org.
WHYY is your source for fact-based, in-depth journalism and information. As a nonprofit organization, we rely on financial support from readers like you. Please give today.