Montco schools, community centers and more to close as coronavirus cases rise in Pa.
Individuals, governments and private organizations in the commonwealth are increasingly taking steps to ward off coronavirus.
Updated 7:30 p.m.
Montgomery County residents are trying to adapt to their new status as the epicenter of Pennsylvania's coronavirus outbreak — and for many people, that means stocking up on provisions and trying to predict how long they may have to quarantine.
On Thursday, Gov. Tom Wolf ordered what he calls "proactive" social-distancing measures in an effort to stem the spread of coronavirus across Pennsylvania.
The bulk of those efforts are focused in Montgomery County, where thirteen of the commonwealth's 22 suspected coronavirus cases have been diagnosed.
Starting tomorrow, March 13, all of the county's schools, gyms, sporting events and entertainment venues like movie theaters have been ordered to close. Critical retail businesses such as supermarkets, pharmacies, and gas stations will remain open, though the state is recommending that "non-essential retail facilities" close.
The Ardmore Amtrak station will shut down for two weeks. All other mass transit facilities in the state have been ordered to stay open.
At an Acme grocery store in Penn Valley, shoppers trawled through rapidly-emptying aisles and formed long checkout lines. One of them, Dana Aoyama from Narberth, said she thinks social distancing is a good idea. But she wishes the state and county governments could provide more information.
"If we're going to go into quarantine mode, we should know sooner than later, because everyone out here is definitely thinking that way," she said. "That's why the supermarket is almost sold out. I wish they would just tell us right away what they're planning on doing."
Aoyama says her children are all in their teens and twenties, and her husband is unwell.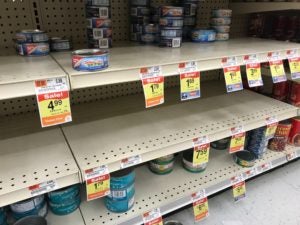 "I think that people have to stay home," she said. "I'm going to put the quarantine on our family."
Another shopper, Adrian Tinsley from Blue Bell, said his biggest concern is that a family member or someone he knows will get infected. But he's also feeling troubled by a lack of clear information about coronavirus.
"I just don't know what it is, what is it?" he asked. "I don't even know the symptoms to it or anything … I stopped going on the internet actually, because it's just everywhere now."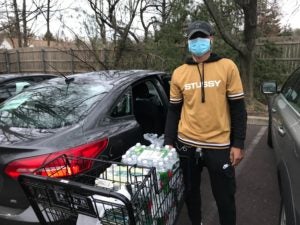 Pennsylvania's coronavirus count increased by one Thursday afternoon, with the presumed diagnosis of a new case in Pike County.
Along with social distancing in Montgomery County, Gov. Wolf is urging cancellation of all events larger than 250 people statewide. He said nonessential, out-of-state, and international travel should also be curtailed.
Asked why he's focusing so heavily on Montgomery County, Wolf said the response is a "work in progress" intended not to shut Pennsylvania down, but to keep people safe.
The whole point, he said, is to "stop drifting to where we're drifting."
"We have been in a containment phase, we have been tracking positives … and that has bought us valuable time," Health Secretary Rachel Levine said. "But we are anticipating community spread … and thus we are taking these proactive steps."
Levine said the commonwealth's strategy is now shifting to "mitigation."
Along with Montgomery County's 13 cases — four of which were announced Thursday morning — and the new Pike County case, Bucks and Monroe counties each have two presumed coronavirus diagnoses, and Delaware, Northampton, Philadelphia and Wayne counties all have one case.
Levels of alarm have risen along with presumed positive cases, and now schools, state and local governments, sports teams, railroad companies and many other organizations are taking significant detours from their usual operations.
In Philadelphia, officials announced Thursday afternoon that crowds of more than 1,000 will be banned from gathering for the next 30 days. The city also is recommending that no more than 250 people gather at one time, and that social distancing be observed to prevent the spread of the coronavirus.
"We expect and must prepare for additional cases of COVID-19 in the city of Philadelphia. More people will get sick, and we have to expect there will be deaths as a result of this," said Health Commissioner Thomas Farley.
Farley said the city is  running into issues with testing for the virus.
"The testing availability and the turnaround time for reporting results has been very limited.  This is not a criticism of the laboratories, the laboratories themselves have limited reagents and limited ability to run these tests," he said.
It's a problem across the country, Farley noted.
"Our ability to contain this infection rests right off the bat [with ability] to identify the cases as quickly as possible," he said. "If we can't get the testing performed, then we can't identify the cases quickly enough to do the additional steps that we need to take place."
That includes quarantining individuals who have had contacts with those who have the virus.
Superintendent of Schools William Hite said Thursday that the district is not closing Philadelphia's public schools at this point.
"Numbers of our children depend on our schools for shelter, healthy meals, safety and care, and without schools being open, our young people are at risk," Hite said.
NBC 10 reported that Mayor Jim Kenney has asked City Council for $85 million to combat the coronavirus. The money would come from existing city funds in the budget's "rainy day" account.
At City Council's session Thursday, several changes were evident, designed to let members keep their distance from one another. Caucus will be held in the larger council chambers, and every other seat in the public seating area will be blocked off to promote "social distancing."
Councilmembers are bringing fewer staffers to sessions so that the room is less crowded, presentations will be curtailed and speakers will be required to stand 3 feet from microphones.
There have been fewer changes at the state Capitol in Harrisburg. All 252 House and Senate lawmakers are scheduled to resume session on Monday as usual, despite protests from some members.
Privately owned public spaces are making adjustments, too.
The Wells Fargo Center, for one, is rescheduling all its Thursday events and performing "extensive cleaning and sanitization." It's having employees deemed nonessential work from home in the meantime.
The center said any tickets for postponed events will be honored for a later date or refunded.
With coronavirus cases mounting and ridership dropping, Amtrak has announced that its Keystone Service trains will be operating on a reduced schedule usually used for severe weather or other disruptions.
The change comes after a previous announcement that the company would be suspending three of its regular, direct Acela train lines from New York to Washington, D.C.
A spokesperson for Amtrak also said it "will be rolling out a voluntary leave program for non-mission critical employees that are willing to take time off on an unpaid basis."
Meghan Cohorst, a spokeswoman for Unite Here Local 23 — which represents food service workers on Amtrak trains — said Amtrak has assured its three unions that the company's 2,900 organized workers won't be laid off, and will continue to be paid even if their jobs shift during the coronavirus turmoil.
She added that union leaders have also been told to expect more service reductions to the Acela line and the Northeast Regional.
"They seem to be making plans for those reductions to happen sooner than later," Cohorst said. "They have decided they're going to do that, but they're still deciding what to do in the rest of the country."
Amtrak spokespeople said they couldn't confirm any further service changes.
Amtrak had said earlier that it would waive fees for customers who change reservations before April 30.
Politico and Business Insider have reported that in a leaked memo Amtrak officials painted a more dire picture, predicting that it will lose hundreds of millions of dollars. The memo reportedly said bookings are down 50% and cancellations are up 300%.
WHYY's Jake Blumgart, Jennifer Lynn, and Tom MacDonald contributed to this article.
WHYY is your source for fact-based, in-depth journalism and information. As a nonprofit organization, we rely on financial support from readers like you. Please give today.