Art Commission gives preliminary OK to 100 digital ad "Links" connecting public to free WiFi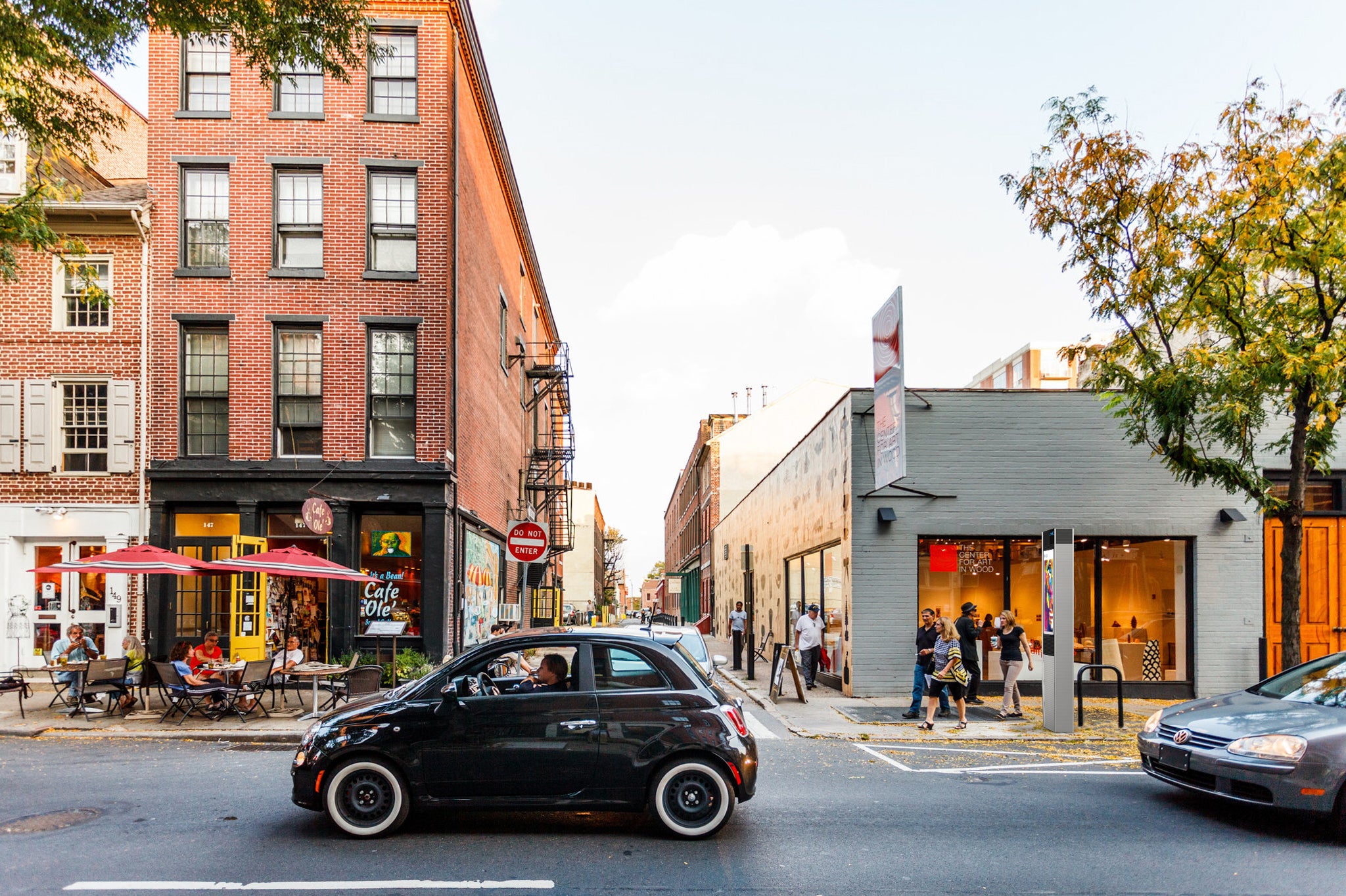 The Philadelphia Art Commission granted conceptual approval to a plan to bring advertising kiosks, called Links, to commercial corridors in the City of Philadelphia.
The kiosks would include two LED screens on either side of the structure that will be used for advertising. The narrow side facing the sidewalk would offer Android tablets for informational purposes and placing phone and video calls. The Links would also feature emergency call buttons and USB ports for charging. The kiosks would also serve as public WiFi hotspots.
Intersection said that the Links would provide gigabit WiFi 100 times faster than LTE speed. In order to access the network, users would provide an email one time. After that, their devices would automatically connected when in range. The network aims to provide seamless transitions between kiosks, so that users walking down the street don't have to constantly reconnect.
The proposal was presented by the city's Office of Transportation and Infrastructure Systems (OTIS) in conjunction with Intersection, an advertising firm that focuses on billboards and other outdoor advertisements. Intersection signed a deal with the city to build and maintain around 600 new SEPTA bus shelters, which feature digital advertisements.
The Links look sleek and slim, but bright advertising screens will make them stand out on a sidewalk. That worries Mary Tracy of Scenic America.* "There are other things we need, other interests than advertising. We are already at a saturation point," she said.
Tracy also argued that adding more bright, digital screens to our city streets would run counter to the city's current Vision Zero program, which aims to put an end to traffic related deaths.** But, mostly, Tracy lamented the kiosks' aesthetic impact.
"It's just one more crack in Philadelphia's beautiful landscape," she said.
The Link kiosks were born out of a New York City initiative to replace phone booths with a public Wifi system. There are now 1,300 Links in New York City, and plans to add up to 7,500.
Philadelphia will first try out the kiosks on a much smaller scale, starting with just 100 Links: 80 in Center City and University City, 20 wherever else the city sees fit. Manayunk was mentioned as potential location for some Links.
OTIS officials said they hope the program will help bridge the digital divide that exists between the city's poorer neighborhoods and its wealthiest. Roughly half of low-income Americans do not have home broadband, according to Pew Research Center study. But those good intentions don't square with the Links' proposed locations; Center City and Manayunk are far from Philadelphia's poorest neighborhoods.
This incongruity did not go unnoticed by the art commissioners. "The current area that you've mapped does not hit [the digital divide] in the city of Philadelphia," said Commissioner Natalie Nixon. "So, I would love to see your geographic region expand to a point where it's really serving communities that definitely are in that digital divide gap."
Nixon also pointed out that low-income areas of the city are more likely to suffer from useless street clutter like broken phone booths.
The revenue share for the city on the advertising is 50 percent after capital recovery. The city will receive a minimum of $450,000 annually, if the 50 percent share is not greater.
Intersection will cover the cost of installing the kiosks — taxpayers won't pay a dime. The revenue sharing would begin after Intersection had fully installed all of the planned Links.
The approval was conditional, and the group will have to come back to the Arts Commission before moving on to the final stage. The commission asked that a mock kiosk be presented to them, so they could understand exactly what they would like in the streets.
*Disclosure: Mary Tracy is a member of PlanPhilly's advisory board.
**After publication, a spokesman for Mayor Jim Kenney provided the following comment in response to Mary Tracey's comments.
"In no way would the installations of these kiosks affect public safety or conflict with Vision Zero. The track record is clear: with over 1100 active Links in London and New York City respectively, Intersection has received no complaints about driver distraction. The Office of Transportation and Infrastructure Systems (oTIS) manages Vision Zero, and would not have proposed the kiosks if they could impact public safety.
"In fact, LinkPHL will enhance public safety: each Link's 911 feature is designed to operate for 24 hours on backup battery power in the event of a blackout. Free Wi-Fi provided by Links will help Philadelphians stay connected in the event of an emergency. Links can get out critical emergency messages instantly, and right to the locations that need the information."
WHYY is your source for fact-based, in-depth journalism and information. As a nonprofit organization, we rely on financial support from readers like you. Please give today.