Animals, people and even family bring Delaware folk artist's paintings to life
Kathy Buschi considers herself a folk artist. Self-taught, she adds life to her local scenes of Delaware by using people, animals and the occasional family member.
"I consider myself a folk artist the way that I would define that is self-taught," Buschi said. She began her journey through art after receiving a gift. "When I was pregnant with my daughter in 1979, my husband got me a paint set, oil paints and I just started painting."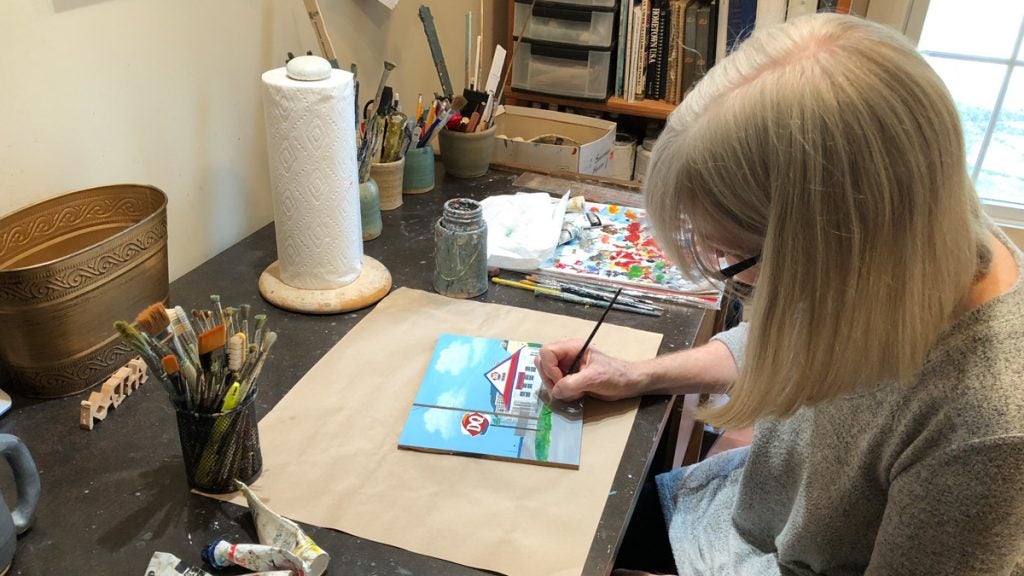 Buschi's paintings tell a story, and the subjects of those stories have been the people and places in which she and her family have lived, from New Hampshire to Virginia and now Delaware.
"In the beginning, I would say it was truly folk-art a lot of country scenes, country rolling hills, animals. And then when I moved down here I started doing local scenes."
She has even painted some local scenes like The Green in Dover through the lens of the past, "I have horse and carriages and the way it used to look days gone by."
Many of the paintings begin with someone suggesting to Buschi a particular place, like a restaurant where fond memories were made. "They have family memories or it's their favorite restaurant or favorite place to take the kids out for ice cream."
"People have such a connection with where they love to eat, "Bushi said. Many different local restaurants, and ice cream places, Fisherman's Wharf in Lewes to Funland in Rehoboth as well.
Sometimes she takes a more whimsical direction, as is the case with her witches… "I have one called girls night out which is a picture of witches dancing around a cauldron on the beach." That print she said is her fastest selling print, ever. "I never had any idea that witches would bring such an audience, so that was kind of neat."
But Buschi's work isn't just about the buildings and ice cream and beaches, Kathy's family also gets a supporting role in her paintings. "We have a daughter, she's a redhead, so if you look in my pictures you'll see a redheaded girl with two yellow labs Phoebe and Samantha and those are the yellow labs that she grew up with."
After Buschi's daughter got married, she had three kids of her own, and yes you guessed it, you can find them in the paintings as well. "Two of them are twins, they're redheads, identical redheaded twins. And our 6-year-old granddaughter also, she's blond so she's in the pictures too."
She told me that she gets comments all the time from people telling her they want to walk into her paintings. "It just feels really good, it's just a nice feeling creating a work of art," Bushi said.
"Giving people the pleasure of seeing something that makes them happy, that really works for me."