After DACA decision, leaders of 'sanctuary campuses' reaffirm support for dreamers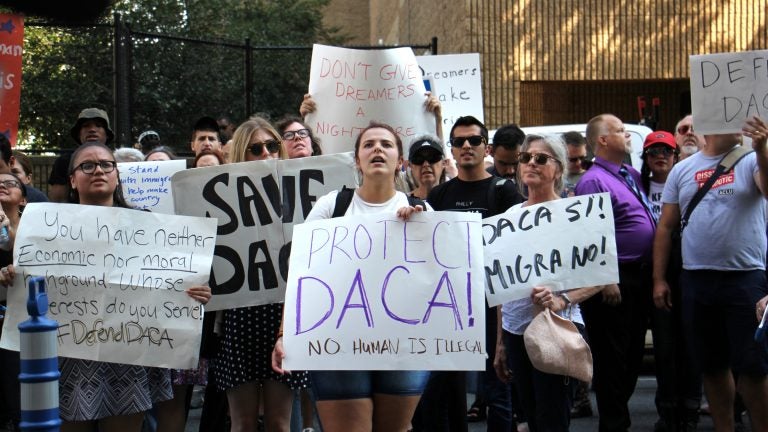 Last year, some schools in the Philadelphia area became "sanctuary campuses," promising to protect undocumented students and those in the Deferred Action for Childhood Arrivals program.
The Trump administration's announcement last week that it will end DACA, a program shielding some young people from deportation, could test that resolve if it, in fact, sunsets as promised in March.
Leaders of some "sanctuary campuses," such as the University of Pennsylvania — President Donald Trump's alma mater, immediately condemned the government's reversal.
"This is a heartbreaking day for our country," wrote University of Pennsylvania president Amy Gutman, in a statement posted on the school's website. The message also said the school will do "everything we can to support and assist the Dream Act students who are valued members of our community."
Others shared concrete lists of how they will continue welcoming students whose futures just shifted with this decision. To help calm students, Swarthmore College brought an immigration attorney to a new student orientation session last week. In her message to students, college president Valerie Smith called the decision "distressing," and she said the college is looking into ways to financially support DACA recipients who may lose their ability to work with that protection.
Smith, along with the presidents of Haverford and Bryn Mawr colleges, restated their intention to not share information about students with federal immigration enforcement.
"Law enforcement officials seeking to come on campus are expected to check in first with campus safety and present a warrant or other enforceable legal instrument," wrote Bryn Mawr college president Kim Cassidy. At Temple University, which is not a "sanctuary campus," a term that has no set meaning but that which universities choose, the student government and the union for professional academics called on their administration to adopt that label.
It's not clear how much those assurances — and the commitment to meeting the financial needs of all students — will help Maria Castañeda and other students who stand to lose more than their education if Congress does not pass a bill codifying the federal program.
DACA "allowed me to get a driver's license, apply for jobs, apply for scholarships and eventually get me to Swarthmore," she told protesters gathered at a recent rally in Philadelphia.
According to records compiled by the U.S. Citizenship and Immigration Service, which handles DACA applications, almost 30,000 people in Delaware, Pennsylvania and New Jersey have applied to the program since it began in 2012. To qualify, young people must have been brought by their parents into the country illegally before 2007, and have graduated high school, among other conditions.
In return for applying to the program, these "dreamers," as recipients are called, received Social Security cards, the ability to work legally, and the freedom to live in the country without fear of deportation. Around a quarter of all DACA recipients who work are also in college, according to the Migration Policy Institute.
With the agreement now in question, Castañeda wonders if that exchange comes at too high a cost.
"We are people who openly and willingly shared our information with the government, and now we will no longer be protected from deportation," she said.
WHYY is your source for fact-based, in-depth journalism and information. As a nonprofit organization, we rely on financial support from readers like you. Please give today.