Afrofuturism and the new era for Sharswood's North Philly Peace Park
After sprouting from vacant land in Sharswood in 2012, North Philly Peace Park was displaced by a $500 million redevelopment plan by the Philadelphia Housing Authority.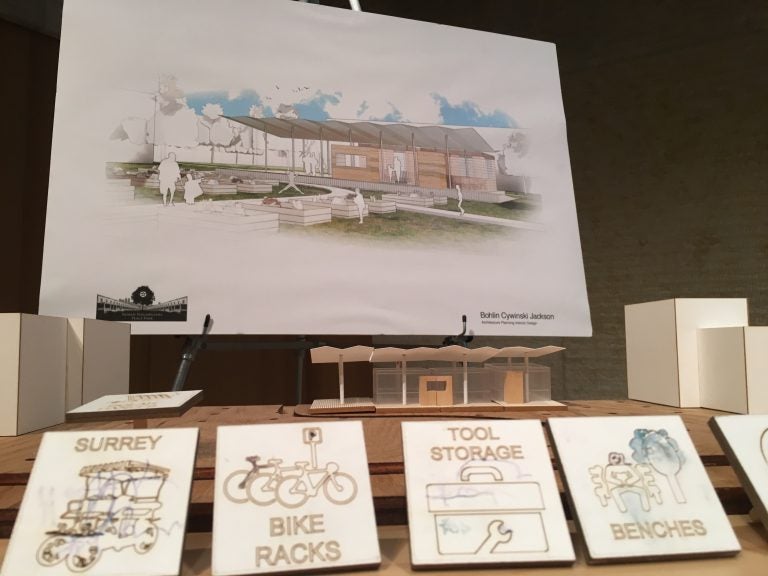 This article originally appeared on PlanPhilly.
—
There's a tidy way to tell the story of North Philly Peace Park — as a project that has unfolded in three acts: the past, the present, and the future.
After sprouting from the nothingness of vacant land in Sharswood in 2012, North Philly Peace Park — a fence-free, food-producing ecological center within one of the city's low-income food deserts — was displaced by a $500 million redevelopment plan by the Philadelphia Housing Authority. The park's early years at its original location, through this period of uncertainty, would be its "past."
The present dates back to about 2016, when North Philly Peace Park signed a lease for 7,000 square feet with PHA as its landlord, transplanting itself to another plot a few blocks away from the original location.
And now, the future: Groundbreaking is scheduled in the fall for the new park, which includes a high-concept architectural plan. This new phase was the focus of a Friday discussion at the Barnes Museum: "Designing for Light, Life, and the Afrofuture of North Philly."
But it turns out such a tidy, linear narrative is not the way to think about the evolution of North Philly Peace Park — not before, and certainly not today.
Among the design inspirations for physical interventions at the new park is a belief in polychronic time, as it relates to the ideas of Afrofuturism, a genre of art and philosophy that's had a popular resurgence of late.
"Polychronic conception of time is more circulatory. Your present is influenced by your past. [But] your past is [also] influenced by your future," Nyasha Felder, lead designer for the park's expansion, told an audience at the Barnes's Comcast Auditorium. "This collapse of space and time is a concept that can be used in architecture."
At the start of the event, a slide projected in front of the audience posed the question: "Can design empower a community?" Through a community-engagement and design process that took two years to complete, the founders of North Philly Peace Park believe the answer to that question could be a resounding yes for the legacy of African-Americans living in Sharswood — a historically black neighborhood ravaged by urban-renewal projects over the years, along with the crime and poverty that has beset it since.
"We're working on very minute problems. We're trying to feed a neighborhood, we're trying to provide STEAM-based education for young people, we're trying to stimulate local microindustries," Tommy Joshua Caison, the park's executive director, said during his opening comments Friday. "But there's also a bigger lens. It's the work — and if I can be as bold to say it — of the second founding of Philadelphia, the lens that allows us to see a distant object, which is a better city in the future."
The upcoming addition at North Philly Peace Park draws heavily upon influences of Afrofuturism to inspire this broader change. Felder, an alum of the University of Pennsylvania School of Design, offered a quote from Mark Dery's 1994 essay, "Black to the Future," as a working definition of Afrofuturism: "Can a community whose past has been deliberately rubbed out and whose energies have subsequently been consumed by the search for legible traces of its history imagine possible futures?"
Functionally, the new structure — the Peace Park Pavilion — will be a dynamic, well-shaded space with multipurpose rooms, a kitchen, indoor and outdoor lighting, and extra storage on the park's premises. But its conceptual design borrows from past, present, and future experiences of the African diaspora. Most impressively, the pavilion's single roof casts an intricate sundial on the ground as a symbolic, shifting reminder of time that's reminiscent of open floorplans and lighting found within West African temples and mosques. The porch itself is an allusion to African-American Southern porch culture, along with the stoops of Sharswood rowhouses.
Early in the process, Felder — who led the project working in collaboration with local architecture firm Bohlin, Cywinski, Jackson — asked local artists to imagine Afrofuturism on a local scale. The designers also hosted a series of community meetings, in which neighborhood residents, including young children, weighed in on the park's expansion.
"As you can see in the current design, all of these concepts were brought together and integrated to create an experience not only for the community but also people who come by and visit the community, to learn about the spirit of a place, which is represented by the inner cleansing light," Felder said.
The project served as a launchpad for a broader discussion about the intersection of architecture, Afrofuturism, and equality in Philadelphia. Following her presentation, Felder was joined on stage by Frank Grauman, principal architect at Bohlin, Cywinski, Jackson; Sara Ozawa, a recent Haverford College graduate who wrote a thesis on North Philly Peace Park;  and Tayyib Smith, a founding partner of Pipeline Philly and Little Giant Creative. The conversation was moderated by Natalie Nixon, principal and design strategist at Figure 8 Thinking LLC.
Although the vernacular of Afrofuturism might be foreign to some architects, there is the potential for overlaying its principles in the field. "Architecture is all about the future — building something is one of the most optimistic things that you can do," said Gausman. "[Architecture] is also the medium in which we often communicate with the distant future… As we do architecture, something like the Peace Park, we're doing something that communicates deeply into the future."
Though the next phase of North Philly Peace Park aims to be exemplary in its incorporation of Afrofuturist principles, the lessons learned from of the park's seminal experience — occupying abandoned lots in an overlooked neighborhood marked by divestment — can't be overstated, the panelists noted.
"Through urban renewal or the Highway Act, a lot of spaces that were once thought of as undesirable are now the most desirable pieces of land in the northeast corridor of the United States," Smith said. "Communities are never getting that land back. To a certain degree, it's not just brave and courageous for communities to take action, to take command of land, but it's wise."
As for what the pavilion project will mean for the Peace Park, it's a major step forward, no matter which kind of time you choose to pay attention to.
"I think the park is becoming a rooted institution. That's what's happening right now," Caison said.
This article has been updated to correct moderator Natalie Nixon's job title.
WHYY is your source for fact-based, in-depth journalism and information. As a nonprofit organization, we rely on financial support from readers like you. Please give today.