Activist arrested at City Hall protest targeting Jannie Blackwell
Sheriff deputies arrested an activist in Philadelphia City Hall after the Brown and Black Workers Cooperative disrupted a City Council meeting.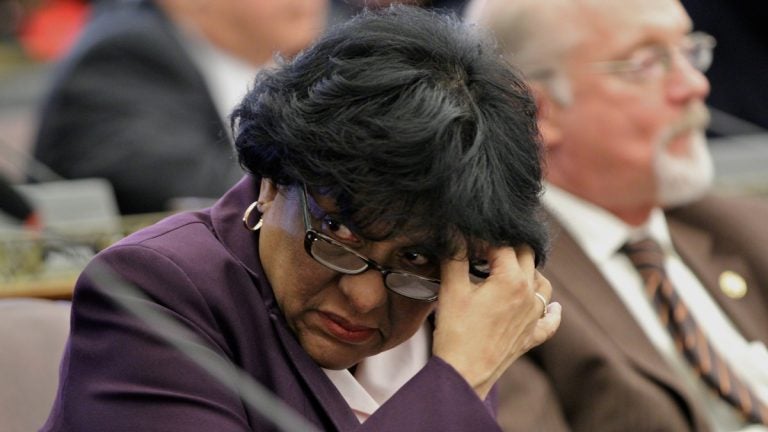 Updated 7:22 p.m.
This story originally appeared on PlanPhilly.
—
Sheriff deputies arrested an activist in Philadelphia City Hall after the Brown and Black Workers Cooperative disrupted a City Council meeting.
The group interrupted Thursday's meeting with demands to end councilmanic prerogative, the political norm that gives district city councilmembers control over public land sales, street regulations, and zoning maps in their territory. Sheriff's deputies quickly surrounded the activists.
One of the founders of the cooperative, Abdul-Aliy Muhammad, said "this is a f—–g police state," as police removed him in handcuffs.
Shani Akilah, another co-founder of the collective, shouted as law enforcement officers surrounded her.
"Who are they building for? Not us, not us," Akilah said. "We demand an end to councilmanic prerogative. People are dying. People are losing their homes. This is about the poor and working-class Philadelphians who can't speak for themselves."
The group also protested West Philadelphia councilmember Jannie Blackwell's re-election launch on Tuesday evening.
Videos from the event show one former Blackwell aide, Michael Youngblood making vulgar comments about alleged sexual activities and rape to one of the activists.
Blackwell is facing a serious challenge for the first time in years from Jamie Gauthier, formerly of the Fairmount Parks Conservancy.
"I don't even know them," said Blackwell. "They've been seen getting on the El going to other neighborhoods, so I don't know them, they don't live in my area."
Here's a looooong NSFW video of the end of the incident as the Black and Brown Workers Cooperative members were ejected from City Council pic.twitter.com/dLH8XDAdmb

— Jake Blumgart (@jblumgart) February 21, 2019
The Brown and Black Workers Collective did not immediately respond to a request for comment. In the past they have denied Blackwell's accusation, claiming that "a considerable amount" of their members live in her district.
The group first began protesting against Blackwell during the negotiations over the 4601 Market Street development, in which city-owned land is being utilized for a large public health campus.
The Black and Brown Workers Cooperative accuse Blackwell of being in cahoots with the developer, Iron Stone Realty Partnership.  PlanPhilly reporting revealed she held up the land sale to aid a different developer.
City councilmembers argue that councilmanic prerogative allows them to address constituent concerns, and steer land towards neighborhood-friendly uses like affordable housing or community gardens.
The alternative, they say, would be to turn over land use and zoning decisions to an unaccountable municipal bureaucracy.
"District council people are elected, to represent the community," said Blackwell."That's one of the advantages of longevity. I have no idea why dealing with zoning, dealing with community groups [would cause protest]. That's one of the greatest things about being a district councilperson."
Critics have long maintained that councilmanic prerogative allows council people opaque powers that can be traded for political favors or campaign contributions.
Multiple scandals in recent months have found that Councilmember Kenyatta Johnson appeared to have steered land to a childhood friend-turned-developer and that a city judge manipulated the process to obtain city land for well below market value.  A 2015 Pew study noted city council's control over land use is related to all six of the council members convicted of wrongdoing since 1981.
WHYY is your source for fact-based, in-depth journalism and information. As a nonprofit organization, we rely on financial support from readers like you. Please give today.