A primer for Philadelphia's pop-up season
After the sexy newness of a pop-up leaves town, can neighborhoods sustain the benefits for local businesses?
This story originally appeared on PlanPhilly.
—
After the sexy newness of a pop-up leaves town, can neighborhoods sustain the benefits for local businesses?
It's a question I've been asking for years, pretty much since I moved to Philadelphia in 2009, just as the ephemeral art or retail installations were becoming a thing to do in cities. I grounded myself here, as I'd done during prior stints in Chicago, Brooklyn, and San Francisco, with people-watching and local food. Some time later I became a city planner who focuses on community economic development. I got to know and love Philly's neighborhoods by working with our local businesses. Economic dignity and place-based development became the core of my work. Pop-ups became not just spots I visited with friends for beers or bahn mi on the weekend, but a professional interest.
Capital improvements, community buy-in, insurance for temporary art installations…they all cost. For cash-strappedorganizations, individual advocates, and even in times of crisis, pop-ups may offer an economic lifeline. And a way to show potential investors what a little bit of money could do to a vacant space or street. They show us what could be. Early pop-ups aimed to create a center of gravity in an underutilized space. In 2012, while working for the Philadelphia Chinatown Development Corporation, I partnered with the Food Trust to host the Night Market, a pop-up 'roving food bazaar,' on 10th and Race Streets, Chinatown's two primary commercial corridors. The one-night event was a huge success but the community win didn't come easy. Months of bilingual meetings and trainings went into involving local businesses and ensuring that the neighborhood's permanent residents felt the benefits.
But what are the downsides of this short-termist strategy?
At a recent talk hosted by Temple University's Tyler School of Art, the renowned landscape architect Walter Hood framed the dilemma in stark terms. "My big critique [of Philly's pop-up spaces] is what will happen in five years?" Hood said. "You'll have a memory of a beer garden here, but it doesn't really matter when there's a high-rise that goes up that's not publicly owned."
Hood is not the first to lodge this criticism. A pop-up beer garden is a euphemism for gentrification, Ernest Owens wrote in 2015, calling a pop-up in Point Breeze "a cringeworthy example of how some new Philly traditions might be hurting its residents." By 2017, the Philadelphia Inquirer's Samantha Melamed questioned if Philly reached peak pop-up. By 2018, Philly ranked as the 4th most food truck-friendly city in the nation.
Preparing for a pop-up properly: It takes a village
For Frank Huynh, owner of Chase's Hop Shop and a board member of the Burholme Civic Association, hosting the Night Market in 2017 was a community-wide campaign and a win for the entire Northeast Philadelphia region. Volunteers handed out flyers, local businesses circulated the news, and "customers went and told their family members and neighbors," Huynh said.
On the economic impact, Huynh says "a few of the business saw a increase in sales because of the Night Market. We got exposure that we probably wouldn't have gotten for the whole Northeast didn't come out."
Imagine "20,000 plus people on Rising Sun Avenue  No one would have thought it was possible to have an event like this three  years ago when I open my shop up," Huynh said. In addition to meeting people who never came to Burholme before, "a lot of people who grew up in the neighborhood but moved away…came back for the event so they could catch up with childhood friends and family. It really brought our community together."
A pop-up can be tiny, inexpensive, and designed with the community in mind. In 2017, Moder Patshala, a West Philadelphia-based nonprofit that provides a fully volunteer-led afterschool program in the founders' rowhouse, hosted a 'pop-up' community tour as part of Young Involved Philadelphia's State of Young Philly Week. In coordination with the Asian Mosaic Fund, a community lending circle, Moder Patshala took dozens of visitors on a tour of their building and their work. Folks of all ages took tours in staggered groups before packing together in a meeting room (which the founders convert back to their dining room every night) to learn about the issues that the Bangladeshi-American and other vulnerable marginalized immigrant and refugee communities in West Philadelphia are facing.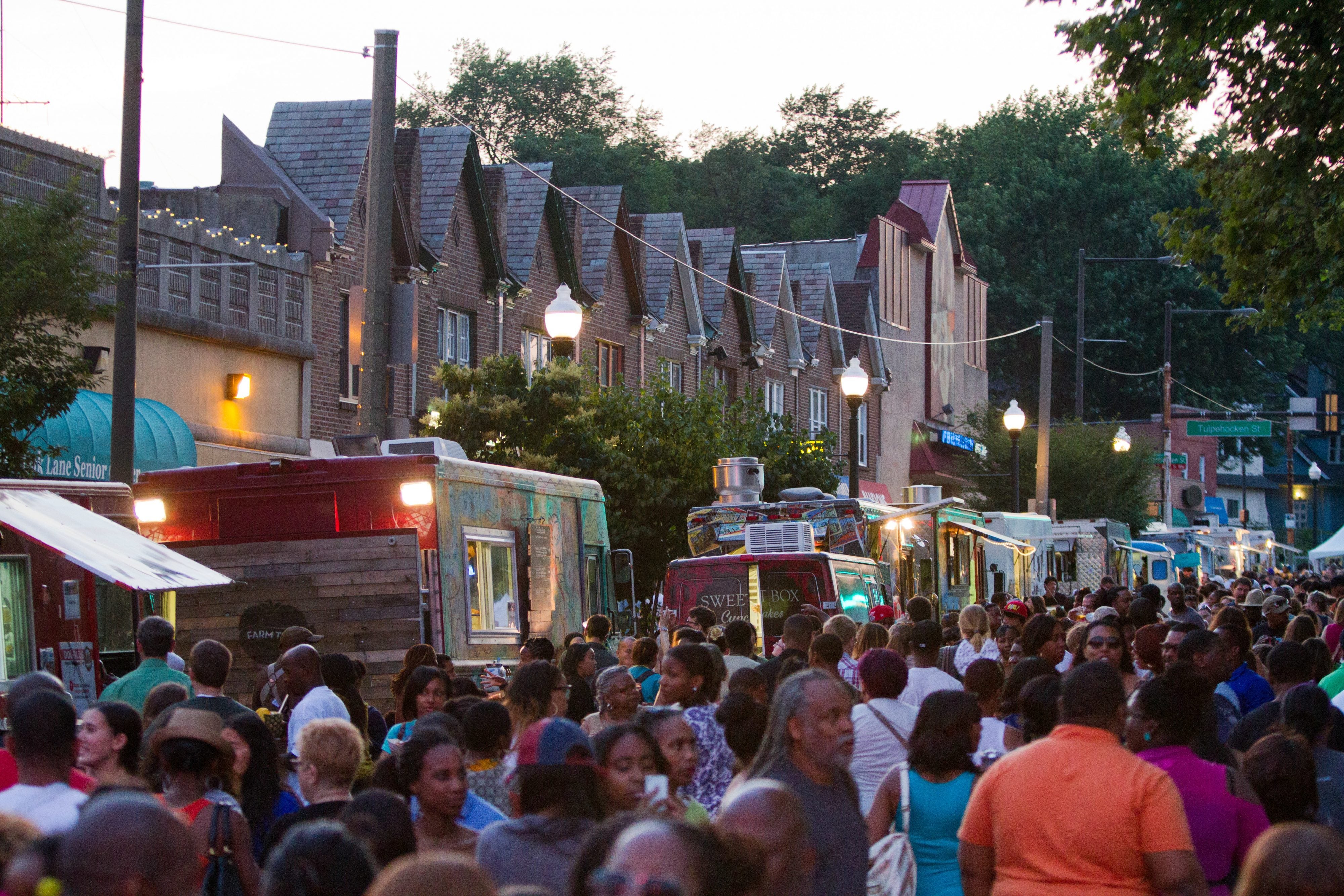 The event was free and afterward attendees walked over to Manakeesh, a neighboring immigrant-owned business across the street from a mosque and Chinese church, to discuss further over good food. Jonne Smith of Sanctuary Suppers Philadelphia, a group dedicated to increasing public awareness and support of documented and undocumented immigrants, had never heard of Moder Patshala or Manakeesh before. We "were blown away by our experience there," Jonne said afterward. Now there are two more immigrant businesses on their radar, in a section of the city they did not know very well.
Learning the language of compliance, scale, and efficiency
So, let me circle back to the point. The pop-up is not just for you, visitor.
The pop-up is not just a flash experience for the amusement of the passerby. It is a chance for the neighborhood to try a new tactic, businesses to try new markets, and for everyone to try working with an orchestra of city agencies. Anyone who has worked on a block party knows the cost of streets closures, police, and EMTs. Then multiply that by 30 and add strategically-placed porta potties. And after that, refine until it fits with the community. For the Food Trust, sharing the blueprint for a successful mass food festival follows a similar model as their farmers markets. "The idea is that we can show [our community partners] the ropes and get the ball rolling for them… and they can take the momentum and run with it," the Food Trust's Diana Minkus, told the Philadelphia Business Journal's Alison Burdo. "We don't have ownership over street food festivals."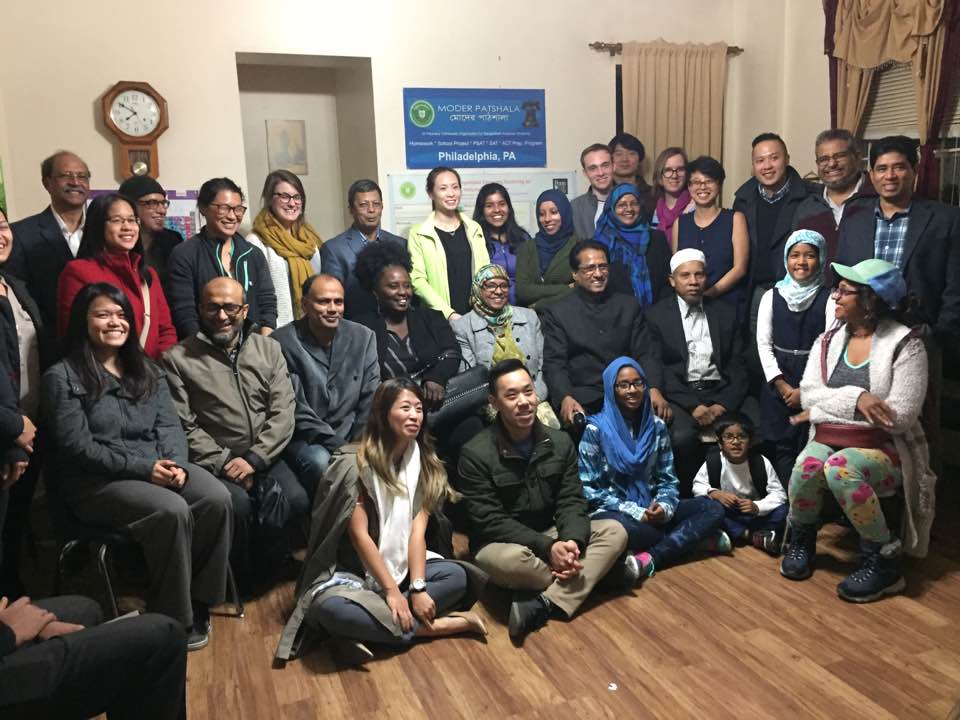 The Ogontz Avenue Revitalization Corporation (OARC) took the opportunity to partner with the Food Trust in 2014 in an effort to reincarnate the shuttered West Oak Lane Jazz Festival, a  three-day music festival that had an eight-year run in the community before losing its funding. OARC experimented with bringing back local music with a smaller concert which doubled as a ticketed fundraising event, tying it in with the Night Market. "Hosting a smaller-scale festival is more feasible in terms of keeping ticket prices affordable and attaining sponsors, a necessity now that the organization has to put on the event without public funding," OARC's Chief Operating Officer John Ungar explained.
Still, the scaled-back festival cost an estimated $40,000 according to Rep. Dwight Evans. However, the value of trying a rebirth that paid homage to the festival's mission resonated with locals and musicians alike. Maintaining arts and culture, and providing a public stage for future generations of jazz musicians, like local high school bands, is an important festival tradition, and "the lifeblood" of a community, participants said.
That anecdote makes a clear case for the value of the pop-up. The benefits may not be immediate or come without a ton of work but they do show up. But not always. Like most trendy things, the temporary installations come with risk. There are plenty of examples out there of pop-ups that offended the host community, came without intent or purpose or created a space that wasn't welcoming to everyone. And for the people who live near the pop-up site, even an event that lasted only a few hours can have impacts that linger well after visitors have packed up and popped out.
So what now?
When spring finally comes, and it will come, you will get a blast of invites for pop-up beer gardens, food festivals, and dance demos. Before you think about what you'll consume or which line to stand in, consider where you'll be. This is your chance to go to a neighborhood that you have not seen before. Take that in and think about what you'd do when you come back. Get to know the businesses and institutions who have dedicated themselves to their neighborhood, and who are welcoming you. Do them a favor and pay it forward. For the local communities who are cautious about baring their best only to have visitors come and leave, with no care for the neighborhoods they walked into, prove them wrong. Share what you discovered and go back, so that you can message to that local community that a pop-up is only the beginning, but your commitment to supporting neighborhood places is here to stay.
WHYY is your source for fact-based, in-depth journalism and information. As a nonprofit organization, we rely on financial support from readers like you. Please give today.