A Philly-Pittsburgh Hyperloop? State House resolution calls for feasibility study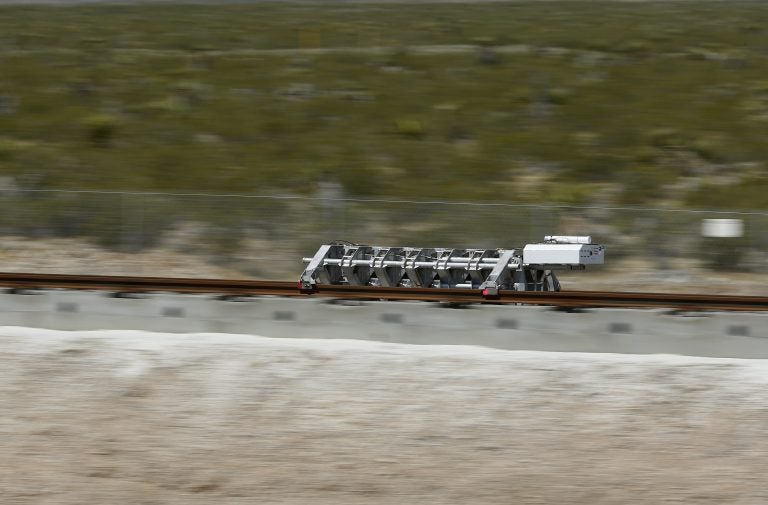 This story originally appeared on PlanPhilly.
—
It's not hyperbole to say that no contemporary transit proposal has received as much hype as the Hyperloop — Elon Musk's concept for intercity travel at nearly supersonic speeds seemingly inspired by the pneumatic tubes common at banks' drive-thru teller windows.
The Hyperloop's promise of comfortable passenger trips at 700 miles-per-hour delivered on an infrastructure network that would cost a fraction of comparatively snail-paced high-speed rail projects helped fuel breathless coverage of Musk as a real-life Tony Stark, and the inevitable blowback as critics railed against it as just another half-baked and self-serving publicity stunt from the Tesla and SpaceX CEO.
Now, a handful of state legislators want Pennsylvania to hop on board nascent Hyperloop planning, calling for a study of a Keystone State connection between proposed Hyperloop routes along the Northeast corridor and in the Midwest.
"This is a huge opportunity for us in the Commonwealth and we don't want to miss the boat — or more importantly, we don't want to miss the Hyperloop on this one," said state Rep. Aaron Kaufer (R-Luzerne), the resolution's lead sponsor.
House Resolution No. 1057 merely calls on the house Legislative Budget and Finance Committee to study a cross-state Hyperloop between Philadelphia and Pittsburgh with a stop in Harrisburg, plus a northeast connection to "Wilkes-Barre/Scranton." It passed out of the Transportation committee unanimously, setting the stage for a vote on the House floor. But even if it passes there, the resolution is not binding and would require additional legislative action before any study commenced.
Depending on the route and whether it could hit maximum speeds most of the way, a Hyperloop line between Pennsylvania's two largest cities could take as little as 30 minutes — about half the time it takes to fly.
Kaufer pointed to a proposed route between Chicago and Pittsburgh by way of Columbus from Virgin Hyperloop One, and another from Musk's The Boring Company to build an underground route between New York City and Washington, D.C. by way of Philadelphia and Baltimore. (The Boring Company, which aims to build more efficient tunnel-digging machines, is a subsidiary of SpaceX.)
By laying the groundwork with a study, Kaufer hopes Pennsylvania can inspire private companies to do the rest.
"There's a lot of potential there," said Mike Boyer, Associate director of comprehensive planning at the Delaware Valley Regional Planning Commission. "But I think there are also a lot of hurdles — particularly, design hurdles."
Part of Hyperloop's appeal comes from Musk's promises of being able to build the superfast system at surprisingly low costs — his original white paper estimated a price of $11.5 million per mile, a fraction of the cost of high-speed rail. But some of the massive startups that have sprung up to turn Musk's vision into reality have subsequently put forth estimates closer to ten times that amount, on par with high-speed rail.
In 2015, PennDOT estimated the cost of building a new rail line with Acela-like speeds between Philadelphia and Pittsburgh at $38.3 billion.
The cost estimates on massive infrastructure projects like those proposed here tend to rise, as boosters frequently underestimate expenses caused by factors like political opposition, regulatory hurdles, and environmental considerations.
The Hyperloop is essentially a high-speed maglev train built in a low-pressure tube — the lack of wind resistance theoretically allows Hyperloop pods to hit speeds double the record 374 miles per hour hit by a Japanese maglev in 2016. Like maglev trains, the Hyperloop would require long straightaways to hit its top speeds, an engineering fact made complicated by Pennsylvania's geography, said Boyer. "We're a state with a bunch of mountains and towns between Philly and Pittsburgh."
The critical question about the wisdom of investing billions into developing Hyperloop lines is one of demand, said Dr. Megan Ryerson, who studies intercity transportation at the University of Pennsylvania. She points to the fact that there is only one daily passenger train between Philadelphia and Pittsburgh and just four non-stop flights.
"The airlines are private companies — they are looking for city pairs where they will make money," she said. If more people needed to get cross state quickly, there'd be more flights — especially considering that Philadelphia International Airport is a hub for American Airlines.
"You get a half hour's savings, but what are people willing to pay for that?" asked the DVRPC's Boyer. "That's why I don't think you've seen another supersonic airline service since the Concorde stopped because there just isn't that much of a demand for people who'd pay that much money to get whatever those incremental time savings would be."
According to Ryerson, the buzz around the Hyperloop echoes an earlier era in American history, when cities rushed to build and expand airports in the 1920s. The run on runways had long-lasting consequences to municipal budgets in smaller cities where there simply weren't enough air travelers.
"We've been down this road before," said Ryerson, "where we build on this hope and not on demand, and we build because we want to keep up with other places and then the infrastructure ends up being too big and underutilized."
If Harrisburg does decide to study a cross-Commonwealth connection, Ryerson said it should focus on some of the potential side effects shrinking travel times between major cities might have on those places: What happens to Philadelphia when, all of a sudden, a Hyperloop trip into Midtown Manhattan from Center City is faster than driving in from Queens or Staten Island?
"I think that really needs to be thought through and scenarios played out — how economic activities are distributed — because it could really change the distribution of economic activities across cities that, right now, we think of as so distant," said Ryerson.
Such changes are a part of Philadelphia's own history. West Philadelphia was originally considered a "streetcar suburb," made accessible to professionals commuting into Center Center by the early advent of trolleys — initially horse-drawn, then electric. As railroad companies expanded their commuter rail lines further out, and the region's turnpike and highway network developed alongside improvements in automobile travel, the radius of comfortable commutes downtown continued to expand out further and further, drawing once unconnected towns into the aegis of Philadelphia's suburbs. Germantown was an independently founded town, separated geographically as well as linguistically and religiously from English-speaking, Quaker Philadelphia. But in time, hastened by the immediacy of streetcar travel, Germantown was slowly subsumed into the urban fabric.
While some Hyperloop test tracks are up and running, some engineers remain skeptical that a safe, comfortable, and affordable system can be built. But that hasn't deterred the investors behind companies like Hyperloop One and The Boring Company, and it isn't deterring Rep. Kaufer.
"We should be investing in what lies ahead, what comes forward," he said. "If there's something we can do to partner as a Commonwealth to help make this investment happen, to make us on the cutting edge of technology, we want to be there."