N.J. home to 35 sites where two PFAS chemicals top new state limits
National advocate compiles data from utilities, military, and academia to show contamination.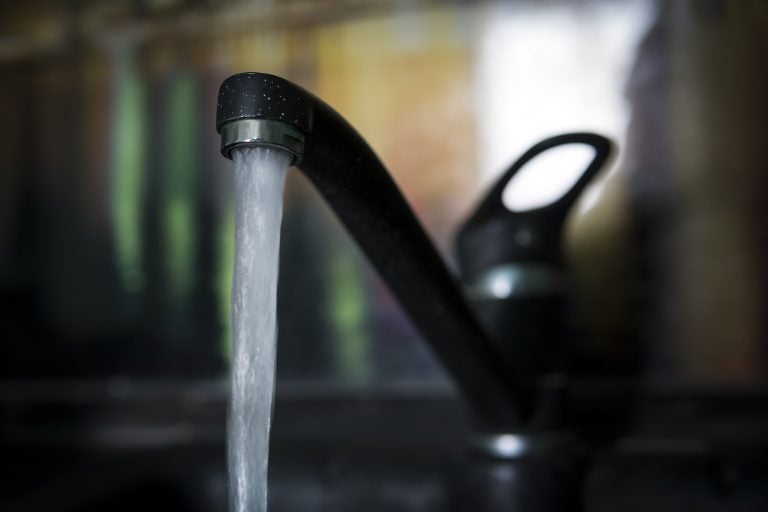 Researchers have identified 35 New Jersey sites where drinking-water tests in recent years reveal contamination with two toxic PFAS chemicals exceed limits now being implemented by state officials.
Environmental Working Group, a national advocate for stricter limits on the chemicals, compiled PFAS (per- and polyfluoroalkyl substances) testing data from local water systems, an academic survey, and military authorities throughout the country, and presented it in a national map that was first published in July 2018.
An updated map, published on Monday, shows 23 New Jersey sites where PFOA, a type of PFAS chemical, topped a new health limit of 14 parts per trillion (ppt) that's due to be set by the Department of Environmental Protection. The data shows another 12 sites where contamination with the chemical PFOS was higher than a new state health limit of 13 ppt.
Search an interactive database of water systems and locations with PFAS contamination.
Keeping drinking water safe
State scientists have determined that human health can be protected by setting those limits for drinking water.
While contamination levels may have declined following treatment by water utilities, it is likely that some level of the chemicals remain because they don't degrade in the environment. That represents a continuing health concern, said Bill Walker, vice president for EWG.
"When a water system is contaminated with PFAS, treatment will lower the concentration but not completely remove it. So the contamination is still there, just being treated at a cost to the water district and its customers," he said.
EWG isn't saying that every site on the map has water that's unsafe to drink but it does endorse research showing that PFOA (perfluorooctanoic acid) and PFOS (perfluorooctanesulfonic acid) can harm human health at levels as low as 1 ppt, Walker said.
Elsewhere in New Jersey, PFOA or PFOS in two places exceeded a much higher health-advisory limit of 70 ppt, as recommended — but not required — by the Environmental Protection Agency, according to the data.
Getting tough on setting limits
Officials in some states including New Jersey are setting tough health limits on PFAS chemicals in drinking water and ground water in response to growing evidence of their links to cancer and other health conditions including thyroid problems, low birth weights, and elevated cholesterol.
The chemicals, whose uses once included nonstick cookware and flame-retardant fabrics, are more widespread in New Jersey than in many other places because of the state's industrial heritage. While the better-known PFAS chemicals have been phased out by U.S. manufacturers, they persist in waterways and soil because they don't break down in the environment.
Some are being replaced by substitute chemicals such as GenX, which scientists say may be just as toxic as the originals.
In 2014, the DEP published its own PFAS study from data gathered in 2009 and 2010, finding that two-thirds of samples taken from 31 municipal water systems contained the chemicals.
The new map shows New Jersey with 43 sites where the chemicals have been found at various levels. That's the third-highest in the country after California and top-ranked Michigan, and is 36 more in New Jersey than when the map was first published.
Growing understanding of scope of problem
Nationally, there are now 610 sites in 43 states with PFAS contamination, up from 172 contaminated sites in 40 states the last time the map was published. The two maps are not directly comparable because new data sources were added this time, but they show growing knowledge about a widespread national problem, EWG said.
The additional sites probably indicate new data sources rather than the spread of contamination, EWG said. But it warned that the overall results are still likely to understate the true scale of the problem.
The EPA requires reports from utilities only at a relatively high level of contamination, so the data is likely to exclude many lower-level results that still represent a threat to public health, EWG officials said.
Walker said there is "ample reason to believe" that PFAS contamination is more widespread than indicated by the EPA data because of the agency's high reporting levels, and because many states have not done the extensive testing that is currently being done, for example, in Michigan.
The EPA required national testing for PFAS in public water systems from 2013 to 2015 but did not release the results of PFAS below 90 ppt, according to EWG. Later testing by a private company found 28 percent of public water systems had PFAS chemicals at or above 5 ppt, and the number almost doubled when the limit was reduced to 2.5 ppt — which some scientists believe is still a threat to human health.
On that basis, EWG calculated in May 2018 that 110 million Americans, or more than five times the previous estimate, could have PFAS in their tap water.
EPA issues 'Action Plan'
In February, the EPA released an "Action Plan" on PFAS but declined to commit to setting a national maximum contaminant limit (MCL) that advocates say is essential to curbing the chemicals.
In New Jersey, the new data compilation found by far the highest contamination at the McGuire-Dix-Lakehurst Joint Base, where testing in 2015 found ground water as high as 264,300 ppt or 3,775 times higher than the EPA's limit, the data shows.
At the former Naval Air Warfare Center Trenton, now Trenton Mercer airport, DOD officials testing in 2018 found 23 out of 38 monitoring wells contained PFOA and PFOS combined as high as 27,800 ppt, or almost 400 times the EPA's limit.
At both bases, as in many other military sites across the country, high levels of PFAS are attributed to the use of fire-fighting foam containing the chemicals.
Most of the New Jersey data comes from reports to the EPA by 38 local utilities, under a program called the Safe Drinking Water Information System. The highest level was at a United Water location where officials found up to 3.12 million ppt of six PFAS chemicals in drinking water in January 2018, or almost 45,000 times higher than the EPA's health limit for PFOA and PFOS in drinking water.
Tracy Carluccio of Delaware Riverkeeper Network, a longtime campaigner for stricter PFAS limits, said the EWG data compilation offers a helpful guide to the extent of contamination in New Jersey, and should spur officials to finalize the proposed regulation of PFOA and PFOS.
"We have a huge problem in New Jersey with widespread PFAS contamination that begs for immediate and comprehensive action by the state," she said. "This information will help make it clear that New Jersey must finalize the regulatory package that DEP has proposed."
WHYY is your source for fact-based, in-depth journalism and information. As a nonprofit organization, we rely on financial support from readers like you. Please give today.