Police: Suspect kills self to end overnight standoff after 3 Wilmington officers shot
A suspect who allegedly shot three Wilmington police officers Wednesday night killed himself Thursday morning after an overnight standoff, city police confirmed at 2 p.m.
WHYY News had reported late this morning that the man, now identified as 31-year-old Bernard Goodwyn of Smyrna, had died by a self-inflicted gunshot shortly after 9 a.m.
The Rev. Derrick Johnson, pastor of the nearby Joshua Harvest Church, told a reporter at the scene about 9:30 a.m. that police and community members informed him that the unidentified man took his own life in his apartment at the three-story building at 25th and Market streets. An official familiar with the situation verified Johnson's account.
Several residents were in tears on an adjacent block after learning about the alleged suspect's fate. "We're in trauma,'' one woman said.
Area residents had been ordered to shelter in place overnight and into the morning, but that order was lifted around 10 a.m.
Police said the officers responded to the apartment about 9:30 p.m. Wednesday after receiving a 911 call about an "in-progress domestic dispute."
When police entered the apartment, they say Goodwyn opened fire and struck three officers. One has been on the force since 2014 and the others since 2018.
The three injured officers were transported to the hospital in stable condition. One was treated and released. The two others are in stable condition at Christiana Hospital. Two of the officers have served the department since 2014, and one of the officers has served since 2018.
Greg Ciotti, the city police union president, said all the wounded officers were men and all were in uniform. "We're just looking for, you know, prayers for the officers themselves and their families,'' Ciotti told WHYY early Thursday as the standoff continued.
State troopers and New Castle County police, along with the other local and federal authorities,  assisted city police and established a perimeter, cordoning off nearby blocks from the standoff with yellow crime tape and ordering residents to shelter in place.
Authorities attempted over the next 12 hours to negotiate Goodwyn's surrender, police said.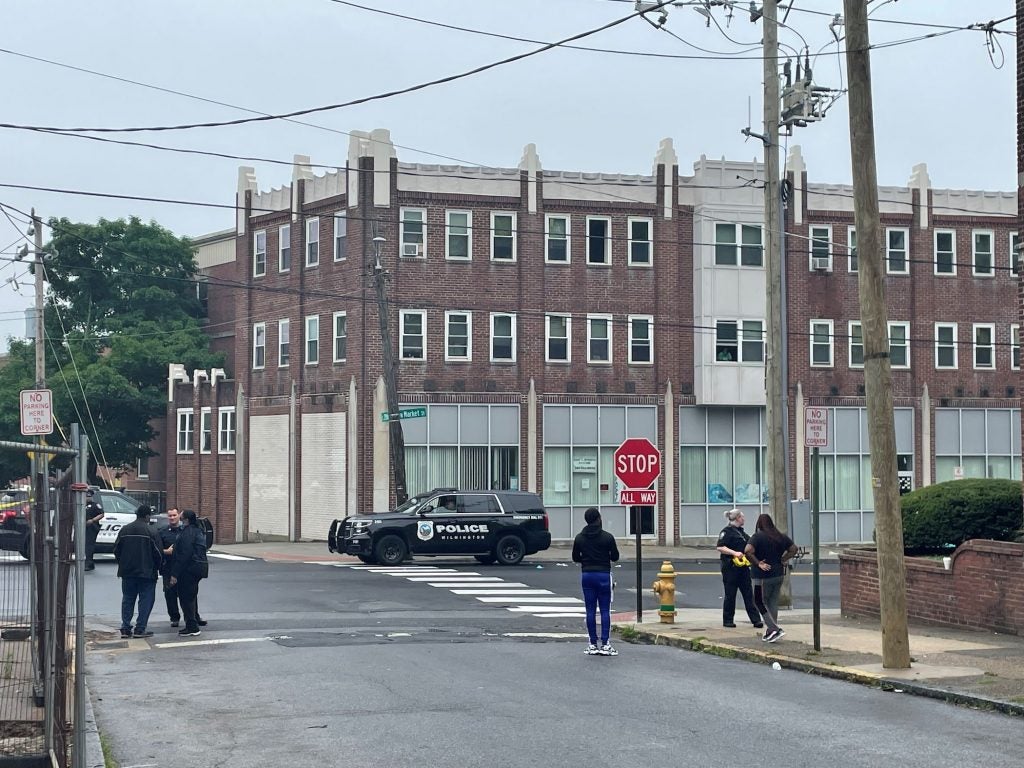 Around 6 a.m., police who entered the building via a fire truck ladder removed two women and a child from one of the apartments in the building.
Officers entered the apartment around 9 a.m. and found that Goodwyn had shot himself to death, said police, adding that his firearm was found at the scene.
The matter is under investigation by both the city's Criminal Investigations Division and the Office of Professional Standards.
Mayor Mike Purzycki issued a statement at 2:15 p.m., saying he visited the two hospitalized officers and spoke with the other one by phone. "They are in good spirits and are being well cared for by wonderful medical professionals,'' Purzycki said. "Most importantly, the officers are being loved and supported by their families."
The mayor also thanked law enforcement officers who "successfully managed and controlled a very tense and dangerous situation throughout the night."
He apologized to the nearby residents, saying, "We appreciate their cooperation."
Minutes after learning of Goodwyn's death, Pastor Johnson lamented that the matter had turned so violent and said he thinks he could have been persuaded to surrender.
"In my judgment, just as a community activist and a local pastor, this probably could have been resolved earlier with some collaboration and cooperation between community, clergy, activists and what have you, because it's obvious that there was an opportunity there to end this nonviolently."
Johnson is calling for a summit between police and the community before the summer begins in less than three weeks.
"There's a great gulf between police and community and the Black community specifically,'' he said. "The perception is that whenever the police show up, they show up in our community with full force and ready to fire. And that's not unique to Wilmington."
Retiree Jason Blakeney, who lives nearby, is wary of the gun violence he says has plagued his neighborhood for far too long.
"There's too many guns on the street and all that stuff,'' Blakeney, who uses a cane, told WHYY as he emerged from his home about 10:30 a.m. "You got to be careful out there nowadays. It's crazy.  Young folks, they don't have nothing to do, no place to go. And the old folks, they're just trying to stay safe."