23-year-old superfan wins protections for West Philly 'gingerbread houses'
For recent Penn undergraduate Corey Loftus, who graduated in 2018, the vulnerability of these iconic structures is a disaster waiting to happen.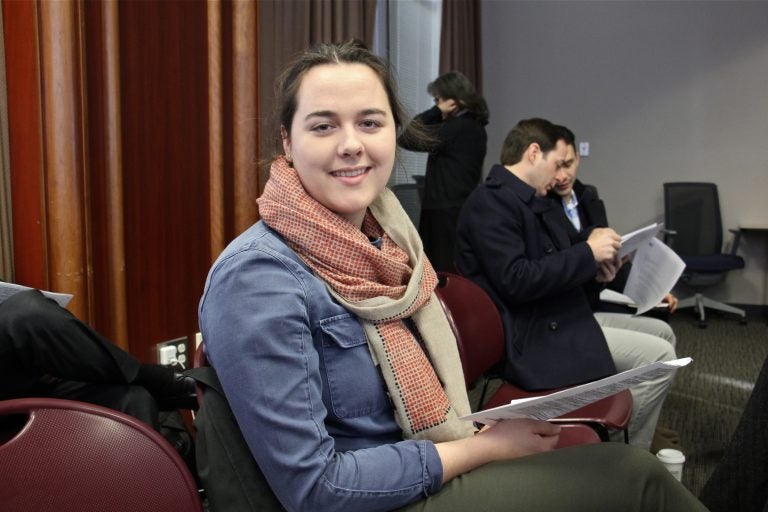 Between the University of Pennsylvania and Cedar Park in West Philadelphia lies what is believed to be the largest collection of Victorian homes in America. Only a handful of them are on the local historic register, which means that the beloved neighborhood of gingerbread-like townhouses could be demolished on a whim.
For recent Penn undergraduate Corey Loftus, who graduated in 2018, the vulnerability of these iconic structures is a disaster waiting to happen.
That's why she woke up early on Friday to appear before the Historical Commission to argue for a handful of nominations she'd written to add three Victorian buildings to the local historic register. She left the hearing with three intricately designed 1890s buildings safeguarded from the wrecking ball.
"I look at this, and I think Philadelphia architecture," Loftus, 23, said, gesturing towards A House Of Our Own, the venerable University City bookstore that occupies 3920 Spruce Street, one of the buildings added to the register on Friday. "I look at this, and I think West Philadelphia specifically. [The neighborhood] really rewards the wanderer who likes to looks around, because there are all these different elements all over the place."
The Spruce Street building is designed in a layer-cake fashion, with different elements of design, materials, and architectural flourishes making each level unique. It is a truly breathtaking building, although that wouldn't be enough to get it historically protected on its own.
Loftus put in the work to produce a 23-page defense of the historical merits of the structure.
Details of 3922 Spruce Street (Corey Loftus)

3922 Spruce Street. (Corey Loftus)

4525 Spruce Street. (Corey Loftus)

3920 Spruce Street. (Corey Loftus)
It turns out that in addition to being an eye-catching Victorian specimen, 3920 Spruce Street is the work of influential Philadelphia architect Willis Hale, who also designed the Divine Lorraine in North Philadelphia.
Adding to its historic value was one of its tenants: Lin Hui-yin, who was a hugely influential voice in Chinese architectural history and lived there in the 1920s. One of the owners of the bookstore, Debbie Sanford, keeps a box full of documents proving Hui-win's residence at the front desk to show Chinese tourists who periodically visit the store.
In addition to writing a mini-tome about 3920's historic merits, Loftus penned a love letter to neighboring 3922 Spruce Street and a 21-page defense of 4525 Spruce Street. That building served as an office for Albert Barnes, whose vast art collection now resides in an eponymous museum on Benjamin Franklin Parkway.
The Historical Commission has not yet taken up Loftus's fourth nomination, a nomination for two rows of houses on 42nd and Chestnut which she submitted at the same time as the other three.
Loftus just laughs off a question about how long it took her to amass and synthesize all this research.
"It's just like 30 or 40 pages," she said. "When you enjoy the process, it goes by pretty fast."
Despite Loftus's modesty, veteran preservation advocates in Philadelphia say the process of protecting individual building is arduous, time-consuming, and expensive.
For years, the process ground to a halt, with only a couple properties added to the local register each year because of low staffing at the Historical Commission and because nominations were being written by a scant few activists. City Council interference in the process also stymied registration efforts. The buildings that Loftus has now added to the register were included in a preservation effort years ago that West Philadelphia Councilwoman Jannie Blackwell opposed and prevented from moving forward.
In recent years, the number of nomination increased, but many can be traced back to one person, Oscar Beisert, who devotes nights and weekends outside his full-time job to the practice. The city's preservationists have long hoped that new blood would join their ranks so no single person would be responsible for the bulk of nominations and over the last two years, more nominations have been submitted by individuals outside the ultra-committed activist core.
Loftus is undoubtedly the youngest of this emergent wave of preservationists. She got her inspiration from a favorite professor, the chair of Penn's undergraduate religious studies department Justin McDaniel, who himself only got involved in 2016 when he began the process of nominating his own block for protection.
"I thought she would do one, find it interesting, and be done," said McDaniel, who is now the head of the Spruce Hill Community Association's historic preservation committee. "But clearly she's kept the ball rolling. She checks in with me every once and a while to ask what I think of this or that. But now she has the rhythm, she's got an eye for what is preservable, and she's an art history major, which helps."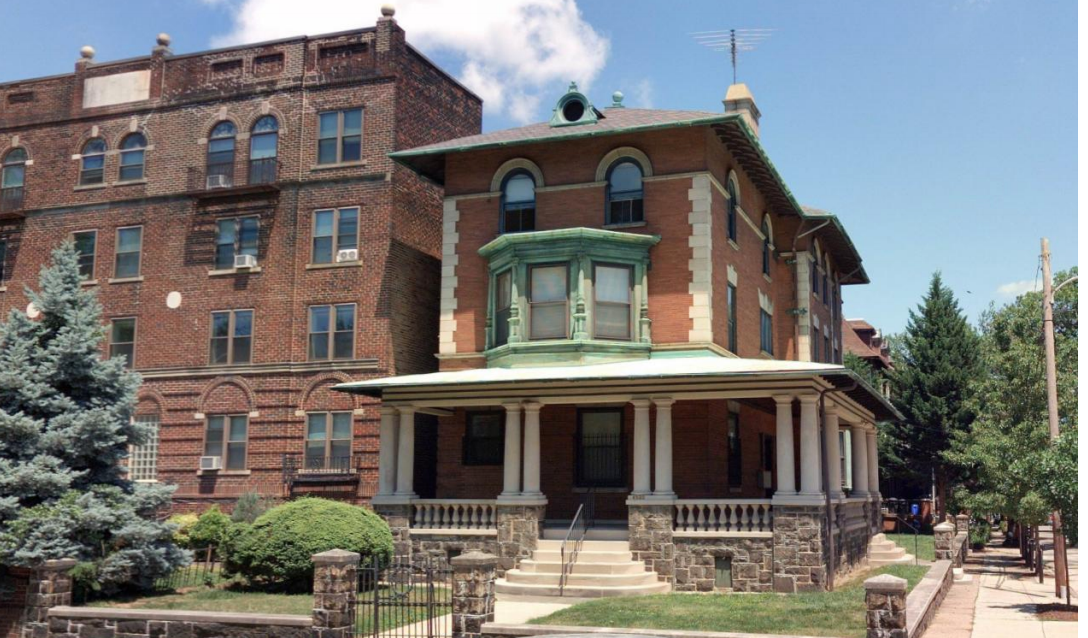 Sitting in McDaniel's book-lined office the day before the Historical Commission meeting, Loftus received a breakdown of what she would face the next day. Her old professor played down the conflicts that sometimes rage in the meeting room at the top in 1515 Arch Street: "It's not a fight. You just have to present your case."
There was opposition from the owner of 4525 Spruce Street, James Cook, who has lovingly preserved the building and two others in the neighborhood. His lawyer, David Moloznik, protested that Loftus's nomination represented an infringement on his client's property rights.
"The owner has done a commendable job over three decades in preserving this property," said Moloznik. "He's a great steward of it and took on the responsibility himself. It is certainly a taking of a property right without compensation."
Loftus says she understands why some property owners fight historic protections. She wants to nominate the block she grew up on, in Bryn Mawr, but her parents blanched at the idea. Like many property owners in Philadelphia, they feared the designation would lower their property values.
"They said 'do not do that because if we want to sell the house, God forbid, we don't know how it will affect us monetarily,'" recalled Loftus. "That's the fear, that's the reaction against it."
Research on the question of how historic protections affect property values is mixed, but there is a strong body of studies that show preservation increasing and stabilizing property values.
"A vast majority of recent studies show that property values tend to rise within historic districts when compared to a similar non-designated neighborhoods," reads a study on the National Trust for Historic Preservation's website.
Moloznik and Cook's objections were not calibrated to sway the commission, however, which is supposed to rule on the arguments for a building's historic relevance. All three of Loftus's nominations will be added to the local register of historic places and protected from demolition.
Loftus is currently applying for graduate schools, which would take her away from the city. She will also be in Colombia between February and May to teach English, giving her only a scant few months left in the Philadelphia area. Nonetheless, she already is working on two more nominations, both in West Philadelphia, and hopes to get a few more in this summer before she leaves for graduate school in the fall.
There will be more preservationists who will rise to replace her, she believes, because, in Philadelphia, inspiration lies everywhere.
"If you notice one house on your walk to work, on your walk off the trolley to your home, you are going to notice that in another house and another," said Loftus. "That builds pride in your neighborhood, and that makes Philadelphia special. I take more interest in these buildings than the average 23-year-old, but when people start to notice, I think everyone takes joy in these things."
WHYY is your source for fact-based, in-depth journalism and information. As a nonprofit organization, we rely on financial support from readers like you. Please give today.