How the waterfront vision was received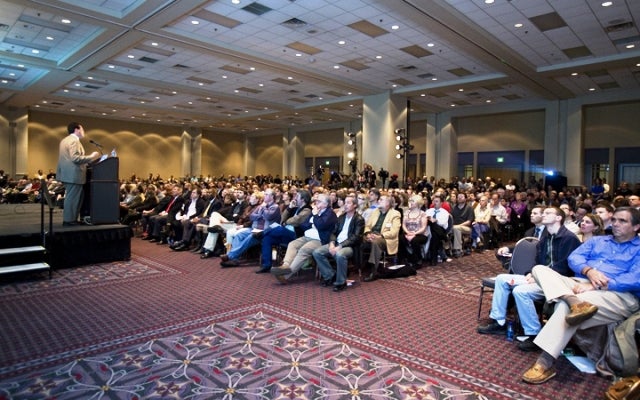 Nov. 15

By Steven Ujifusa
For PlanPhilly
Kelly D'Angelos of the Pennsport Civic Association prepared 750 posters and distributed 50 to each of the 24 community groups that belong to the Philadelphia Neighborhood Alliance. She then coordinated an email blast to all the members of the Alliance.
Her efforts paid off: the meeting room at the Philadelphia Convention Center was packed to capacity, with scores of people standing in the side aisles and in the back. Many of them had attended the two hundred community meetings interspersed throughout the year-long planning process.
Many people at the meeting sported clothespins and pro-bill 1477 stickers handed out by the civic alliance. The clothespins symbolized the "stink" of casinos. If passed by the state legislature, House Bill 1477 would mandate a 1,500-foot barrier between casinos and residential areas, schools, and churches. According to the alliance website, the coalition is "dedicated to responsible development and the protection of Philadelphia's unique neighborhoods from the negative impacts of state mandated casinos."
As the lights dimmed, and Harris Steinberg led everyone on a visual guided tour of the new vision for the Delaware waterfront, the extension of the street grid east of Delaware Avenue would serve as the "connective tissue to the waterfront." The three interconnecting networks from which the plan grew were movement systems, parks and green space, and land development. The audience saw renderings of a landscaped and pedestrian-oriented (and renamed) Delaware Boulevard, mass-transit lines, bike and running trails, and green nature preserves and parks appeared on the two big screens. Formerly deserted industrial sites such as the Port Richmond rail yard were to be turned into commercial/industrial developments scaled to the grid or green tidal refuges for Delaware River wildlife.
The audience broke into loud, spontaneous applause when a rendering of a "great lawn," a suggested replacement to the barren concrete platform of Penn's Landing, appeared on the screens.
The new street plans also showed "build" and "no-build" scenarios for the Foxwoods and SugarHouse casinos. The vast majority people in the audience broke into a cheer when "no build" plans appeared.
When the presentation concluded, the general consensus among the representatives from the Philadelphia Neighborhood Alliance was that the plan was a great vision for the waterfront, clearly reflecting the civic engagement process. But they also felt that casinos had no place within it.
"These ideas have been kicked around for a long time, and it's great to see them finally institutionalized," said Hillary Regan of the Northern Liberties Neighbors Association. "Philadelphia can finally build a world-class city on the waterfront. We can use the waterfront to attract development and investment." Regan was also impressed with the proposals for the reuse of the waterfront's historic industrial buildings, and hopes that the proposed Calder Museum will be situated in the majestic but crumbling Delaware power plant adjoining Penn Treaty Park. Regan also voiced disappointment that the Penn Praxis plan "did not take a stronger position on the casino issue."
Roseanne Loesch of the Society Hill Civic Association said that the unveiled plan was "what urban life and great cities are all about. I loved everything, especially the wetlands and park plans. We really can do something beautiful and environmentally sensitive. I sense a sea change in Philadelphia regarding planning, especially because of the attention paid by Penn Praxis and the politicians."
Loesch expressed special praise about the proposed light rail line that will hopefully run up and down a narrowed and pedestrian-friendly "Delaware Boulevard."

"A resident of South Philly will easily be able to hop on the train and easily head to one of the great restaurants in Northern Liberties," she said. Although Loesch only went to one public meeting, she said she was "quickly absorbed in the tasks" and "amazed at the exchange of ideas." She also called the "no build" plan a "giant step forward" in the planning process. "Two 5,000 slot casinos do not speak to this grid plan."
Dianne Mayer of the Pennsport Civic Association said, "It looks like a very nice plan. I especially like all the green space and the mixed use zoning. However, I don't know for the life of me see how casinos can be worked into the plan. They are the antithesis of the ideals of the plan."
"This plan is a celebration of William Penn's vision for the city and the society he believed in," said Margaret Kalalian of the East Passyunk Crossing Civic Association. "The plan will not succeed if the casinos aren't re-sited, and this was affirmed when I saw the presentation."
Kathy De Leonardo of the Queen Village Neighborhood Association said that she "liked the green space, as well as the park at Snyder Avenue which will filter stormwater. This is a very real opportunity for Philadelphia." The building of casinos within this plan would create a "negative domino effect that will counter the positive domino effect that can be achieved by implementing this plan."
Matt Ruben of the Northern Liberties Neighbors Association, who had appeared in the video presentation at the start of the evening, said that he was "critical of the process at the beginning." Despite his initial skepticism, Ruben was extremely impressed. "I love the plan, especially the three interlocking networks of movement systems, parks and green space, and land development. This plan stands out as being head-and-shoulders above any effort I have seen in my lifetime. Colonial and industrial history has been embraced into the plan, but they are not treated like Disneyland."
When asked whether he had any misgivings about the plan, Ruben said that he only saw risks and questions: "Will there be a critical mass of developers and elected officials to make this work? I feel that the chances of this happening are about 50/50."
Ruben concluded, "no one can deny that Praxis has listened to the concerns of the community. This is a legitimate process, and the beginning of a legitimate vision."

Steven Ujifusa can be contacted at steven.ujifusa@hotmail.com