Newsworks' 2016 Labor Day New Jersey Shore guide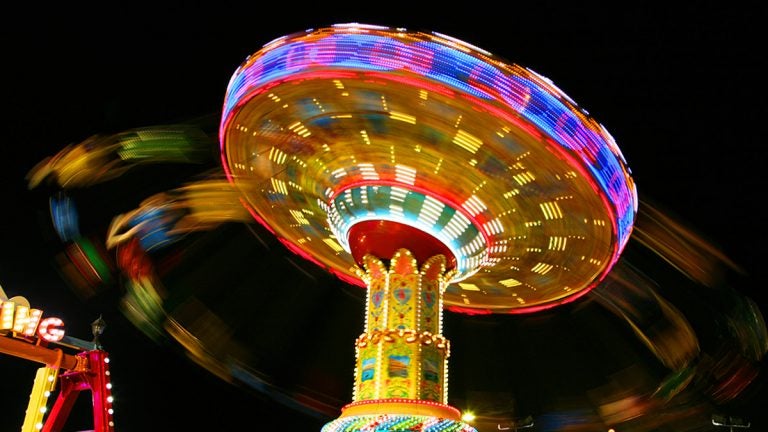 The weather for the Labor Day Weekend is likely to bring rain showers and gusty winds beginning on Saturday. As a result some of the events listed may be postponed or cancelled. We'll try to update this throughout the weekend.
Cape May
Congress Hall's 200th birthday summer gets a send-off with the Bicentennial Music Festival starting on Saturday, Sept 3, 2016. Local musicians Major Thrice, 23 North, Maddie Hogan and The Bastard Sons of Captain Mey will perform on the lawn from 3 p.m. to 9:30 p.m.
One of the highlights of the festival will be the burial of a time capsule that will be opened in 2066, when the hall marks its 250th birthday.
If you could tell folks from the future something about Cape May, what would it be?
The public is invited to participate either by email submission of photos and other memories timecapsule@congresshall.comor by dropping off items to be housed in the time capsule. The drop off location is a designated box in the hall's lobby.
The time capsule will be buried with a special ceremony at the start of the festival.
Also happening in Cape May, it's the return of the 20th annual AirFest at the Naval Air Station Wildwood (NASW) Aviation Museum at Cape May Airport from Friday, Sept 2 through Monday, Sept 5.
The four-day event features walk-through tours of WWII bombers and assorted military flying machines on display. Other festival highlights include live music, a beer garden, food trucks and vendors. Tickets cost $14 for adults and $10 for kids.
West Cape May will be honoring the Jersey tomato on Sat, Sept. 3, from 9 a.m. to 5 p.m. in Wilbraham Park with it's annual West Cape May Tomato Festival. Vendors will be selling tomato goodies like pies, empanadas and salsa. Rain date is Sunday, Sept. 4
The Wildwoods
Want fireworks to cap off your summer? The Wildwoods' holiday festivities begin with the annual Labor Day Weekend Fireworks Extravaganza on the beach Friday, Sept 2 at 10 p.m.
WILDWOOD BLOCK PARTY CANCELLED
On Sun, Sept 4, close out the season with the Wildwood Block Party and Music Festival in Fox Park scheduled from 11 a.m. to 11 p.m. There will be plenty of crafts, festival food, sweet treats, rides, games and continuous free live entertainment with The Sound of Philadelphia Show, featuring MFSB, The Blue Notes, Brass Transit, The Infernos, plus the Jeremiah Hunter Band, Purple Reign, Jimmy Lee of Blue Magic, Fat Larry Band, Bittersweet, Just In Time and 45 RPM.
Ocean City
Ocean City, New Jersey, greets autumn again with a smile at the goofy King and Queen of Plop coronation on at the 9th Street Beach on Friday, Sept 2, at 11 a.m.. Contestants in the quirky competition vie for the crown by falling dramatically to the sand in slow motion. Registration begins at 10:30 a.m. and is free.
On Sun, Sept 4, at 7:30 p.m., the Ocean City Pops will perform a musical tribute to film composer, John Williams at the Music Pier. The concert will feature an expanded orchestra and Williams' signature "Star Wars" theme. Tickets range from $20 to $25.
The annual Ocean City Labor Day Race 5-mile beach run and 1-mile fun run and walk takes place on Mon, Sept 5. Registration cost $25 for adults and $10 for kids 14 and under.
Atlantic City
ATLANTIC CITY BEACH CONCERTS FOR SATURDAY AND MONDAY ARE CANCELLED
Atlantic City has plenty of music on tap this holiday weekend with country music sensation, Florida Georgia Line performing on the beach, Sat, Sept 3, at 4 p.m. They'll be joined by Cole Swindle, The Cadillac Three and Kane Brown. Tickets start at $39.50. Blink 182 will perform Monday on the beach at 1 p.m.
Electronic dance music fans can get their fill at the Borgata's new nightclub, Premier, which opened this spring. Trap fans will want to catch Kennedy Jones on Friday. Dutch EDM group, Dash Berlin will be on deck Saturday, Sept. 3, while on Sunday British progressive trance group, Above and Beyond will get the dance floor moving.
Those looking for end of summer fireworks can catch the second to last display at the Tropicana on Saturday, Sept 3, at 10 p.m. The 10-minute show is put on by Grucci, a sixth-generation family owned pyrotechnic company