A Christmas Carol, Hagley Museum twilight tours and more highlight this week's Delaware arts calender
From concerts and movies to special events for the whole family, there is always something to see and do in Delaware. Here are some of our picks.
New Castle County
Hagley Museum: Twilight Tours
Enjoy a rare opportunity to see Eleutherian Mills, the first du Pont family home built in America, dressed for the holidays and illuminated with softly glowing lights. Lace, fresh greenery, poinsettias, and dried flower arrangements adorn holiday displays throughout the residence. This experience begins in the Visitor Center. Space on tours is limited and reservations are required. Call (302) 658-2400, ext. 261. Tours begin at 4:30 p.m. and depart every half hour until 7 p.m. Admission is $10 for non-members and free for members. Use Hagley's main entrance off Route 141 in Wilmington, Delaware.
Delaware Theatre Company presents: A Christmas Carol, through December 30th
Audiences rejoice! Ebenezer Scrooge returns to our stage in this thrilling adaptation of a holiday classic. Using nothing more than props, puppets, fresh physicality, and the power of imagination, seven actors bring some of Dickens' most beloved characters to life right before your eyes. Don't be left out in the cold for this timeless tale with a fresh twist! Delaware Theatre Company, Wilmington.
Totem by Sarah Yeoman, through December 30th
Yeoman is an award-winning watercolorist who paints a variety of subjects from landscapes to still lifes to city streets. "Totem" focuses exclusively on her paintings of crows and ravens. The artist spent years feeding and studying these birds, and the paintings explore her observations and relationships with them. For Yeoman, the birds represent a symbol of the unconscious, of our freer selves, and she is interested in how their narrative often mirrors our own. Mezzanine Gallery, Carvel State Office Building, Wilmington.
Kent County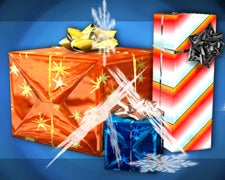 Holiday Wrap Up, December 23rd
Need help getting those gifts wrapped for the holiday? Wrapping assistance will be provided, complete with background seasonal music. A limited selection of gift wrap will be provided and participants are welcome to bring their own. Dover Public Library.
Sussex County
Milton Theatre presents: Tweed, December 30th
Tweed with special guests! Tweed inspires and excites through music fueled by high energy performance and improvisation. Just as their namesake fabric of mingling colors and textures, Tweed has interwoven a psychedelic web of funk, rock and electronica. The band was formed at University of Delaware and now calls Philadelphia its stomping ground. Their collaboration can take listeners from multi-layered visions through the psyche to sweaty, raging dance parties driven by their own incessant beat. Milton Theatre.