20 years and running: Philadelphia Marathon returns Sunday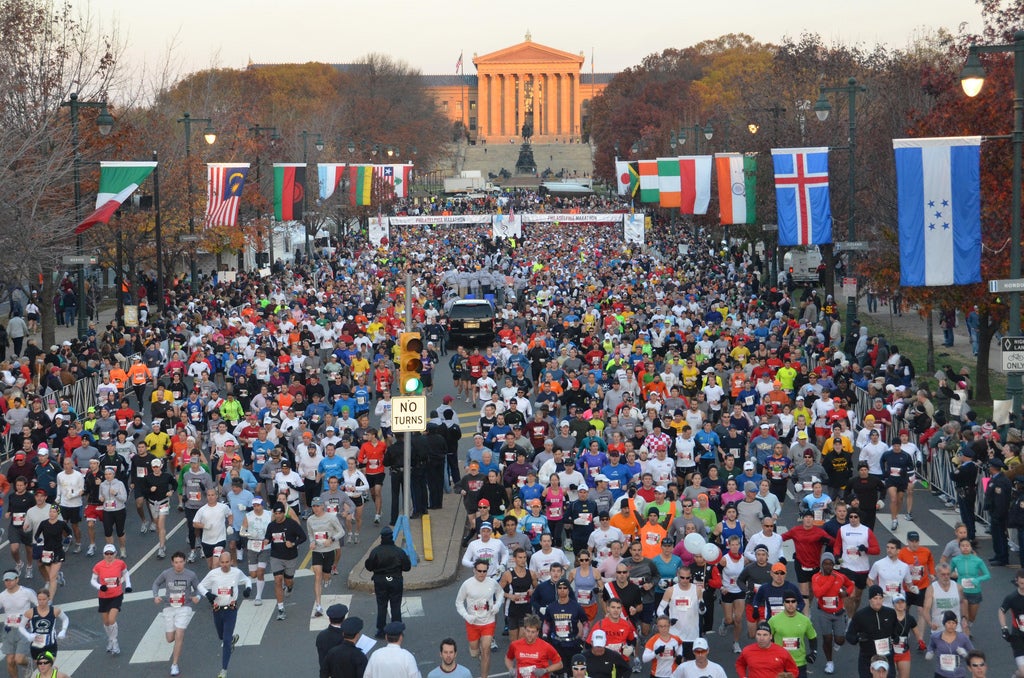 Cue up Philadelphia Freedom: Road closures, SEPTA detours, parking restrictions (don't get towed!), and thousands of runners are heading your way this weekend for the 20th annual Philadelphia Marathon.
The race begins at 7am on Sunday at 22nd and Benjamin Franklin Parkway and loops through Old City, Pennsport, Center City, University City, West Park, along MLK Drive and Kelly Drive to Manayunk, and back down the Parkway. So don't expect to get through most of those places until all runners are past. Or, go on out and cheer for those hardworking runners at one of the designated cheer zones or along the race route. Here's the full course map [pdf]:
DETOURS, CLOSURES
TRANSIT: SEPTA routes that will be detoured include: Route 15 Trolley, and bus routes R, 2, 4, 7, 9, 12, 16, 17, 21, 23, 25, 27, 32, 33, 35, 38, 40, 42, 43, 47, 47M, 48, 57, 61, 64, 65, and 124/125. Check out SEPTA's alerts for full detour information and also check System Status for real-time updates.
ROADS: Closures start at 6:45am on Sunday and race course roads will stay closed until 4pm:
• 21st Street (Spring Garden to Arch streets)
• 22nd Street (Spring Garden to Arch streets)
• Benjamin Franklin Parkway (from 22nd to 16th streets)
• Arch Street (16th to 4th streets)
• 4th Street (Arch to Vine streets)
• Race Street (4th Street to Columbus Boulevard)
• Southbound Columbus Boulevard (Vine Street to Washington Avenue)
• I-95 Southbound off-ramp at Washington Avenue
• Washington Avenue (Columbus Boulevard to Front Street)
• Front Street (Washington Avenue to South Street)
• South Street (Front to 6th streets)
• 6th Street (Bainbridge to Market streets)
• Chestnut Street (6th to 34th streets)
• 34th Street (Chestnut Street to Girard Avenue)
• Lansdowne Drive (Girard Avenue to South Concourse Drive)
• South Concourse Drive (Lansdowne Drive to West Memorial Hall Drive)
• West Memorial Hall Drive (South Concourse to Avenue of the Republic)
• Avenue of the Republic (West Memorial Hall Drive to Centennial Circle)
• Old Lansdowne Drive to the Sweetbriar Loop
• East on Black Road to Martin Luther King Drive
• Martin Luther King Drive
• Kelly Drive to the Falls Bridge
• The Falls Bridge
• Ridge Avenue (Schoolhouse Lane to Manayunk Avenue)
• Main Street (Ridge Avenue to Green Lane)