Your online shopping habit clogs Philly's streets. City Hall wants to fix that.
If traffic seems to be getting worse downtown, that's because it is
Listen
2:21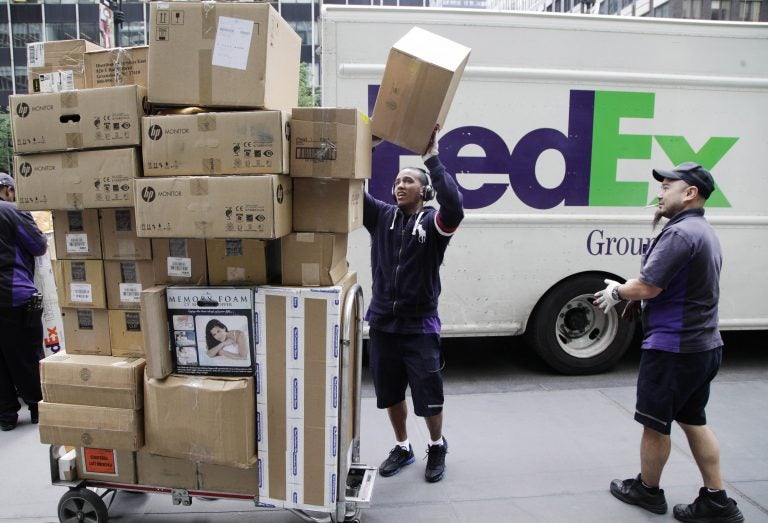 You see it all the time in Philly: An Uber stopping in the bike lane, a FedEx truck parking on the curb, or a beer delivery truck blocking an intersection. And stuck behind them all, there are cyclists cursing and drivers laying on their horns.
If traffic seems to be getting worse downtown, that's because it is. According to a recent traffic study, the time it takes to drive a car across Center City went up around 20 percent in the last five years. One of the big factors driving that uptick in ticked-off drivers has been the increase in deliveries. Thanks in large part to the growth of online shopping, Center City alone now sees around 18,000 deliveries-a-day. And handling all those packages with a care for traffic flows is tough, said Mike Carroll, deputy managing director of the Office of Transportation and Infrastructure Systems (OTIS).
"If you bought it, a truck brought it," said Carroll. "At the end of the day we need to get the things to where the people are. That doesn't work unless the flow works."
"We like to think of this city as walkable and bike-able, but it also has to be deliverable."
At the Delaware Valley Regional Planning Commission's (DVRPC) annual conference Thursday, a panel of experts moderated by Carroll took a look at this growing problem and how Philadelphia can respond. One of the big issues, according to DVRPC Senior Transportation Planner Mike Ruane, is that old cities like Philly never set aside space for modern day deliveries.
"Without providing enough capacity for loading zones, it becomes a major challenge to accommodate [deliveries], and that's why we see delivery trucks parked on sidewalks [and] taking lanes," said Ruane. "They're not doing it because they want to — very often, they are doing it because they have to, in order to meet their schedule and serve their customer, who in turn is serving us."
Right now, the city's considering a number of strategies to get delivery trucks out of the way of the rest of us, like promoting off-peak hour deliveries, encouraging greater use of alternative pick-up locations, and  swapping out some parking spots for loading zones. Tom Madrecki, UPS's director of urban innovation and mobility, said that the curbside trade-off is the crux of the matter.
"I think [it's] the biggest issue esp when it comes to urban goods movement or delivery downtown," said Madrecki. "There's only so much space. So, should a personal vehicle be parked there? Should a delivery truck be there, is there any space for the delivery vehicle to go?
"That's where we see all these tensions and issues arise from."
The panel largely agreed that there is no silver bullet fix — instead, a number of smaller strategies working together would be best.
The good news for residents here is that the interests of private delivery companies like UPS and the public are largely aligned. No one wants more traffic — UPS tracks delivery delays by the second, translating them into labor and fuel costs. Unlike some other industries (e.g. tobacco), we're all in this together, for the most part.
During the panel, Ruane raised the prospect of one idea that Madrecki enthusiastically, and somewhat surprisingly, endorsed: permitted loading zones, where a delivery companies would pay for semi-exclusive access to curbside delivery areas. Noting that UPS spends between $14 and $16 million-a-year on parking tickets in New York City alone, Madrecki said his company loved the idea of loading zone permits.
"We'd gladly pay more than that for a parking permit," said Madrecki before adding the important caveat that there would need to be enough loading zones in the right areas and serious enforcement of them for the idea to make financial sense to UPS. In Philadelphia, the PPA issues delivery companies (including UPS and its competitors) more than $6 million-a-year in parking tickets.
Madrecki noted that UPS was working on a number of novel approaches to improve deliveries in dense areas in a number of cities, but particularly in Europe. There, the streetscapes are even older and narrower than Philadelphia's, and the city governments there, said Madrecki, are very willing to experiment to solve the problem. Similarly, UPS is trying new strategies, like electronic tricycle deliveries, in U.S. cities like Portland, Pittsburgh, and Washington D.C. DC's Department of Transportation has more leeway to implement policies than most city streets departments, Madrecki noted, making them an ideal partner for experimentation.
Even though everyone on the panel seemed to agree that Philadelphia needs to set aside space to make deliveries, doesn't mean the city will be able to address the issue quickly.
On just the city side alone, new loading zone policies would require coordination among six agencies — Streets Department, PPA, the mayor's office, the police department, City Council, and SEPTA. That's a bureaucratic traffic jam that's not going to clear up any time soon.
WHYY is your source for fact-based, in-depth journalism and information. As a nonprofit organization, we rely on financial support from readers like you. Please give today.