Why vacations might make you a better worker
Listen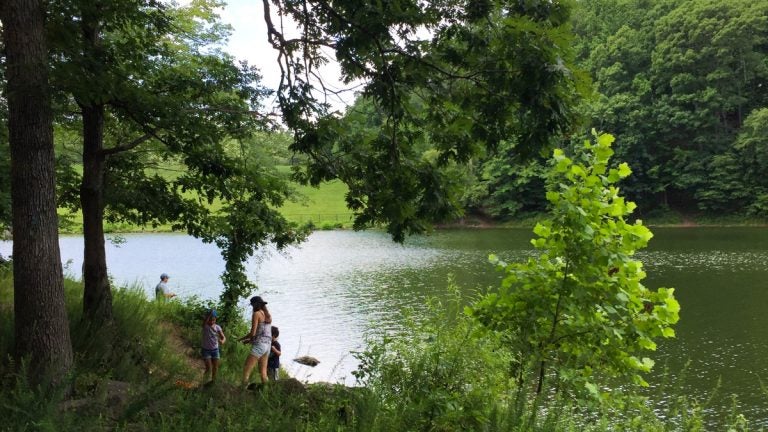 There are science-based reasons to take all your vacation days.
Each Labor Day, we acknowledge workers for their contributions to the prosperity of America — by giving them a day off of work. But here in the U.S., we're bad at taking time off, at least compared to the rest of the developed world. Last year, over half of U.S. workers didn't use all their vacation time. Scientists say that's bad both for personal health and workforce productivity.
MaryAnn Dakkak is a family doctor in Washington, D.C., It feels like she's always on call. Her work pager gets rerouted to her personal cell phone, so every beep has the same urgency. She's also the mother of two young kids.
"I teach, therefore I have about 21 extra children who are called residents in the work life," she says.
Dakkak recently drove six hours to camp out in a tent with friends and family in upstate New York. She was near a river surrounded by serene oaks and maples, but when she takes a vacation, Dakkak says it's hard to unwind at first.
I asked her to keep an audio journal to track whether she was really relaxing, or if she was still plugged in to her smartphone. On day one, she wasn't doing too great.
"I have checked my email, unfortunately. I've responded to one resident text, breaking rules. So I'm never off," she said.
On day two, Dakkak began to unhook from work.
"I actually slept through the night. I actually slept in past 6 a.m. Both of which are big successes since many times I don't do either of those," she said.
Emiliana Simon-Thomas is the science director of the Greater Good Science Center at the University of California, Berkeley. She says when we don't get a break, our bodies, our nervous systems, get stuck in sympathetic mode. Hearts race. Muscles tense up. Our brains tell us, "Get ready to fight or flee." It's the bodies evolutionary response to danger — a safety mechanism from back when our ancestors were being chased by tigers.
"The assumption, physiologically, is that those threats are not pervasive, they don't go on and on and on. Either you perish or you survive and the threat goes away," Simon-Thomas says.
But modern humans are on constant alert for the next 21st century threat: anxiety over impending deadlines, anticipated failures, rocky relationships.
Simon-Thomas says our bodies need rest from all that to do things like digest food, stabilize blood pressure and repair damaged tissue. When we're stressed, our bodies don't get the memo to do this repair work.
"There's all of this other background stuff that is going on that gets kind of like suppressed if we're feeling stressed. It's like: "Hold on we're not going to do that for a while. We're just going to deal with this challenge right in front of us,'" she says.
Some workers around the country have a tough time taking vacations. San Francisco has the worst track record: 62 percent of employees in The Golden City who work 35 hours or more report not taking all their paid vacation time off.
That used to be a problem at the software company Adobe System. At their San Francisco office, Rosemary Arriada-Keiper, the Senior Director of Global Benefits, says they used to have a pretty hard time getting their employees out of the office.
"When somebody goes on vacation, you may go on vacation and you may disconnect, but everything around you still goes on. When you come back to the office, guess what, you're going through a hundred e-mails you're trying to play catch up," she says.
When I visited the cafeteria at Adobe's San Francisco location, employees were drinking coffee on plush couches and working on their laptops in corner booths. Arriada-Keiper says twice a year the place goes silent. Adobe closes shop, and everyone takes a mandatory vacation.
"The beauty of the shutdown is it allows everybody to kind of disconnect at the same time. And for an extended period of time so that people actually feel like they have the opportunity to recharge," she says.
The media company TED of 'Ted X' also has 'blackouts.' So does LinkedIn, and smaller companies like Arizmendi, a local bakery in the Bay Area. For many, this came out of the recession 10 years ago, a way to cut costs. But the policy stuck, because research shows taking all your allotted vacation time is not only good for your health, it's good for a company's bottom line: productivity increases, employee retention goes up. It's a win-win.
MaryAnn Dakkak, the doctor and mother of two who went on a nature getaway, says halfway through vacation, a folk band played at their campsite. She danced. She ate, she drank and she rested. She stopped feeling like she was on call.
"What I really feel more than anything … is clarity. Which for me is very energizing," she says.
She says the nature vacation gave her mind and body the reboot it needed to do her job again.