Why it's so hard to replace a Nissan LEAF battery
Listen
13:38
This story is from The Pulse, a weekly health and science podcast.
Subscribe on Apple Podcasts, Spotify or wherever you get your podcasts.
---
When the first Nissan Leaf came out almost 10 years ago, it was the only mass-market electric car at the time. Mike and Karen Lawrence, who are from Virginia, bought one as soon as they could, because they cared about the environment and wanted to put their money where their mouths were.
"I absolutely fell in love with it," said Karen Lawrence.
Almost a decade on, their silver Leaf has aged well.
"It is not a pain in the neck," she said, "because without a motor and the oil change, which we do not have to do because there ain't none … it rarely goes in for service beyond a checkup."
The only problem with the car is the battery. At first, a fully charged battery was enough for as much as 100 miles, but that went down over time. Now, the car can go only about 45 miles on a single charge.
Old batteries degrade and store less energy, and need to be charged more often. The Lawrences could buy a new battery from Nissan, but that would cost $8,000 — more than the car is currently worth. So they joined an active online community of Nissan Leaf enthusiasts looking for new batteries.
"It's the search for the Holy Grail," said Mike Lawrence.
It's a common problem among Leaf owners — and for battery technology in general. The most expensive part of an electric car is typically the lithium-ion battery, which can account for as much as one-third of the car's cost.
Years of research led to lithium-ion batteries, which won three scientists the 2019 Nobel Prize in chemistry. They power everything from smartphones and computers to cars, and are key to expanding the use of renewable energy. Battery technology is a hot investment right now. But there are still research questions that need to be answered before batteries can power bigger vehicles and last longer.
On a very simple level, lithium-ion batteries work this way: Lithium ions go back and forth in a liquid, and in and out of the positive and negative ends of a battery. Lithium ions going one direction means charging the battery and storing energy; going the other way means discharging the battery and using the energy to power something, such as a car.
But it took a lot of work to get lithium-ion batteries to work in a car, according to Gene Berdichevsky —  who as an undergrad at Stanford worked on a solar car project in the early 2000s. Back then, he said, most people didn't care about batteries the way they do now.
"They were an afterthought," he said. "We think about the modern portable electronics industry, and we talk about it as being an industry that was revolutionized by semiconductors …  people sort of miss that the battery played just an equally important role."
The quest for power
Berdichevsky's work on the solar car, along with another class project, led him to realize that lithium-ion batteries were getting cheaper — so cheap, in fact, that you could feasibly buy enough of them to power a car for long distances, and actually make money selling it. Electric cars have been around for more than a century, but by the early 20th century, gas powered cars, and gas, were just cheaper.
He joined a startup that was doing just that — Tesla — and went to work figuring out how to make a battery-powered car. At first, the team at Tesla took the lithium-ion batteries out of laptops, super-glued them together, and tried putting that in a car.
But there was a problem.
"Every now and then, a manufacturing defect could cause a lithium-ion cell to spontaneously more or less go into thermal runaway," Berdichevsky said.
Simply put, thermal runaway is a chain reaction that leads to lithium-ion batteries overheating very quickly.
The frequency of those occurrences, they were told, was only around one in a million-to-one in 10 million.
"But if you calculated the fact that each car had about 7000 cells, it meant that one out of about 1000 cars would at some point in its life spontaneously catch fire," Berdichevsky said, "which is absolutely unacceptable."
At least, that was the prediction. To find out what would actually happen, Berdichevsky and his team trooped out to the parking lot late one night, and induced failure in one of their prototype batteries. Berdichevsky said they expected to see a small fire — but ended up with more than they bargained for.
"These cells not only caught fire, but proceeded to launch themselves out of the module and fly 30, 40 feet in the air like little rockets," Berdichevsky said. "It became a little mini fireworks show, which was really the moment we said, 'OK, we got to solve this or there is no Tesla.'"
It took six months of engineering to spread the heat around. That was in 2005. Tesla survived.
Berdichevsky remains interested in battery technology, and left Tesla to start his own company, Sila Nanotechnologies, to work on one of the big remaining problems for battery researchers:  energy density, or whether a battery can store more energy without getting much heavier. A heavier battery means a heavier car, and more energy needed to make that car move. Sila Nano is working on this with Daimler, the company behind Mercedes-Benz.
The energy density problem is why we have mass-market electric bicycles and small cars, but not so many big electric trucks — because the battery is part of the truck's cargo, says Venkat Viswanathan, a mechanical engineer at Carnegie Mellon University.
He added that new battery technology also needs to meet high standards: "For any given market, there (are) a bunch of metrics that you have to satisfy, and the moment you fail on any one of them, you don't have a product."
For instance, the price of electric trucks has to stay roughly on par with that of gas-powered trucks. The battery also needs not to blow up.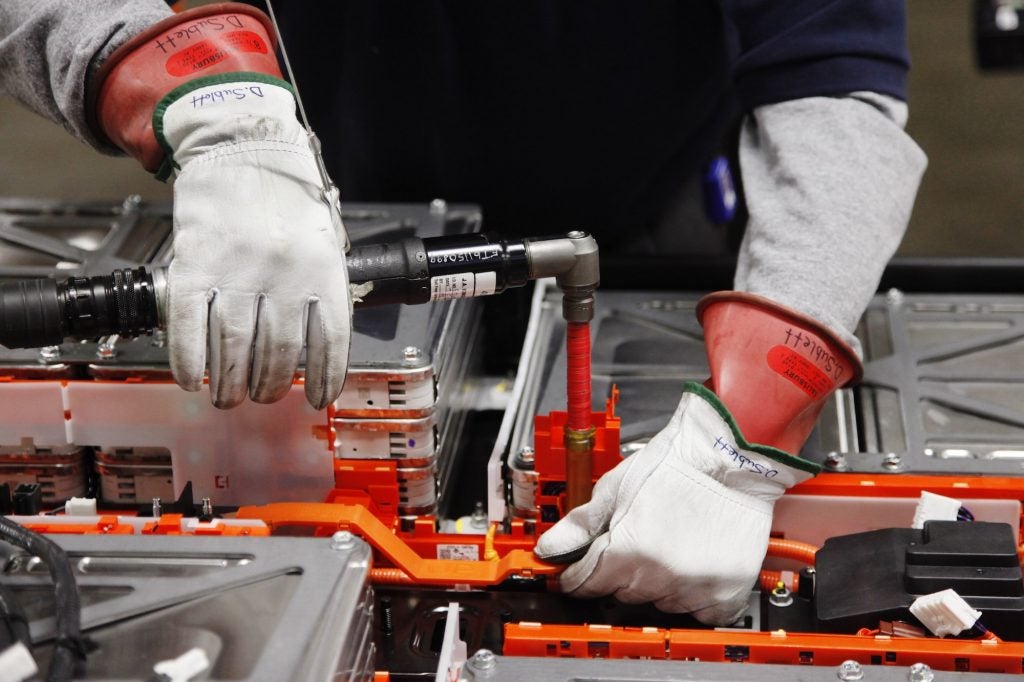 Another problem is the lifespan of lithium-ion batteries. Unwanted reactions inside the battery can produce gas, leading to battery degradation, says Yuliya Preger, a chemical engineer at Sandia National Laboratories who works on batteries.
"There is a lot of research to minimize that, but avoiding (it) entirely is just not possible," she said.
Preger studies batteries as part of her research into how to store energy at the level of power grids. That research could be useful for renewable energy applications, but it could also directly benefit some Nissan Leaf owners.
New batteries are so expensive, that some Leaf owners have resorted to other measures.
Tony Newell, an IT manager in Kentucky, ended up buying five used Leafs — each for less than one new battery — hoping he can someday use them for energy storage.
He says the Nissan Leaf comes with a charger that can go in both directions: It can store energy in the car battery, but it can also take energy out to power something else.
"I'm kind of holding onto those cars, even the older battery packs, thinking that one day, there's going to be an interface that I can literally plug into my house, and plug in my car," Newell said.
He pointed out that Tesla already makes a giant battery designed for homes called a Powerwall, but that one of those stores just a fraction of the energy that his collection of wrecked Leaf batteries can store, and costs a lot more.
A mechanical engineer in Arizona made a business out of salvaging old Nissan Leaf batteries as a power source for people who live in vans and RVs. Nissan itself partners with a commercial energy storage company to repurpose and reuse old Leaf batteries that cannot power cars anymore.
"That technology is actually, in my opinion, really perfect for the Nissan Leaf," Newell said. "With a solar panel, I could be charging those batteries up, and when I needed power, and there's no sun or it's cold out … those cars provide all my energy, and you'd be totally self-sufficient."