Prosecutors reveal Cosby paid his accuser nearly $3.4M
Comedian Bill Cosby paid out nearly $3.4 million in a civil settlement with Andrea Constand, the woman he is on trial for allegedly drugging and sexually assaulting in 2004.
Listen
4:08
Comedian Bill Cosby paid out nearly $3.4 million in a civil settlement with Andrea Constand, the woman he is charged with drugging and sexually assaulting at his Cheltenham mansion in 2004.
Prosecutors revealed the sum during opening statements Monday afternoon as Cosby's second criminal trial got underway.
Montgomery County District Attorney Kevin Steele called the alleged crime one of betrayal by a trusted friend.
"I talk about trust that was built over time, that was built by the defendant," said Steele, as quotes from a 2005 deposition Cosby gave flashed on a large screen in front of the jury. In one statement, Cosby said he developed a romantic interest in Constand "probably the first time I saw her."
Steele said that proves that when Cosby befriended Constand and gave her career advice, he had an ulterior motive.
Steele also pre-empted a likely argument by the defense, announcing that Cosby paid Constand $3,380,000 in a 2006 civil settlement, after local law enforcement initially declined to press criminal charges against him. That number was kept confidential until now. In a pretrial hearing, defense attorney Tom Mesereau said it showed Constand was "greedy."
Steele also attempted to explain the lapse in time between the alleged assault and filing criminal charges.
"Andrea Constand didn't come to us" looking to reopen the case after a judge released previously confidential testimony by Cosby from 2005, said Steele. Rather, he said, prosecutors approached Constand in 2015 and asked if she was willing to cooperate.
Cheltenham police arrested Cosby on Dec. 30, 2015, on three counts of aggravated sexual assault.
The prosecution displayed a pastiche of Cosby's sworn statements to the jury, highlighting their argument that the 80-year-old entertainer knowingly incapacitated Constand, stopping short of rape. In one statement, Cosby told Constand's attorneys he never had sexual intercourse with her, "never asleep or awake."
The trial was supposed to start Monday morning, but before the proceedings could begin, Judge Steven O'Neill delayed court to interview jurors. The defense had filed a motion on Friday asking to remove Juror No. 11 because he allegedly said Cosby is guilty. O'Neill indicated he had ruled on the motion, but did not share his decision before continuing the trial Monday afternoon with Juror No. 11 still seated.
Earlier that morning, a topless protester who ran in front of a bank of cameras towards Cosby was arrested and charged with a summary offense.
The protester, 38-year-old Nicolle Rochelle, is an actress and performance artist who had a guest role on "The Cosby Show" as a preteen. Police tackled her into a hedge and took her away in handcuffs.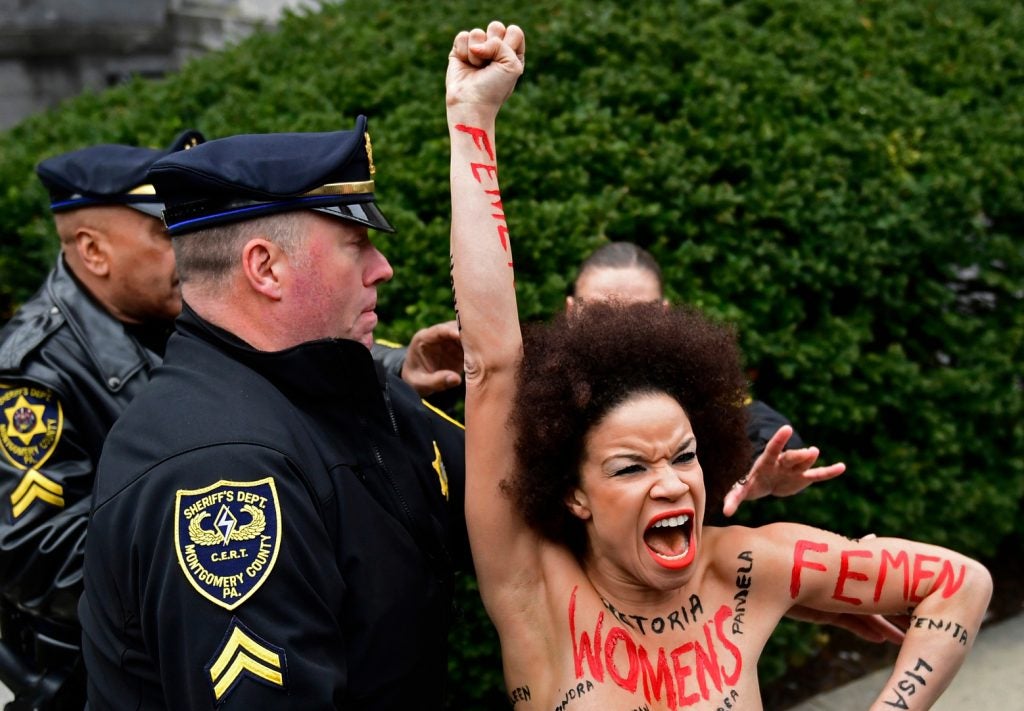 "The main goal was to make Cosby uncomfortable, because that is exactly what he has been doing for decades to women," said Rochelle, reached by phone after her release.
She chose to go topless to attract attention and to show the body can be used to make a political statement, Rochelle said. The protest was supported by the activist group Femen, whose name Rochelle had scrawled on her arm.
Rochelle said she had a "great experience" working on "The Cosby Show" when she was younger, but felt hurt when allegations against Cosby came to light.
"I wanted to show that people are definitely against [Cosby]," she said. "I really wanted to express the anger that they maybe can't express."
Rochelle said she will comply with local authorities' request to stay away from the courthouse for the remainder of the trial.
Cosby seemed startled by the commotion as a half-dozen protesters chanted at him.
Outside of courthouse just before Cosby trial starts, here is Sonia Ossorio with the National Organization for Women. pic.twitter.com/ValfOcUHYr

— Bobby Allyn (@BobbyAllyn) April 9, 2018
"This case is emblematic of what's happening across the country, where women are not getting justice." – protest marks first day of #CosbyTrial pic.twitter.com/1dCDZYPR0E

— Laura Benshoff (@LEBenshoff) April 9, 2018
Cosby spokesman Andrew Wyatt praised deputies for their quick action, but urged court officials to increase security.
"It's a different world. Things have changed," Wyatt told The Associated Press, referring to recent mass shootings and other episodes. "You never know who's going to want to make a name for themselves."
Here is protester Nicolle Rochelle who was arrested today for her topless protest as Cosby walked into court. She used to appear on Cosby show, and she stands here in front of a building featured in show. #CosbyTrial pic.twitter.com/DLfNezSDT5

— Bobby Allyn (@BobbyAllyn) April 9, 2018
WHYY is your source for fact-based, in-depth journalism and information. As a nonprofit organization, we rely on financial support from readers like you. Please give today.