Should we stop eating meat to fight climate change?
Cut way back on red meat, say scientists, who came up with a controversial diet recommended for our health, and the planet's.
Listen
08:32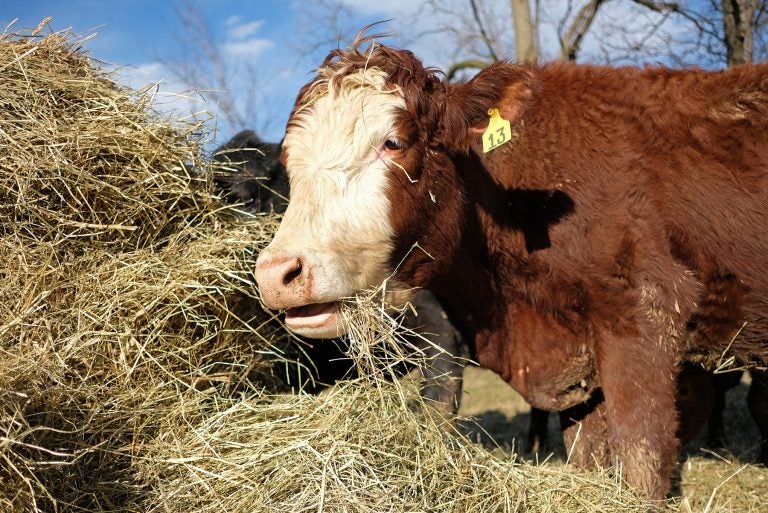 Tiffany Stair became a vegan about two years ago.  "All through my life, I ate meat three times a day, if not more. I love the taste of it."
But she realized she could still enjoy the flavors she likes, without using animal products. Take her spaghetti carbonara — instead of bacon, eggs and cheese, she makes it with tofu, mushrooms, and cashews, which she blends into a creamy sauce.
Stair has many reasons for making the switch. One is that growing meat contributes to climate change.
A bit of context: Animal agriculture doesn't contribute to climate change at anywhere near the levels of burning fossil fuels for cars, planes, and power generation, according to the Environmental Protection Agency. So even if the entire United States stops eating meat tomorrow, it still doesn't do as much as switching to wind power and getting off fossil fuels for transportation.
But what you eat is something you can do as an individual, Stair said. "By not eating animals, you can make an impact right now, three times a day."
A group of scientists from around the world published a paper in the Lancet, the medical journal, describing the diet we should be on for both our health and the sake of the planet.
You can still eat meat, the scientists concluded, just a lot less — one serving of red meat a week, and no more than two servings of poultry and fish a week.
Marco Springmann helped come up with that diet, which he calls "flexitarian." He studies environmental sustainability and public health at the University of Oxford in England.
"If everybody moved to [a] 'flexitarian' diet, we could approximately halve our greenhouse gas emissions related to the food system," Springmann said.
Meat producers say that while people in the U.S. may be eating too much meat overall, we should also think about the kind of meat we're growing.
Farmer Deanne Boyer has about 40 cattle at her Willow Run Farm, on 40 acres just outside Philadelphia. They are part of a climate-change solution, she said.
A lot of the land on the farm is left empty. The idea is that the cows wander freely, eat the grass, and excrete just enough to keep the land fertile and support more grass. The grass absorbs carbon dioxide and helps deal with climate change. Boyer rotates the herd, so no patch of grass is overwhelmed by the cows.
"It's really a neat system if we look at the ecosystem of how a farm can work within the natural environment and the natural processes," she said.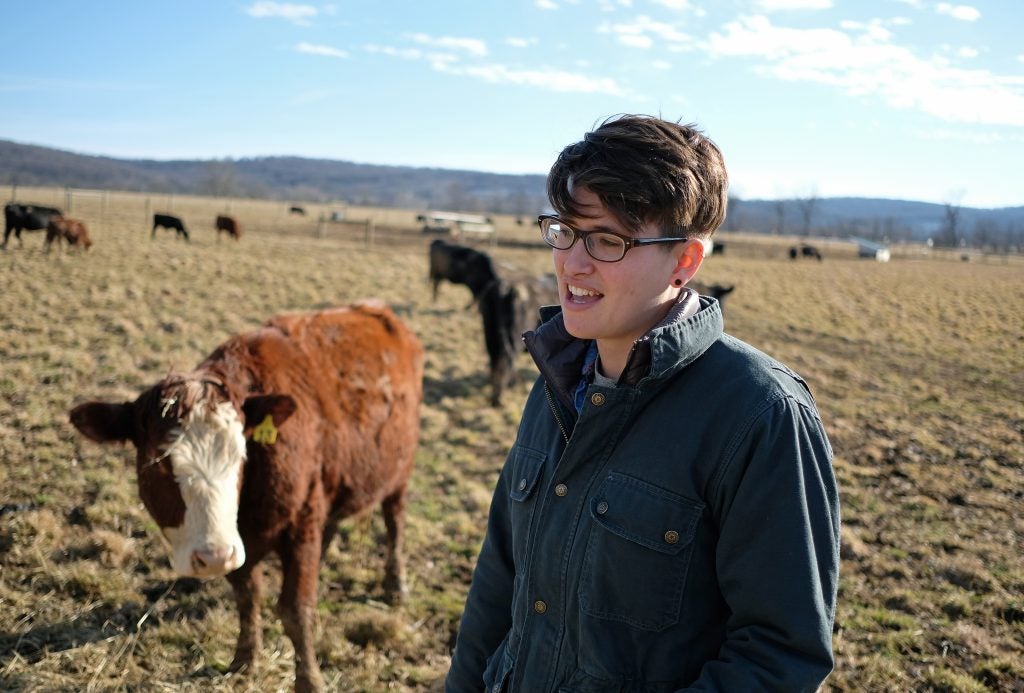 Boyer also maintains a little forest on the edge of her farm, with lots of native trees and shrubs, which soak up more carbon dioxide.
"That's really where I focus on fighting the issue of climate change … by using my land in a more responsible way."
If she were farming cattle on an industrial scale, Boyer said, the picture would be very different. "This whole area would be filled with cattle as far as you can see, there would be no grass at all, it would just be dirt, mud, manure, concrete."
That's why she says it doesn't make sense to lump all farmers together.
In upstate New York, farmer Leah Penniman also uses her chickens to support crops and plants.
"Pasture-raised animals do some magic alchemy for us," she said.
She doesn't have to grow food to feed her chickens because they can forage naturally, eating grass and brambles. In turn, she said, the nutrient-rich manure from the chickens support plants, vegetables and fruit.
This kind of sustainable farming is an indigenous practice that goes back thousands of years, and can help us deal with climate change, Penniman said.
Farmers who raise animals entirely on pasture say their way is better for the environment. But they do acknowledge that, as a country, we might not be able to grow as much meat as factory farms can, so we would have to eat less meat and perhaps pay more for it.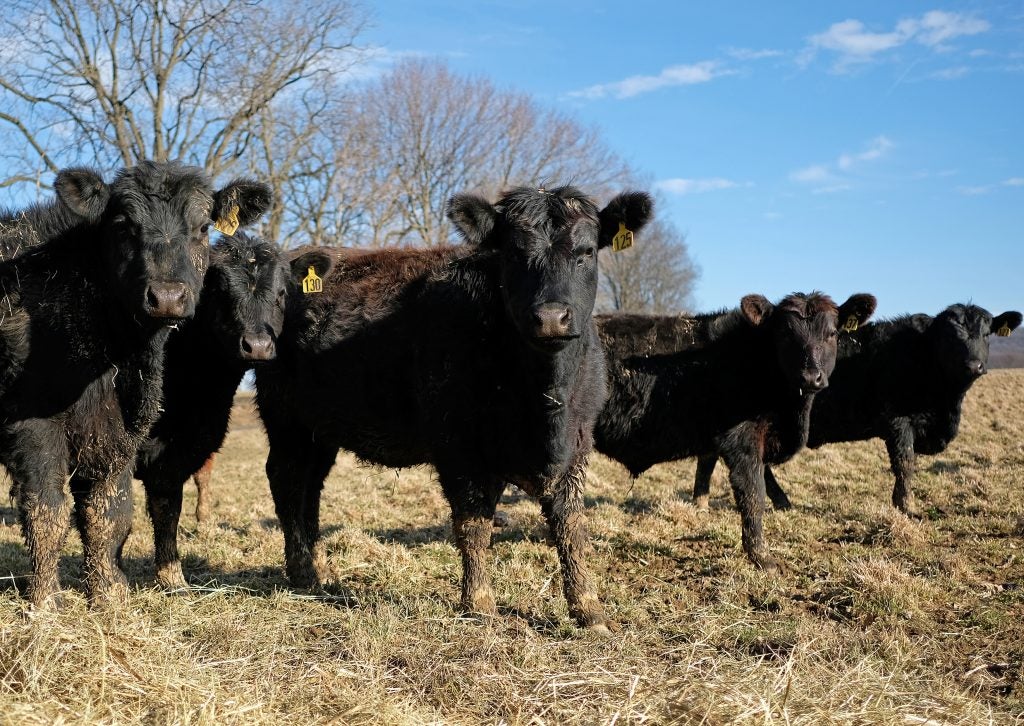 When you're on her farm, Penniman said, you get a direct and visceral sense of the cost and generally what it takes to get an animal to your plate.
"Naturally, that is not something we would waste or overexploit," she said. "Traditional diets, and this is a generalization, but in most places, traditional diets really view meat as a spice or a special-occasion food. You don't eat 4 ounces of meat for breakfast, lunch and dinner every day."
At his farm in Virginia, Chris Newman takes the same pasture approach Penniman and Boyer do. But besides his farming practices, he's changing the way he feeds his own family.
He's following the "flexitarian" diet scientists have recommended for the sake of our health and the planet —the one where you get one serving of red meat a week.
"Let's show people that it doesn't have to be awful."
-Chris Newman
"It's difficult on a farm because we've got freezers outside that are full of a few thousand pounds of meat, and it's pretty tempting to just run out there and grab something real quick when you're hungry," Newman said. "We really were a … eat-a-pork-chop-every-single-day kind of family."
To cut down, he's relying on tricks like using all the bones and organs from an animal to make broth and soup. He did the math and figured out the annual meat quota for him, his wife, and two children.
But he's also thinking about the seasons and what meat is available during different times of the year. For example, he said, it might make sense to eat more local fish in the summer and fall, and beef and pork in the fall and winter.
Newman said this diet is also a way of getting back to his father's Piscataway Indian roots.
"It's actually interesting and kind of fun … me being an indigenous person, to think about the seasonality of diets that my ancestors dealt with and how important and integral that was to just their way of life."
If a meat farmer like him can follow the same kind of low meat diet that scientists recommend, Newman said, so can you.
"Let's show people that it doesn't have to be awful, let's put our money where our mouth is, let's do it ourselves, let's show people how to do it in a way that's fun, in a way that's exciting, in a way that can make meat more of a celebratory thing that you appreciate and love and consume in healthy amounts."
Most people interviewed for this article said they don't want to be in the business of telling people what they can't eat.
"It's very dangerous to get into this idea of a one-size-fits-all diet or recommendation, that's imperialist and arrogant," Penniman said. One's diet should be sustainable, yes, but it should also honor people's cultural roots, she noted.
Michael Mann, a climate scientist at Penn State University and one of the authors of "The Madhouse Effect," a book about climate science denial, said advocating for a diet could even run the risk of losing support in the fight against climate change.
"I don't want to see us legislating … or policing those sorts of decisions, literally telling people what they can and cannot eat," Mann said. "If we go down that road, that's the surest path to inaction on climate because we will alienate the very same people who we're trying to bring on board as we make this monumental transition away from fossil fuels."
WHYY is your source for fact-based, in-depth journalism and information. As a nonprofit organization, we rely on financial support from readers like you. Please give today.