San Francisco shares its schoolyards, opening communities to green spaces and one another's lives
Like many cities, when schools closed for the day, usually schoolyards did too. But when the school district upgraded its playgrounds, it kept them open longer.
Listen
08:31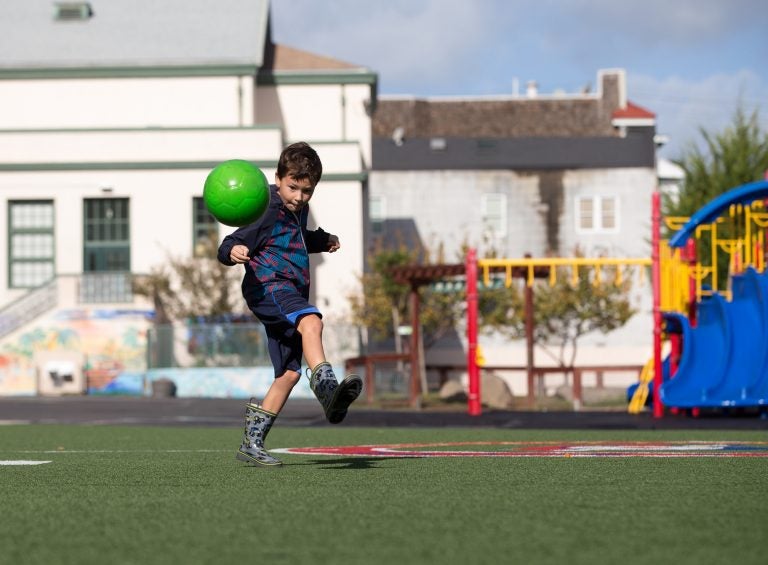 Andres Hassan says he doesn't like soccer, but he's a total natural. He kicks a ball around with his mom, Susan Jassan, on a Saturday morning at Sanchez Elementary School in San Francisco's Castro neighborhood.
A winter rain has just let up, so water spins off the ball as it rolls across the turf field.
Andres is 7 years old. He says he prefers to play on the jungle gym, which is really nice and has one of those spongy surfaces underneath so kids don't get hurt when they fall.
Near the play structure are basketball courts and two gardens — an edible one, and one for meditation. At a grove of bamboo planted alongside a fence, Andres identifies a bird by its chirp before seeing it.
"Bird there! Hummingbird!" he shouts.
By any standards, this is a nice place to play.
San Francisco has invested a lot into its schoolyards over the years. More than 100 of them have green elements, meaning they are healthy, ecologically friendly play spaces with less asphalt than your traditional schoolyard. Some of the spaces involved a community-led design or planning process; others incorporate outdoor learning spaces, and promote creative play for kids. In a dense city with exceedingly high property values, green spaces are harder to come by, making schoolyards a prime opportunity to get kids moving and expose them to nature.
The city's commitment to green schoolyards grew out of a lawsuit. The San Francisco Unified School District was sued back in 1999 for being out of Americans With Disabilities Act compliance. It settled, which meant upgrading the buildings at almost every school. As the district structured the bonds to pay for the improvements, it took the opportunity to revamp the grounds outside, not just the buildings, borrowing language from Sharon Danks, an urban planner whose master's thesis defined what makes a schoolyard green.
For Danks — who is now founder and CEO of Green Schoolyards America — the sell was easy: If you care about exposing kids to nature, investing in schools is more efficient, and more fair, than getting kids out to the mountains or the ocean.
"If we wanted every child to experience the natural world every day, and we wanted that to be an equitable distribution of nature to all children, then schools make a lot of sense as a place to put it," Danks said. "That's where all the kids come everyday."
She did the math: California's more-than-10,400 public schools enroll about 6.2 million children on close to 130,000 acres each day. That's more than the number of people that attend a national park like Yosemite in a year.
"So the potential to expose children to nature is more on a single day in our schoolyards than it is in a national park in a year," Danks said.
The district bought it. Since the 2003 bond order used to fund the initial upgrades, it has spent more than $15 million on green schoolyard improvements.
That got city officials thinking: If they were investing so much in the schoolyards, didn't it make sense to make them available more often? And to more people — not just the kids who went to school there?
Until recently, in San Francisco, like many dense urban areas, when the schools closed for the day, usually the schoolyards did too. The playgrounds were really only for the kids who enrolled there.
But when Andres played at his school recently, it was a Saturday morning, and the gates were open.
Getting to this point was not easy, said Amy Randel, head of San Francisco's Shared Schoolyard Program. In a well-resourced district like this one, the question is less about how much money there is to spend, and more about deciding how it gets spent. That's a challenge in big bureaucracies, and even a small program like hers required coordinating at high levels.
"These are huge institutions that are big ships, and so to get the head of a big ship to meet with the other head of a big ship, cooperation really needs to be driven from the top or with these strange pockets of powers," said Randel.
Safety First
At first, she said, the district was concerned that open schoolyards would mean drug use and damaged property. "The school district's number one priority is to protect the physical grounds."
So the city added money for maintenance, events, and security. It started paying teachers to lock and unlock the gates on the weekends. The program became a $600,000 line item in the mayor's annual budget, bolstered by outside funding to get buy-in from the neighbors surrounding the schools.
To work out concerns about liability, Randel said, the city indemnified the district so that during the times the schoolyards are open after hours, they become city parks.
Healthy kids, healthy communities
The open schoolyards help kids connect to nature and run around more. That makes kids healthier, research shows. Replacing pavement with grass and permeable surfaces helps retain storm water, too — in California's drought-prone climate, that's a powerful environmental tool.
But access to such spaces can help make entire families healthier, as well. Research shows that the social support that comes from living in a tight-knit community can reduce the negative health effects of discrimination. It can support healthier diets and improve access to medical care.
This kind of environment can be harder and harder to find in San Francisco. Housing prices have soared over the past decade. The median home price is more than a $1.3 million — that's five times the national average. As the tech industry has come to dominate the city, lots of families have been priced out.
"It's really sad," said Randel. "People have moved here for hundreds of years to have this value and dream, and there's a real sense that it's being lost."
San Francisco has the lowest percentage of children of any large American city. Residents chuckle in a self-effacing way at the statistic: there is the same number of dogs here as children. But fewer families mean fewer opportunities to gather and share space.
Kids before companies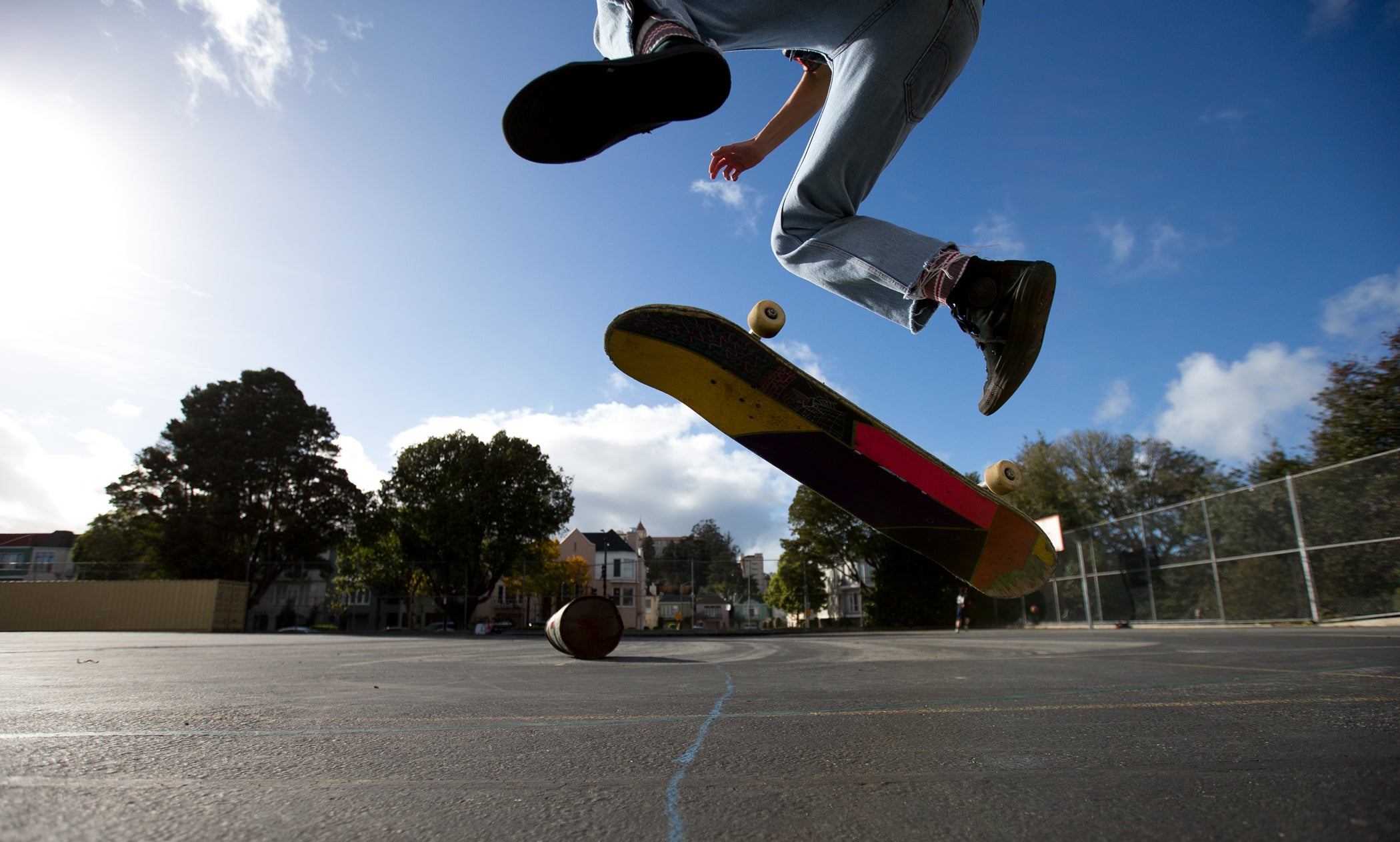 Wallenberg High School is famous among skateboarders. The lot outside the building is a sprawling expanse of asphalt, and its steps, rails, and uninterrupted ledges make it perfect for grinding and jumping.
You don't see a lot of wide-open lots in a city where land comes at such a premium. It's exactly the type of place you might imagine would be partitioned and sold off in today's San Francisco.
Instead, the city and the school district unlock the gates on weekends, and give groups a budget to plan events there.
The San Francisco Skate Club runs a combination storefront and clubhouse in the Mission District. Skaters meet after school to hang, repair boards, and go on trips to different skate spots around the city. In the past, skaters had to hop the fence at Wallenberg to be able to take advantage of the space. But after the gates opened, the club applied for a grant from the Shared Schoolyard Program to plan a big skate competition there.
With Randel's help, the group figured out all the paperwork to carry the insurance liability.
Ryan Miller, a senior at Wallenberg High, said the logistics were daunting: He had to promote the event, work with local builders to construct the ramps, and connect with businesses for sponsorships. More than 300 people came out for the competition.
"It was like graduating middle school — it felt that satisfying," Miller said.
Putting kids in charge does more than just provide a crash course in event planning, said Thuy Nguyen, an organizer with the San Francisco Skate Club.
"I think if we give our young people more opportunities to create and lead, I think our future will result in one that is for a community, as opposed to for a corporation," said Nguyen.
Others in San Francisco expressed the same sentiment: That priorities there seem to be circling closer and closer around the tech industry; that a program that put kids at the center felt rare.
At 17, Miller has watched the way his city has changed around him.
"Not having a community will leave room to people who just love capitalism and all this other stuff," he said. "I'd rather just have everyone be together."
Randel said that opening up schoolyards has done more than just promote community at the playgrounds. In a funny way, it's created a sort of political community, too.
Where battles over land and who benefits from it have raged on in the rest of the city, Randel has watched neighbors and local elected officials come together around this program in a way she hasn't seen for just about anything else.
"This is an opportunity for everybody to show up and say, `Actually, but kids. Actually, but healthy spaces. Actually, but gardens. ' "
This reporting was made possible in part with support from the Solutions Journalism Network and the Annie E. Casey Foundation.
WHYY is your source for fact-based, in-depth journalism and information. As a nonprofit organization, we rely on financial support from readers like you. Please give today.