Offensive reputation gets Eagles fans a bit defensive
Listen
4:37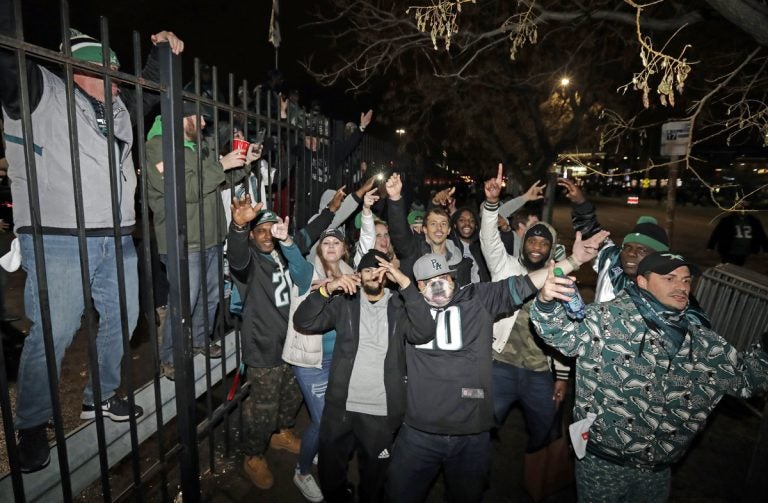 The story spread across the country.
The morning before the Eagles took on the Vikings in the NFC title game, city workers in Philadelphia slathered Crisco onto street poles to discourage fans from climbing them after the game.
There were a lot of laughs, but all that shortening also greased a decades-old national narrative: Eagles fans are as wild and unruly as they come.
"Our grandfathers carried this, our father's carried this curse, we're gonna carry it, and I expect my kids are gonna carry it forever," said Glen Macnow, a longtime host with SportsRadio 94WIP in Philadelphia.
But do Eagles fans truly deserve to be considered some of the league's worst?
Birds fans here say absolutely not. The overwhelming majority of the base behaves week after week, season after season, they argue. It's the few bad apples who spoil the bunch.
"Philadelphia Eagles fans are loyal, hardworking, long-suffering, terrifically dedicated, ardent fans, who unfortunately get lumped in with the one-half of 1 percent who are in fact Visigoths," said Macnow, referring to the marauding tribe of the fourth century.
Get ready for the Santa Claus story
To die-hard fan Michelle Mockus, the bad reputation persists for a simple reason: It's clickbait for national media outlets.
"It's Daily Mail-level juicy," said Mockus. "People love to see these kinds of things. They wanna feel bad about Philly. We're the underdogs. We're crazy. We're not known for anything other than that."
Fans also point to the infamous Christmas Day game against the Vikings in 1968, when fans pelted Santa Claus with snowballs.
The professional Santa the team hired that day couldn't make it, so they pressed into service a scrawny, slightly drunk fan already dressed the part.
The switch didn't go over well.
Sportscasters have talked about it ever since. It will probably come up Super Bowl Sunday.
Putting a courtroom in the basement of Veterans Stadium, where the team played before moving to Lincoln Financial Field, fueled national perceptions too.
Retired judge Seamus McCaffery — who in 2016 resigned from the Pennsylvania Supreme Court after being named in a statewide porn-swapping scandal — was hired in the late 1990s to preside over the stadium courtroom on a volunteer basis to deal with disorderly conduct cases.
Most of the incidents revolved around alcohol and the bodily release of that alcohol.
"When people think that nobody is looking at them, and they're not gonna get caught, they're gonna do a lot of stupid stuff. And those are the individuals who got caught and ended up in front of me in Eagles court," said McCaffery, a municipal court judge at the time.
More recently, a fan was arrested before the NFC Championship game in Philadelphia on charges of punching a State Police horse in the face.
It was the second time that happened in as many weeks and one of six Eagles-related arrests police made that day.
Beer can barrages
There are also cell phone videos on Twitter of Eagles fans throwing beer cans at Vikings fans outside Lincoln Financial Field.
As she made her way into the Jan. 21 game, longtime Vikings fan Janna Hokinson saw a man in front of her get hit in the head with a can so hard he started bleeding.
The game itself — a blowout win for the Eagles — wasn't peaceful either, said Hokinson.
Her sister had hot dogs and french fries thrown at her. Her group was escorted from the stadium after the third quarter.
"A few rows back from us, a guy started throwing beer cans, and it hit me. And that's when I was like, I really had had enough by then," said Hokinson, who was visiting the East Coast for the first time.
Mark Liftin, a lifelong New York Giants fan, refuses to even try attending NFL games in Philadelphia because of experiences like Hokinson's and one he had at a Phillies game years ago.
As Liftin was tailgating with friends, somebody hurled an open beer can at him because he was wearing a New York Mets hat and T-shirt. The teams are division rivals.
Another Phillies fan spit at his feet.
Inside Citizens Bank Park, a fan slapped him in the face.
Liftin said Eagles fans are even more emotional, more die-hard.
"They kind of wear their reputation as being a little psychotic as a badge of honor to some extent," he said. "I'd be lucky to make it out with the jersey on my back."
Some stats
A couple years ago, the Washington Post published a story about NFL fan behavior backed by five years' worth of police data from across the league.
In 2015, police reported slightly more than six arrests per game during the regular season, according to the report, based on data from 29 out of the 31 jurisdictions in the country with an NFL stadium.
Between 2011-2015, Philadelphia,"continually on the league's radar," recorded an average of 3.2 arrests per game.
San Diego, home of the Chargers and a team zero-tolerance policy for fan misconduct, averaged 24.6 arrests per game during that same span.
But these numbers don't get the same attention as incidents that support the story line that Eagles fans are out of control.