In New York 20 years on, O'Hara's honors 9/11 and first responders
Owner Mike Keane was at the bar the day the towers came down just two blocks away. He works to keep the memory alive.
Listen
06:42
This story is from The Pulse, a weekly health and science podcast.
Subscribe on Apple Podcasts, Spotify or wherever you get your podcasts.
---
For many Americans, 9/11 is a distinct marker in their lives. Like the central notch on a timeline, there is "before 9/11" and there is "after 9/11."
It's the same for O'Hara's Restaurant and Pub. Before 9/11, the Irish pub mostly served professionals working nearby and the local firehouse next door. Now, 20 years on, O'Hara's has become, in part, a place to remember Sept. 11, 2001, and honor first responders.
Mike Keane, the restaurant's owner, was at O'Hara's when the attacks occurred. He was getting ready for the day when the first plane hit the World Trade Center's North Tower. O'Hara's is just two blocks down the street, but the South Tower blocked his view of the North. He couldn't see what had happened, and neither could the office workers who had been evacuated from the building.
"They came in at 8:30 in the morning. The bar was full," said Keane. "Everybody was having a few drinks, thinking they were going to be out of work for a couple of hours."
Office workers often came to the bar for a drink during regular fire alarms and evacuations. No one quite grasped the magnitude of what had happened until they watched the second plane hit the South Tower on the bar's TV. Keane evacuated the customers. Just as he and his staff were about to leave, the North Tower fell.
"It was like a bomb went off in there, with the dust and debris," Keane said. "We thought this place was coming down."
O'Hara's didn't collapse, but it was in bad shape.
"A buddy of mine brought me down the next day," Keane said. "It was just, you know, it looked like one of the scenes from a war movie where you just see buildings that have been blown up."
It was almost eight months before O'Hara's reopened, and many years before business was fully back to normal. The 9/11 Museum and Memorial opened in 2011 and brought a steady flow of tourists to the area. Overnight, O'Hara's went from doing OK to having thousands of tourists lined up across the street.
Tour guides and museum workers specifically send visitors to O'Hara's. Keane thinks people want to hear from somebody who was there that day, and O'Hara's is one of the few places in the area that survived 9/11 and is still around. If visitors ask and Keane has some time to spare, he'll tell them about feeling his restaurant shake when the towers fell, the dust that blacked out the sun, and searching for survivors under hot dog carts.
When he's busy — he has a bar to run, after all — he hands over an enormous scrapbook full of pictures, newspaper clippings, and letters he's collected from 9/11 instead. The scrapbook, sometimes called "The Book," lives at the bar, and people know to ask for it.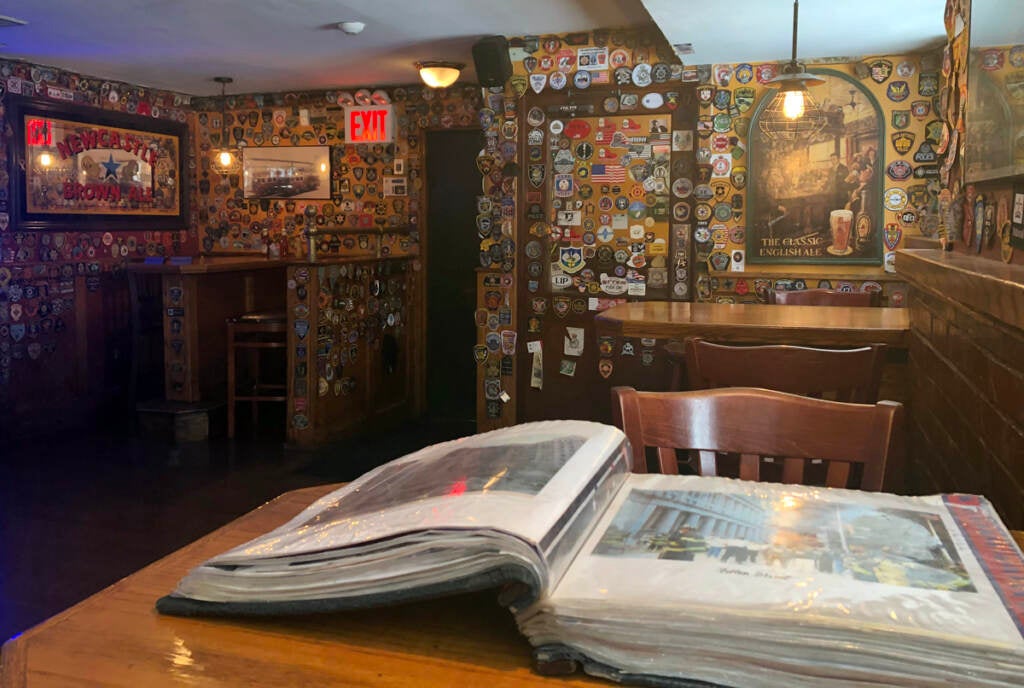 Keane started the collection after O'Hara's reopened. As more customers asked questions about that day, he added to it. He said he regularly passes it around to 20 or more people a day.
Anna and Josh Malin of Philadelphia flipped through the book on a recent visit to O'Hara's. They were in New York with a group of friends, and stopped there when someone in the group mentioned a firemen's bar nearby.
"It's not letting people forget," Anna Malin said. "I love that they put this together. It keeps people's legacies — it keeps people's memories alive, and that's important."
In one photo, a younger Keane in a yellow construction hat is standing on the roof of O'Hara's, five stories up. In the background, a pile of debris in the street rises above the edge of the building and far above Keane's head. In another, a firefighter rides a motorcycle through the dust and debris on Broadway.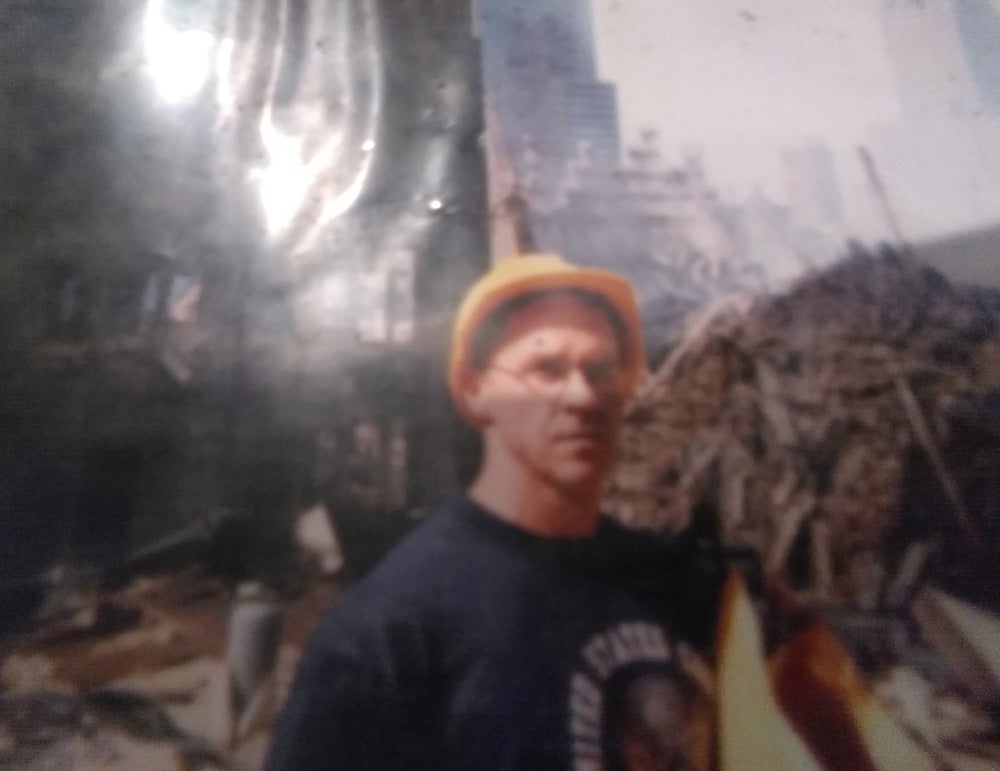 At the nearby memorial, visitors might gaze into the flowing waters of the reflecting pools. At O'Hara's, there are the patches. Alongside a few photos from 9/11 and a framed "Never Forget" poster, local and visiting firefighters, police officers, and EMTs have covered the bar with their embroidered badges. There are hundreds of them from all over the country and around the world.
"You can't even wrap your head around it," said Anna. "It's very dense, a lot of it. You think you feel for those people, and then you don't even realize there's so many people affected by something like that — so many people."
Josh Malin called the space sobering, but still a fun place to hang out.
"It's kind of right in your face, but I mean, I haven't been — I'm not sad right now. It's still a good place to come," he said. "Even though something horrific happened 20 years ago right up the street. It's not, it doesn't weigh on you here so much."
And that's the dichotomy of O'Hara's. In many ways, it's a fun neighborhood bar, but then it has this second identity, as a memorial to 9/11. They seem incompatible. People sift through artifacts from a tragedy while soft rock plays in the background and, a few stools over, someone else is sipping beer and watching baseball.
O'Hara's isn't the only place like this, according to Charles Figley, a professor of disaster mental health at Tulane University. Figley has been to restaurants all over the world with similar kinds of artifacts or mementos of impactful events that occurred nearby.
When people try to understand a tragedy, they are often searching for connection with other people, Figley said. A place like O'Hara's can become a natural meeting space for people to work through some of their emotions connected to that day.
"The thing that's so hard about 9/11 is that if you take it all in, you can't really think. I mean, it's just so massive and huge. So that's one of the reasons why there are things that stick in your head about that event," Figley said. "I think those are the things that we need to talk about. That's one of the reasons why people go to that bar in order to be able to get out some of those questions or some of the worries."
Figley said processing tragedy and grief in a group is a bit like an exchange. Maybe one person wants to talk about a close friend who passed away, which invites other people to share their own problems or grief. Even talking about completely separate, unrelated events or people is still helpful for many.
"It's natural therapy or whatever. It happens all the time, and it's as good or better than any dang-gone therapy you can pay for," Figley said. "If you're connected to that other person, and they see you as an individual — even though they may not know all that much about disorders, mental or otherwise — you can look into their eyes and trust them, and when you tell them something, you know they'll get it."
O'Hara's is not just for tourists. Family members of 9/11 victims also visit the bar, particularly on the anniversary of the attacks. Each year, a special commemoration is held at the 9/11 memorial. Family members read aloud the names of every victim. Afterward, quite a few will stop by O'Hara's.
"They want to be with other families, first responders, the firemen, the cops, they, they just feel better about things being in here with all these great people that show up on that day," Keane said.
"And nothing's discussed about the day. It's more of coming together, paying respects for those that passed and just being with one another."
For a lot of folks around the country, this anniversary — the 20th anniversary — feels like a big one. But not at O'Hara's.
"Every year is the same — first, six, 12," Keane said. "As far as here at O'Hara's — 20, 21—it's all gonna be the same. As far as the people that come that are here every year, with those people it's not going to change, no matter what year it is."
WHYY is your source for fact-based, in-depth journalism and information. As a nonprofit organization, we rely on financial support from readers like you. Please give today.