How satellite internet might hurdle Iranian censorship
Satellite communications are evolving quickly, proving to be a potential gateway to connect communities that remain offline.
Listen
10:45
This story is from The Pulse, a weekly health and science podcast.
Find it on Apple Podcasts, Spotify, or wherever you get your podcasts.
---
For decades, satellite communication has been too slow and expensive to roll out on a global scale. But now a new generation of low earth orbit satellites are bringing faster and cheaper internet service to millions of people all over the world.
They've been used by researchers in Antarctica and the Ukrainian military. In countries like Iran, these new satellite networks could even help hurdle internet shutdowns and digital censorship.
Censorship in Iran
Protests have been raging in Iran for over six months after Mahsa Amini's death in police custody. Hundreds of protesters have been killed and tens of thousands have been arrested.
The Iranian government is cracking down hard on the movement and part of their strategy is to control the flow of information using internet shutdowns and censorship – a digital wall that makes it extremely difficult to access foreign websites, social media, and secure messaging apps.
"Almost all messenger apps like Telegram, WhatsApp, all social media like Twitter, Facebook … anything you can think of are blocked," said Payam, a coder and cryptocurrency miner in Iran. We are only using his first name to protect him from harm. 
In 2022, the human rights group Access Now documented 18 internet shutdowns in Iran  — nearly all during nationwide protests. These shutdowns and restrictions make it difficult for protesters to organize, or for journalists to expose human rights abuses.
But beyond that, it's also become an unbearable daily hassle for people just trying to make a living using the internet.
Payam's sister Azadeh owns her own clothing brand that sources fabrics from remote villages. Ever since COVID-19 started, her business has depended on social media for sales. 
"We took pictures of our work and sent them to customers through WhatsApp, Telegram, or posted them on our Instagram page," she said . "The business was doing well for a while. But unfortunately, with the escalation of internet restrictions, our sales faced a dramatic drop. And it wasn't just us…"
Other business owners she knows are affected as well. She says the shutdowns and restrictions crushed what had been a revival of traditional Iranian crafts. Without the popular social media platforms, artisans in remote areas are finding it difficult to reach the wider market.
"It felt like looking at a desert and seeing small sprouts growing out of the barren land and feeling the arrival of spring. But then, a concrete wall was suddenly raised. It felt like bumping into that wall. Those artists had all made plans. They were truly hopeful and had lots of ideas and dreams to fulfill … all of which came to an end; as if the dry, lifeless desert came into view once again."
Virtual private networks
In order to get around internet restrictions, the majority of Iranians use VPNs or virtual private networks. These are usually paid apps that can add online security, privacy, and even trick your internet service provider into thinking that your phone is in a different country.
But the government is cracking down on those, too. And as a result, it's gotten harder and harder to find VPN apps that actually work.
"It's a serious problem," said Reza Ghazinouri. He's a security program manager now based in the United States. "I have seen screenshots of people's phones that are just like pins of different VPNs, and it takes sometimes hours to open these VPNs, test them out one by one to see which one is working today and which one's not working."
Ghazinouri became an expert in online security and telecom — not out of personal interest — but because he had to as a student activist in Iran. 
"Just a month before defending my thesis, I was expelled from university for my activism and then later had to flee the country to avoid arrest," he said.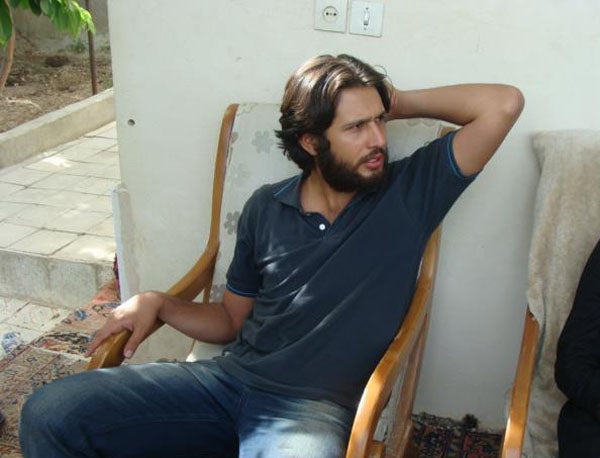 How can satellites help?
Since fleeing Iran in 2011, Ghazinouri has helped support nonprofits that promote an accessible and open internet in Iran. As part of those efforts, he wants to help find alternatives to VPNs. He has his eyes on satellite networks like Starlink, Kuiper, AST Spacemobile, and OneWeb, which could potentially hurdle Iran's telecom infrastructure instead of sneaking through.
These are just a few of the many satellite providers now in a race to provide global broadband from space. 
According to satellite industry advisor Whitney Lohmeyer — who was the first engineer hired at OneWeb — the Federal Communications Commission has seen applications from over 20 distinct entities for more than 70,000 satellites. "It's an incredible time in our industry," she said. "We're ultimately giving people autonomy and freedom." 
We can think of these satellites as cell towers in the sky that orbit the earth at 17,000 miles per hour. That's 10 times faster than a bullet. What makes them so special is that they fly just a few hundred miles above the earth in low earth orbit or LEO rather than 20,000 miles away in geostationary orbit or GEO, which is what traditional satellite phones depend on.
Not only does LEO's proximity get rid of the lag between calls, it also makes it possible for our regular smartphones to connect directly to satellites, potentially extending our cellular coverage to every corner of the planet. And it's not just phone calls and texts. It's also a potential gateway to the internet for the 2.7 billion people that are currently offline. 
Starlink is already up and running, providing internet to more than one million users all over the world, but it has a catch: Connections are routed through a $500 user terminal dish that's about the size of a briefcase. This is a big barrier in countries like Iran where the terminals have to be smuggled across the border in a process that's dangerous and expensive. 
Ghazinouri is part of a nonprofit organization called Holistic Resilience that's sending Starlink terminals to Iran and he says there are only a few hundred active terminals inside the country right now.
For a country with almost 90 million people, a few hundred terminals seem like a drop in the bucket. But for now, he sees it as a way to get unrestricted internet directly into the hands of journalists and activist leaders.
"It just denies the regime the immunity of total internet shutdown," Ghazinouri said. "And if there are hundreds of reporters in the country with Starlink terminals who can send videos of what's happening inside the country, it does some damage control."
Starlink's limitations
Despite Starlink's success, satellite internet continues to feel like a far-away dream to Payam, the coder and cryptocurrency miner. He says terminals go for $1500 through underground resellers and there are worries that the police could confiscate terminals and jail users.
The government might also try to jam satellite signals over cities. Geopolitical tensions could heat up to the point where providers limit or cut off service, which happened with Starlink in Ukraine.  
"So, Starlink is out of reach for us," said Payam. "I think when mobile makers and satellite internet providers get the internet directly to mobile devices without any special accessories needed, that could completely change the game.
Ghazinouri and Payam say that once user terminals and next-gen satellite phones get cheap enough, the government will have to give up on confiscating the technology. Ghazinouri points to an example – the way satellite TV receivers have caught on in the country over the last 20 years.
"Initially they were really expensive. They were really hard to get," he said. But as the receivers got cheaper and easier to install, there were just too many. The government couldn't keep up anymore. And now he says almost everyone has them. Some satellite TV channels have more viewers than state news channels. 
"You can confiscate hundreds of [terminals]. You can arrest hundreds of people. But when the numbers go really high — they'll have to give up the way they did with satellite TVs," Ghazinouri said. 
Soon enough, our smartphones may be able to connect directly to satellites — without the need for user terminals. The iPhone 14 is already designed to do this in emergencies, and if the next generation of phones are built with the same capabilities, it could quickly become a game changer in Iran, for people like Payam and his sister Azadeh.
"We pour our blood, sweat, and tears into our work because we feel committed to making progress; to improving our circumstances," Azadeh said. "There is always a heavy price that we're ready to pay to make our lives better and are actually paying it with our heart and soul; it's not something you can get used to."
WHYY is your source for fact-based, in-depth journalism and information. As a nonprofit organization, we rely on financial support from readers like you. Please give today.