Failing up: How one med student came back from a first-year setback
Listen
10:45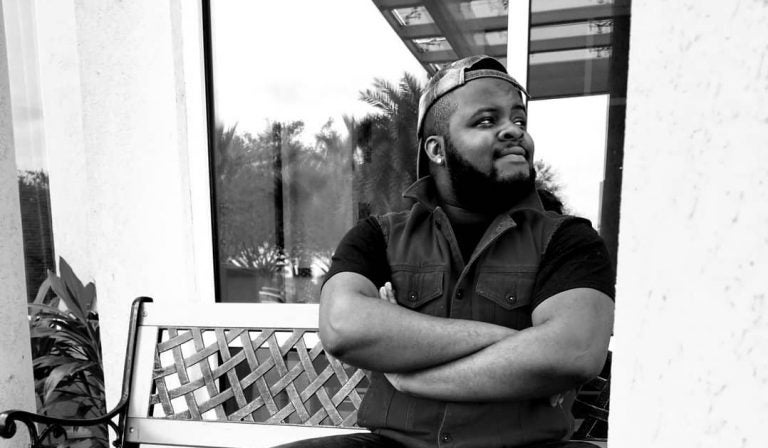 This story is from The Pulse, a weekly health and science podcast.
Subscribe on Apple Podcasts, Stitcher or wherever you get your podcasts.
---
Percy Takyi was just two months into medical school when he realized he was in trouble.
"You know when a snowball's rolling down a hill and it just keeps building up?" he said. "It was just downhill, and it was hard for me to come back from the hole that I had dug myself in."
Takyi was in his first year at the Philadelphia College of Osteopathic Medicine, or PCOM, and struggling with his anatomy course.
"It was very fast-paced," he said. "They give this analogy that medical school is like taking a fire hose, sticking it in your mouth and just turn it on full blast. That's how much information you're getting."
Part of the problem was that Takyi couldn't afford the main textbook that the course uses. Eventually his brother, who's a doctor himself, bought it for him. But by that time, Takyi was already behind the eight ball.
He quickly realized that his old study methods weren't working. He experimented with different strategies, and slowly started bringing up his grades. But by the end of his first trimester, Takyi knew there was a decent chance that he wouldn't pass.
"There's this big stress — this big emphasis on grades," he said. "Most people in medical school, they're trying to be perfect, because at the end of the day, we are going to be applying to residency programs."
There was more at stake for Takyi than just his academic record. At some medical schools, students can retake classes that they haven't passed, but at PCOM students aren't allowed to advance if they've failed a core class — which the anatomy course was.
"If you do not pass it, then unfortunately you have to do over the whole year," Takyi said.
That possibility hung over his head as he prepared for his final exams.
"I wasn't able to concentrate that way I would have liked to," Takyi said.
He worried about what he'd tell his family and classmates if he didn't pass; what he'd do with the rest of his year while he waited for the fall semester to cycle back around. And most of all, he worried about where he'd live.
"There was anxiety just thinking about what's going to happen from my living situation because I'm paying for my housing through loans," he said. "I just didn't even know how I was going to live, where I was going to live, how I was going to have money for that."
Takyi wanted to ask his professors, but worried about how his questions would be perceived.
"I'm pretty sure people don't just get left out on the street," he said. "But I also don't want to go into the office speaking to my professors expecting to fail."
He worried his query would sound defeatist — as if he'd already given up.
Those kinds of fears are common among medical students, according to Stuart Slavin, who studies student well-being at the Accreditation Council for Graduate Medical Education.
"Medical students in general are really good at putting on masks to hide their distress," Slavin said. "I think there's a lot of shame associated with struggle."
That applies both to academic struggle and personal struggle. "There's social stigma that people will think you're weak. That you're not as tough as [everybody] else," Slavin said.
That intense competitiveness — and the flip side of the coin, fear of failure — is part of the culture at medical school, Slavin said. That's partly because some programs have unrealistic expectations, and partly because of the students themselves.
"One of the things that really underlies it, that I think is particularly dangerous, is they view performance as identity," he said. "So they don't see themselves as, oh, I got this test score. It's, I am this test score. That's what defines me."
Thoughts like those can lead to more serious problems. Studies show that medical students have depression and anxiety at rates as much as three to five times higher than the general public. That, in turn, can lead to a vicious cycle: fear of failure leads to anxiety and depression, which in turn disrupt students' lives, leading them to actually fail.
Escaping from that cycle requires a new way of thinking about failure. According to Angela Duckworth, a psychology researcher at the University of Pennsylvania better known as the author of the book "Grit," one way of doing that is taking the judgment away from failures, and viewing them simply as information.
"Actually knowing what you can't do is important, because gritty individuals — they're just always learning and improving," she said.
It's what psychologists call a "growth mindset" — the belief that you can get better, smarter, more skilled, by challenging yourself.
Its opposite is the "fixed mindset," which says ability is innate — you either have it, or you don't.
What distinguishes the two is the resulting reaction to failure. People with fixed mindsets see it as evidence that they do not have what it takes — and never will. People with growth mindsets, on the other hand, embrace failure as an opportunity to learn and improve.
Duckworth said it helps to think of your life as a story.
"The idea is not to tell a perfect story — the idea is not even to tell like the best possible story," she said. "Just to tell a story, one possible story that you can be proud of. And if I were a medical student who had just failed my first year, I would certainly say this is really, you know, a grim chapter, right? … It's a low point in the narrative," Duckworth said. "But I would think about it as like, OK, what happens next in the story? And we've all read enough stories and listened to enough stories to know that, you know, the greatest people alive have had those chapters."
For Takyi, that chapter became real when he received his grades for the first trimester.
"I ended up with the 68%," Takyi said. "And you needed a 70."
He failed his anatomy class by two percentage points. It was tough to accept, but not the disaster he'd imagined. He found out he could keep his financial aid intact by taking supplementary classes over the next couple trimesters, until fall arrived and he was able to start his first year over again.
It could have been a grim nine months, but instead Takyi decided to make something productive out of it. He started working out, reconnected with friends, figured out which study method worked best for him.
He started a podcast that he calls, "Behind the White Coat: Failure and Percyverance."
The goal, Takyi said, was to reframe how medical students think about achievement.
"I wanted to kind of shape and change the narrative of failure," he said. "It's my personal belief that, in order to succeed, we go through our own personal failures. The more failures we go through, the more we learn, and ultimately it leads to us succeeding."
Takyi has mostly interviewed other medical students. Together, they talk about their study habits, their struggles, both academic and personal, and how they've managed to muddle through this intense and intensely difficult period of their lives.
"I hope that when people start to see that, 'Oh wow, all these people who are doing all of these wonderful things, they went through a whole bunch of trials and tribulations, you know, they had a whole bunch of failures,' " Takyi said.
His ultimate hope: "That [it] would actually allow other people to open up and share their stories, and make other people not discouraged to keep pushing forward."
So far, it's seemed to help Takyi. He restarted his first year in fall 2018, and is now in his third trimester. The time off allowed him not only to rethink how he approaches medical school, but also to figure out which study habits work best for him, and how to achieve — or at least strive for — balance amid the intensity.
"I'm trying to remind myself to put myself as a priority," he said. "And just get myself out of here alive and well."
---
Correction: The audio version of this story says that the Accreditation Council for Graduate Medical Education is responsible for accrediting medical schools. In fact, it's responsible for accrediting post-graduate residencies and fellowships.