A Wilmington church gets its congregation moving
It's Thursday evening. The work day is over and people are filing into the Resurrection Center in Wilmington.
Listen
4:01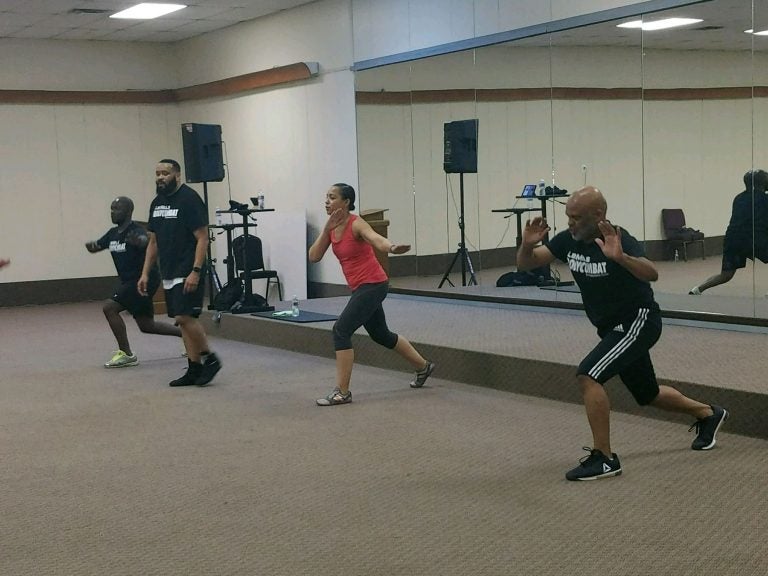 It's Thursday evening, the work day is over and people are filing into the Resurrection Center in Wilmington. Located in the 3300 block of Market Street, TRC, as it is referred to, is a hub for both church and community activities. But tonight, it's not choir rehearsal, Bible study or a Girls Scouts' meeting that's bringing in folks.
One by one they head up the stairs to the second floor of the church, check their name off the sign-in sheet, greet a friend or two, plunk down their water bottles onto the hardwood floor, grab their drumsticks and get to following Jenica Ervin's rhythmic workout routine.
"Pound is a really good exercise class. It was created by a few drummers who wanted to get into a fitness routine, but they wanted to make it exciting," Ervin said. She's one of several group fitness instructors at TRC's Movement Center, a fitness center where church members and the community can come and workout.
"Everybody wants to feel well and be able to run up a flight of steps," co-pastor Cleo Townsend said. The certified fitness instructor, along with her husband Bishop Todd Townsend, who is also certified, brought the idea of church fitness to their congregation in 2017.
"I think that the changes we try to make are consistent with scriptural principles but also consistent with a relevant lifestyle," Bishop Townsend added.
On Tuesdays, Thursdays, Saturdays, and Sundays, you can find the Townsends along with other instructors jumping, pumping, and punching in one of several group fitness classes offered at the church.
Bishop Townsend teaches Les Mills Body Combat, an international martial-arts inspired class at the church and at local fitness facilities. Townsend says it's the movement, the jumping, punching, kicking and running that he enjoys the most. "It seems like the more I work, the more excited I get."
The class also gives the full-time pastor an opportunity to share with those who may have preconceived notions of what a preacher should or should not be doing.
It's exciting when those who are not apart of the church or church culture come to class and have no idea I'm a preacher. "They're like 'Wow, your class is so good,'" Townsend said. But once they realize he's a man of the cloth, he says "you could almost see them struggle, like, 'Wait a minute, a bishop is not supposed to be teaching a fitness class.'"
But being placed inside a box has never been a comfortable place for the Townsends. And their perspective of ministering to the whole person- spirit, soul, and body- has given James Fewell a new focus on his health.
The 69-year-old, who attends TRC and works out there, admits to having taken his health for granted in the past. "I have had some health issues through my life, and believe me I'm glad I'm able to do this.
"When I struggle in [class] it's a blessing." The workouts, plus changes to his diet have led to positive lab results and a newfound mantra. "I'm gonna do killer workouts to live. It's basically my new life."
In addition to the group fitness classes, Pastor Cleo, who is also a licensed marriage and family therapist, and certified anger management specialist, is looking to offer resources on mental and emotional well-being in the future. "It's good to eat right and exercise, but if you're not managing these deadly emotions, that'll probably kill you faster than not eating right and not exercising."
In the meantime, the Townsends are going to keep living by example in hopes it will encourage their congregation and community to commit to a culture of discipline when it comes to healthy living.
WHYY is your source for fact-based, in-depth journalism and information. As a nonprofit organization, we rely on financial support from readers like you. Please give today.