YouthBuild Philadelphia begins green renovation of two Nicetown homes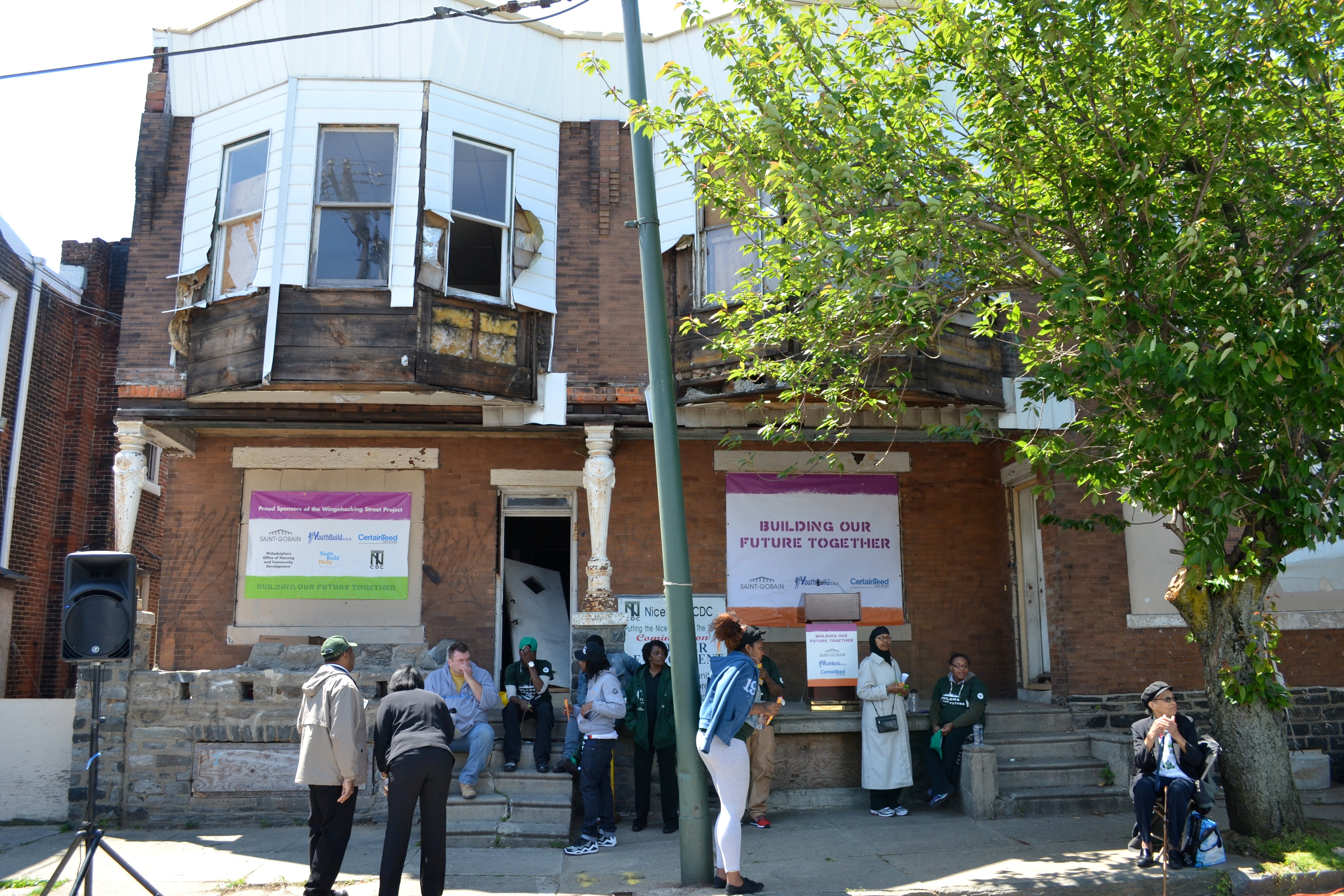 Just months after overhauling a dilapidated Germantown house and turning it into a LEED Platinum home, YouthBuild Philadelphia Charter School students broke ground on two homes just across the tracks at Wayne Junction Station in Nicetown. Over the course of 10 months, approximately 120 YouthBuild Philadelphia students will transform the long-vacant 2006 and 2008 West Wingohocking Street properties into livable, sustainable homes.
YouthBuild Philadelphia is a charter school that gives students who have dropped out of school an opportunity to earn their high school diplomas or GEDs while rebuilding homes. The one-year program is an affiliate of the national YouthBuild USA program.
In its 20-plus years, YouthBuild Philadelphia has built or renovated 87 homes and, in doing so, has strived to support students and neighborhoods alike.
"Part of rebuilding the community is giving young people the opportunity to rebuild and to rebuild themselves as they rebuild [the community]," said Simran Sidhu, executive director of YouthBuild Philadelphia Charter School.
The Wingohocking Street homes are a prime example of YouthBuild Philadelphia's roll in neighborhood revitalization. The homes are just across the street from Wayne Junction Station, where SEPTA is investing $18 million in the Wayne Junction Intermodal Facility project. They sit just behind Nicetown Court II, the second of two major real estate investments that Nicetown has seen in recent years. Nicetown Court II, expected to be complete in August 2013, will have 50 residential rental units and three commercial property spaces. Down the road, Nicetown Court I was completed in 2011 and has 37 rental units and two commercial spaces.
Together the Nicetown Court, Wayne Junction Station and YouthBuild Philadelphia projects show significant investment in the neighborhood. Nicetown CDC President and CEO Zakariyya Abdur-Rahman said these investments will help put the "nice" back in Nicetown.
YouthBuild Philadelphia will renovate 2006 and 2008 W. Wingohocking Street

YouthBuild Philadelphia will renovate 2006 and 2008 W. Wingohocking Street

YouthBuild Philadelphia will renovate 2006 and 2008 W. Wingohocking Street

YouthBuild Philadelphia will renovate 2006 and 2008 W. Wingohocking Street

The YouthBuild project on West Wingohocking Street neighbors Nicetown Court II, set to open this summer

Across the street, SEPTA's renovation of Wayne Junction Station is underway

Some of the 120 students who will work on the two homes posed at the groundbreaking ceremony

Saint-Gobain, YouthBuild, Nicetown CDC and Philadelphia City leadership spoke at the groundbreaking
Green building with Saint-Gobain
Dorothy Stoneman, CEO and founder of YouthBuild USA, said in the last eight years or so YouthBuild USA has shifted toward building more sustainable homes. Of the approximately 22,000 housing units YouthBuild USA has built, roughly a quarter have been built using sustainable technology.
Part of that shift toward green building is made possible by a three-year partnership between YouthBuild USA and the Saint-Gobain Corporation Foundation. The project on West Wingohocking Street will be the second completed by YouthBuild Philadelphia and Saint-Gobain, a leading building materials company.
Thanks to this partnership, led by Saint-Gobain's CertainTeed division, these Nicetown homes will have green elements throughout. The countertops that YouthBuild Philadelphia students will install are made of recycled material and are only available in commercial locations and, now, YouthBuild homes. The air systems are designed to take formaldehyde out of the air, and the YouthBuild students will install spray insulation, which expands after it is blown into place.
"It's not so much about just having the materials," said Carmen Ferrigno vice president of communications at Saint-Gobain Corporation. "It's about having the students interact with them."
The West Wingohocking homes will also give Saint-Gobain another opportunity to test the efficiency of these products and their combined energy savings.
"It becomes like a science project for us," Ferrigno said.
YouthBuild's future
Ferringo and Stoneman both said what keeps the program going is the students' enthusiasm. Because Philadelphia's program is a charter school and can enroll approximately 200 students, it is bigger than most YouthBuild USA chapters, which tend to have between 30 and 50 students.
"They all say, 'This changed my life,'" Stoneman said of the YouthBuild students.
It is not only the students whose lives are change, though. Ferringo said the program and its transformative power on the youth has inspired many Saint-Gobain leaders and executives to fully commit to the YouthBuild mission.
"Everybody likes the plan on paper," Ferringo said. "…What changes people is when they come down here, and they're standing next to a young person who says, 'I can have a completely different life [because of this].'"
But even a program as successful as YouthBuild has its fair share of challenges.
"The only tiring part is how hard it is to get our government to [fully] invest in this," Stoneman said.
While President Obama initially tried to double YouthBuild USA's funding, that support was rolled back, and 54 programs have closed due to recent financial constraints.
"It's a huge human and financial loss to our country," Stoneman said.
YouthBuild USA CEO and founder Dorothy Stoneman spoke with all of the YouthBuild Philadelphia students

Students spoke and took the YouthBuild pledge at the groundbreaking ceremony

YouthBuild Philadelphia students ran down a green carpet at the groundbreaking

YouthBuild Philadelphia students ran down a green carpet at the groundbreaking

YouthBuild Philadelphia students ran down a green carpet at the groundbreaking

YouthBuild Philadelphia students ran down a green carpet at the groundbreaking

YouthBuild Philadelphia students and supporters celebrated the West Wingohocking Street groundbreaking