Young and fit: Creating safe spaces for girls to move, exercise
Listen
3:12
What helps children thrive? What keeps them healthy and fit? What gets them ready for the future? This year, WHYY is dispatching reporters to ask those questions. 
Within the sunlit gymnasium at St. Malachy School in North Philadelphia, two students hurry to show off a new dance routine, moving as Solange Knowles' "Don't Touch My Hair" plays on a phone.
"I get stage fright," one girl tells Jillian Green, but she says it goes away once she starts dancing.
For young girls engaging in sports and fitness activities, spaces like this one are important, Green said.
"You're creating a space that feels safe to fail. And once they feel like they can make that mistake, or not do it right and come back, keeps them coming back because they've broken that barrier."
Green is the executive director of Philly Girls in Motion. The nonprofit sets up sports clinics throughout the city, and it brings an after-school fitness curriculum to nine schools, like St. Malachy's in lower North Philadelphia's Yorktown neighborhood, which starts with pre-kindergarten and sees kids through eighth grade.
In the classes, girls explore hip-hop, yoga, even kickboxing.
One recent afternoon, Temple University student Maya Sutton was teaching a Zumba class. The students, some as young as 8, crowded around to watch her every move.
London, an 11-year-old, drifted to the front row. "It helps you a lot if you have a bad day," she said. "It'll help you … make yourself very happy."
And, Sutton said, "It definitely teaches them to say, 'Hey, I'm important, I deserve to be in this space, and I deserve the right to exercise.' ''
Space for exercise isn't always so easy to find, especially in a city where your zip code can dictate your quality of life. And in lower North Philadelphia, almost one-third of residents reported feeling uncomfortable visiting a park or outdoor space during the day, according to a Thomas Jefferson University Hospitals report.
"That's one main problem that we face a lot. Access to spaces, access to open safe spaces, especially in Philadelphia, is a rough situation for a lot of our kids," Green said.
Saba Khan, a physician at Children's Hospital of Philadelphia, works with kids who have obesity. She sees the same trend in the families she encounters.
"There's often families who are … living in spaces where they don't necessarily feel safe for their children to be playing on the streets with friends, kicking a ball around, riding a bike," Khan said.
So Philly Girls in Motion brings play to schools, whether that's in a library, on an auditorium stage, or in a cafeteria.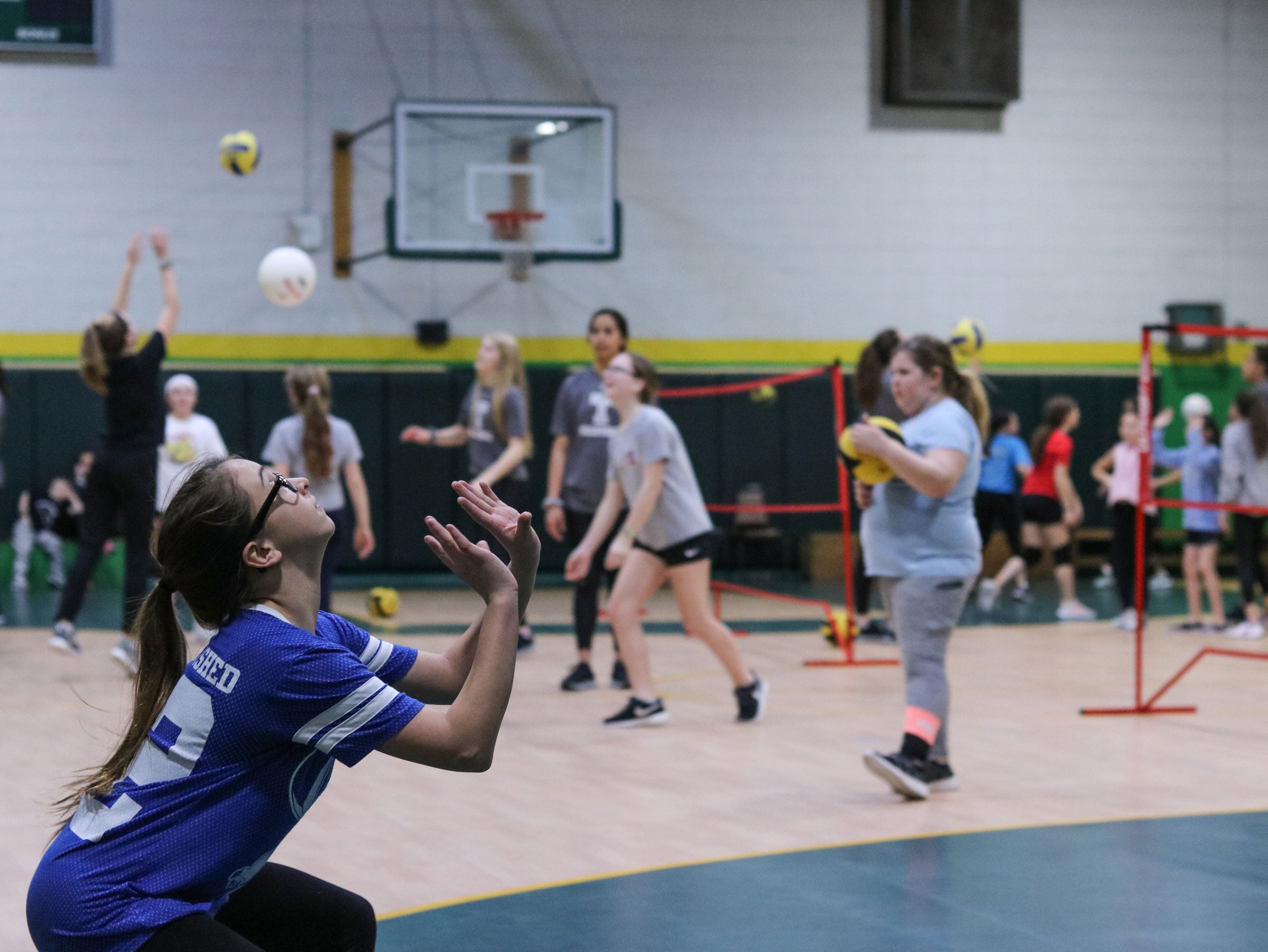 Why create a fitness program just for young girls?
"When you think about girls specifically, they're not always encouraged to go out and do things that are physically active or sports-related," Green said.
There's still a gender gap when it comes to sports — and physical activity in general. Boys engage in an hour more of physical activity per week than girls, according to a nationwide study released in 2018.
And in Philadelphia, the discrepancy shows. In 2017, about half the city's boys — 51 percent — participated on at least one sports team. Only 43.1 percent of girls could say the same.
Still, the numbers are up for girls in Philly: Only 36.9 percent of girls had participated on sports teams just four years before, in 2013.
"Working in sports, there definitely are still big disparities when it comes to female and male and opportunity and non-opportunity," Green said. "And I think that's why it's so important to have a program like this."
As the Zumba class at St. Malachy's wound down, Sutton prompted the girls to stretch their arms and touch their toes. Afterward, the girls crowded into a circle for a group activity.
Three weeks out of every school year, time is spent learning about body image. For girls, that can be another possible barrier to participating in sports.
"We want to teach our students and participants how to talk about their bodies in ways that aren't external," Green said.
"What does your body do that's powerful? What does your body do that's smart? What does your body do that's absolutely scientifically amazing?"