'You have to have hope:' Sotomayor brings messages for children to Free Library
U.S. Supreme Court Justice Sonia Sotomayor has just published two books for young readers about her life story. She presented them at the Free Library of Philadelphia.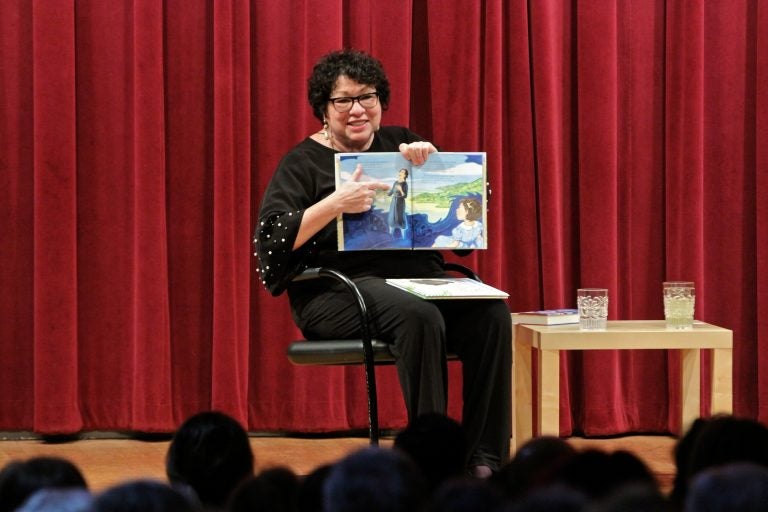 When U.S. Supreme Court Justice Sonia Sotomayor was growing up in a Bronx housing project, her mother called her an "aji" — a kind of hot pepper — because she would never sit still.
It's still true: her conversation on Wednesday evening at the Free Library with 6ABC anchor Tamala Edwards turned into a walking interview as she strolled the aisles of the library's auditorium shaking hands, paying particular attention to those extended by children in the audience.
At one point, a man on the other side of a handshake asked if she would bring the current presidency to a "swift and peaceful conclusion."
Sotomayor moved on without response.
She also never addressed the tumultuous hearings now happening in Washington to confirm Brett Kavanaugh as her possible new benchmate. Instead, Sotomayor stuck to her new book — actually, two new books, both versions of her previously published autobiography "My Beloved World": "The Beloved World of Sonia Sotomayor" for middle school readers, and "Turning Pages," a picture book.
She offered anecdotes about her poor upbringing in New York and the respite she found in books at the public library. She encouraged young people to believe anything is possible.
"Regardless of how life can be hard at times, regardless of the fact that we can fail," she said. "Despite all of that, success is still possible. Dreams can come true. You have to have hope."
She also talked about the the importance of morality, the limitations of her job ("I can't go out and lobby for changing laws, because I'm asked to interpret them") and the limitations of law itself.
"Laws are a minimum of good behavior," she said. "They set only a floor. Something can be legal and still not right. That's true of all human behavior."
Sotomayor also stressed how important it is that her books debuted in both English and Spanish simultaneously, so more people could participate in the same literary moment.
WHYY is your source for fact-based, in-depth journalism and information. As a nonprofit organization, we rely on financial support from readers like you. Please give today.