Woman arrested after 184 cats rescued from 'deplorable' conditions at Del. home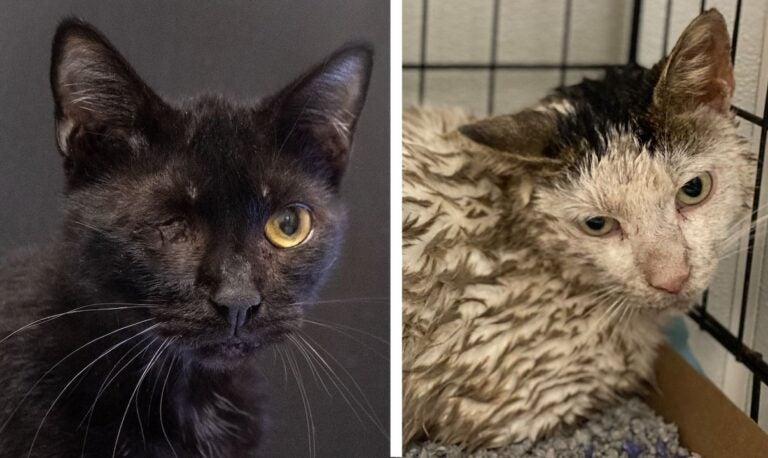 A woman has been arrested following a massive intake of neglected cats from a Camden, Delaware home.
Linda Favre, 65, of Camden-Wyoming, was arrested Wednesday, Sept. 23, and arraigned on 19 charges, including animal cruelty. She was released pending a court hearing with the condition that she may not own any animals until the case is resolved.
On Thursday, Sept. 10, officers from the state's Office of Animal Welfare (OAW) responded to a Kent County property, where 184 cats and one dog were seized. One deceased cat was recovered from the property, and two of the cats rescued have since died.
OAW executed a search warrant after receiving a tip from the public about cats living in deplorable conditions.
Animal welfare officers and Brandywine Valley SPCA staff worked to safely remove the animals, who were transferred to the shelter for further evaluation and treatment.
Many of the cats were underweight and flea-ridden, said Walt Fenstermacher, the BVSPCA's director of programs, who helped lead the shelter's intake. Some cats suffered from upper respiratory infections.
OAW officials called the rescue the largest it has handled since taking over animal cruelty enforcement at the state level in 2016, and it is one of the largest in Delaware's history.
Shelter officials called the cost of such an intake — including boarding for some of the cats and medical care for nearly 200 animals — "significant."
"The conditions these animals were subjected to were horrid," Delaware Animal Services Chief Mark Tobin said in a press release. "No animal should live like that, and unfortunately, three cats lost their lives as a result."
'Forever homes' sought
Since the BVSPCA first put out a call for adopters, many have stepped up.
According to the nonprofit, one dog and 118 cats have been adopted or transported to other animal shelters for placement. Sixty-one cats remain available for adoption across BVSPCA's four campuses.
OAW Executive Director Christina Motoyoshi urged those considering adoption to visit a nearby BVSPCA shelter.
"You can make a huge difference in the life of a cat that was once so neglected," Motoyoshi said.
Royal just went from being the 1 dog among 182 cats rescued last week to cherished family member ❤️. (New Castle Campus) #adopted #dogsarelove pic.twitter.com/CMobw3nNPa

— BrandywineValleySPCA (@BrandywineSPCA) September 19, 2020
Outside of seeking adopters for family cats, the shelter still has a need for "working cat" placements for felines who may be undersocialized, said BVSPCA spokesperson Linda Torelli.
"Many of these cats haven't known the companionship of humans and may prefer to live an independent life," Torelli explained.
The shelter is searching for adopters who can provide a cat with a safe environment where they can "live on their own terms," while offering "natural rodent control" in return, Torelli said.
Non-traditional spaces for working cats include barns, warehouses, firehouses, breweries, churches, and art studios.
For folks who want to help but can't adopt or foster, donations — whether monetary or of critical supplies like wet food and cat litter — are always welcome.
Anyone who witnesses animal cruelty is urged to contact Delaware Animal Services at 302-255-4646.
___
Further Information: