Wolf vows to veto Pa. measure restricting abortion rights
Lawmakers are expected to vote soon on bill that would ban abortion after the 20th week of pregnancy. Current law allows the procedure up until 24 weeks.
Pennsylvania lawmakers could vote as soon as Tuesday on a bill that, if it became law, would impose some of the strictest abortion restrictions in the country.
Senate Bill 3 would ban abortions after 20 weeks — four weeks earlier than state law currently allows. It also would criminalize the most common procedure used in second-trimester abortions — a procedure medical professionals call "dilation and evacuation," but that the bill terms "dismemberment abortion." The bill does not allow exceptions for pregnancies resulting from rape or incest, or those with seriously malformed fetuses.
But while the proposed legislation already has passed the Senate and the House Health Committee, it has drawn steep condemnation from one key critic: Gov. Tom Wolf, who has vowed to veto it should it reach his desk.
The governor, a Democrat who supports abortion rights, stopped by Conshohocken Monday to blast the bill — and urge citizens to contact their lawmakers to oppose it.
"I will veto any legislation that attempts to curb the rights of women to make their decisions about their own health care. I will veto any legislation that takes away women's rights just because Harrisburg Republicans think they know better than medical professionals," Wolf said during a morning news conference at Conshohocken Borough Hall.
"This legislation is a disingenuous and bald-faced attempt to pass the most extreme, anti-choice legislation in this country," he added. "This legislation is an attempt to criminalize the decisions that women make about their own health care. And this legislation destroys health care options for victims, even those who are victims of the horrors of rape and incest."
State Sen. Michele Brooks, a Republican who represents the 50th District in the state's northwestern corner, introduced the bill nearly a year ago.
In a December 2016 memo inviting her colleagues to co-sponsor the bill, she argued that medical advances have improved a fetus' viability outside the womb earlier than ever before, adding that fetuses can feel pain at 20 weeks.
Just over 1 percent of all the 31,818 abortions performed in Pennsylvania in 2015 were done between the 20th and 24th weeks, according to state health department data.
The bill has plenty of critics, including the Pennsylvania Medical Society and the ACLU-PA. Groups including the American Congress of Obstetricians and Gynecologists have decried similar bans generally.
Legal challenge promised
The Women's Law Project sent a letter to state lawmakers last week declaring the bill unconstitutional and promising a legal challenge should it pass.
"For 44 years, the U.S. Constitution has prohibited states from banning abortion before fetal viability. Every time a pre-viability ban has been challenged in court, it has been blocked from going into effect under Supreme Court precedent," the project's executive director Carol E. Tracy wrote. "The Supreme Court has repeatedly held that viability is a matter best left to the doctor's medical judgment. Obstetrician-gynecologists recognize the threshold of viability to be no earlier than the 24th week of gestation."
Tracy urged lawmakers to pass "long-neglected" legislative proposals — such as ensuring new mothers have a sanitary place to pump breast milk while at work — that would support healthy pregnancies "instead of forcing unconstitutional bills that would endanger women's lives."
In February, Pennsylvania Medical Society President Charles Cutler wrote to lawmakers that SB 3 "interferes with the relationship between physicians and their patients … sets a dangerous precedent by legislating specific treatment protocols … (and) unfairly criminalizes physicians and would discourage those legally performing such procedures causing them to stop out of fear they may be wrongly penalized."
In Conshohocken, state Rep. Mary Jo Daley joined Wolf in standing against the bill.
"It's at this critical juncture that we must reject Senate Bill 3 as a very clear and very real violation of a woman's right to privacy and to autonomy over her own body," said Daley, a Democrat who represents Montgomery County.
She added: "The same party that wants government to stay out of our lives also wants government to force women to stay pregnant. The same party that wants to force women to stay pregnant habitually cuts the services and programs which would help these same women raise their children."
Valerie Arkoosh, the Democratic chair of the Montgomery County board of commissioners, also condemned the bill.
"SB 3 legalizes forced pregnancy," said Arkoosh, an anesthesiologist who specializes in obstetrics and gynecology. "This bill is unconstitutional, it's bad medicine, and it must be stopped."
A personal story
A Lower Moreland mother joined the politicians to talk about the difficult decision to terminate her first pregnancy in the summer of 2012, when she was five months pregnant. She and her husband went to a routine ultrasound when she thought they'd be learning their baby's gender. Instead they learned the baby was dying.
"Prior ultrasounds revealed a healthy and growing baby. But this was no longer the case. We were shocked to learn that our baby had never developed an airway or trachea. His disorder was fatal," Erica Goldblatt Hyatt said.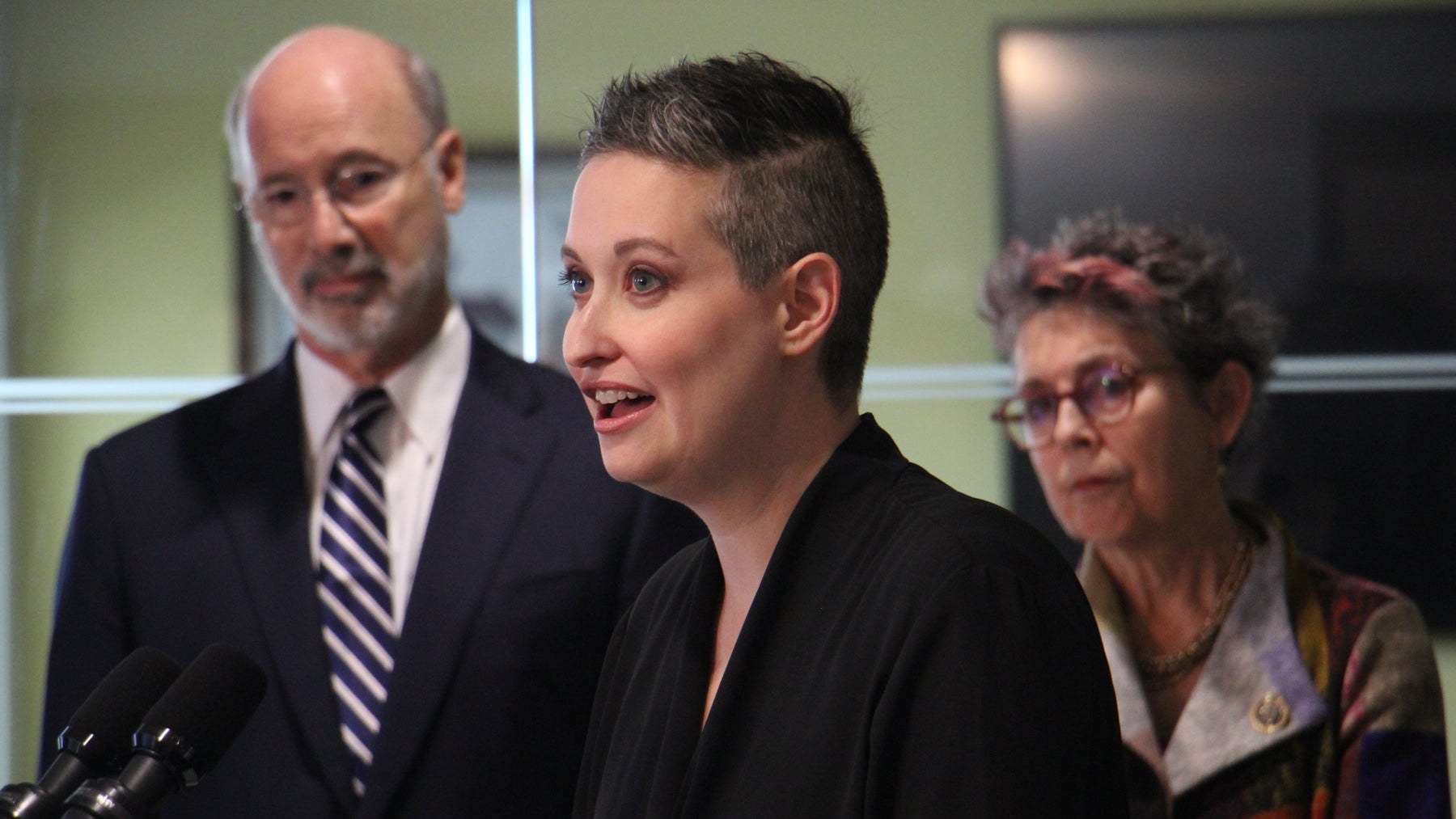 Hyatt and her husband decided to end the pregnancy, even as they still grieve the loss of a son they later named Darby.
"Women in my circle call our experience a heartbreaking choice. For those who have never walked our path, the decision seems so black and white, when the reality is filled with shades of gray," Hyatt said. "I know the truth that my beautiful son was freed from pain and suffering and the limitations of a body that would not serve him. I continue to honor Darby's legacy in the hopes that our experience will provide education and better understanding about why women like me end pregnancies after 20 weeks."
She added: "It is unbelievable to me that the personal choice to end my pregnancy could, under a bill like SB 3, become criminalized with virtually no exception, robbing women like me of our parental rights to act in the best interest of our unborn children. This is a decision that should only be made only by parents, with the assistance of medical professionals with true expertise about the prognosis of conditions like Darby's."
WHYY is your source for fact-based, in-depth journalism and information. As a nonprofit organization, we rely on financial support from readers like you. Please give today.