Wolf pushes GOP lawmakers to extend Pa. gun sale background check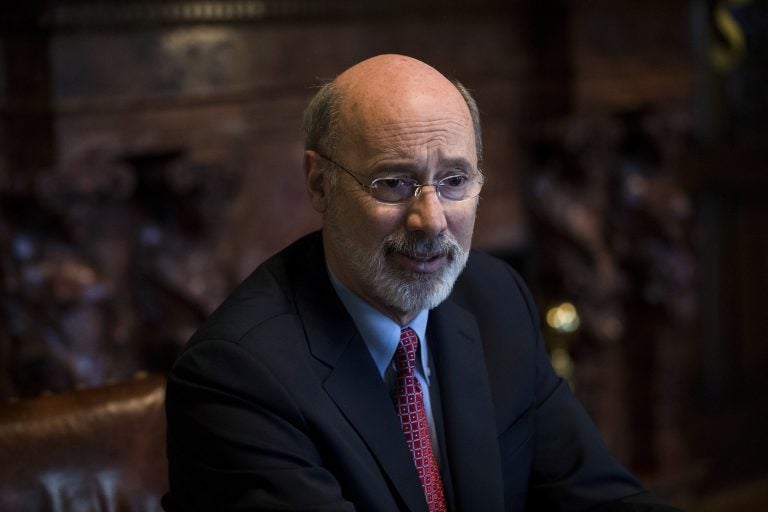 Gov. Tom Wolf is pushing Pennsylvania's Legislature to broaden firearm background checks — in particular, to close an exception for certain rifles, shotguns, and handguns sold at gun shows.
Variations of the "gun show loophole" are relatively common across the country.
His administration has acknowledged it will be difficult to get the measure through the GOP-controlled legislature. But Wolf said performing background checks on long guns won't change gun sales much
"Common-sense gun reform … does not pose an unnecessary delay or obstacle to those who purchase firearms," he said at a Capitol news conference Monday. "This is going to make our society safer."
However, the bill hasn't moved from the House or Senate's GOP-controlled committees in months.
Neither have measures banning bump stocks and fully outlawing semi-automatic weapons.
At Wolf's conference, acting State Police Commissioner Lt. Col. Robert Evanchick attempted to appeal to Republicans, saying expanded background checks would make his force more effective.
"The Pennsylvania State Police encourage closing this void in the current law to require that all firearm purchases and/or transfers of ownership require a universal background check," he said.
Wolf's latest effort comes after a string of House hearings on gun violence, and the Senate passing a bill strengthening anti-gun provisions in protection from abuse orders.
Under current law, those under protection from abuse orders can relinquish weapons into the custody of friends or family members. The update would limit that custody to law enforcement or other designated officials.
Wolf is urging the House to pass that bill to his desk for a signature as soon as possible.