Wolf grants clemency to two more inmates, including first female lifer since 1990
Pennsylvania Gov. Tom Wolf has granted clemency this week to three inmates serving life sentences, including to the first female lifer since 1990.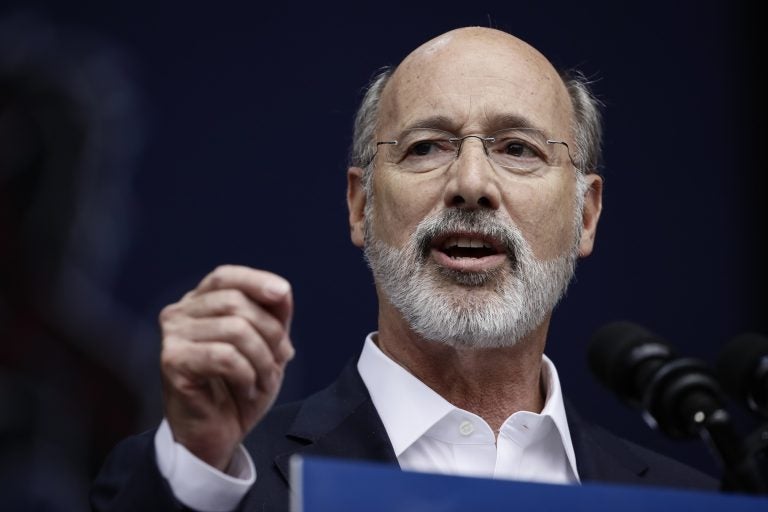 Pennsylvania Gov. Tom Wolf has commuted the sentences of three inmates who would otherwise die in prison, bringing the total number granted during his administration up to five.
Benny Ortega, Tina Brosius, and Raymond Jordan had each served decades in state prison for offenses ranging from drug trafficking to first-degree murder. Under Wolf, they applied for clemency, riding a wave of hope that his administration would revive a rehabilitative process that had fallen out of favor.
Brosius is the first woman who will be freed through commutation since 1990.
Amid these victories, criminal justice reform advocates say the commutation process remains opaque and disheartening, and many more worthy candidates are not being selected out of political concerns.
Wolf granted Ortega a commutation on Tuesday, calling his 125-to-292-year sentence for selling cocaine and marijuana "egregious and inhumane." Ortega is now eligible for parole and will be placed on the Pennsylvania Parole Board's interview list.
On Thursday, the governor granted clemency to Tina Brosius, 43, who was convicted of first-degree murder when in 1994 at the age of 18 she allowed her newborn baby to drown in the portable toilet where she'd just given birth in Dauphin County. Brosius already had two daughters at the time, who have advocated continually for her release.
Jordan, 58, stabbed a man while high on cocaine in Philadelphia in 1985. He has had no misconduct write-ups in prison since 1998, according to those familiar with his application.
Brosius and Jordan will be released to a community corrections center for year, before serving out the rest of their sentences on parole, according to Wolf's spokesman J.J. Abbott.
'A candle at the end of a tunnel'
Each commutation is "a candle at the end of a tunnel," said Kathleen Brown, professor emerita at the University of Pennsylvania who works with lifers across the state to file commutation applications.
Commutation is ostensibly based on a person's behavior following a criminal conviction, not on the severity of the crime itself. Inmates must apply to the Board of Pardons, where a staff of six sifts through which petitions will be heard.
Inmates who have clean records of conduct, pursued higher education while incarcerated, and assumed leadership roles while in prison are considered to be good candidates. Those convicted of a violent offense must earn upvotes from all five board members for their petitions to advance to the governor's desk.
The process all but dried up after former Gov. Bob Casey commuted the sentence of serial killer Reginald McFadden in 1994.
McFadden, who corrections staff did not regard as a strong candidate, moved to upstate New York, where he was found guilty of two murders and a rape following his commutation.
When Gov. Wolf took office, reversing that trend seemed possible. The Board of Pardons, consisting of Lt. Gov. Mike Stack, state Attorney General Josh Shapiro, former Bucks County Director of Corrections Harris Gubernick, psychiatrist John P. Williams, and victim representative Marsha Grayson, has received dozens of applications each year.
So far, they have recommended six of these to the governor.
"There will be great joy when Tina is released," said Brown, not least in SCI Muncy, the medium-to-maximum security prison where she has been serving her sentence.
However, Brown said working on dozens of similar petitions that failed to advance has forced her to question the whole clemency process.
"I feel it's ethically not okay to bring hope to prisons if there's not hope," she said. "I was at [SCI] Muncy earlier this week and the flavor there is … , 'Why are we bothering to apply?' "
Richard Marra, 55, falls into the disappointed category. Marra's 53-year-old sister Marcie traveled to Harrisburg this week for what she hoped would be the next step in commuting her brother's sentence. In 1986, Marra committed murder during a fight in a nightclub in Philadelphia.
In March 2018, the Board of Pardons took his commutation application under advisement, before eventually denying it. Marra applied for reconsideration, armed with a new letter of support from the Philadelphia District Attorney's office. On Wednesday, he hoped he'd be granted a chance for a new hearing.
Only Stack voted in his favor.
"We were just so close," said Marcie. "It just breaks your heart."
Stack, who came into office promising to speed up pardons and commutations, maintains the system is "broken."
"A lot of time, tremendous amounts of resources go into the idea of rehabilitation," he said. "When's enough enough?"
Having elected officials on the board is a problem, say Stack and Brown, and so is the need to have all five members agree to recommend a petition.
In a statement on Ortega's commutation, Abbott said the facts of that case demonstrate the need for criminal justice reform.
"Gov. Wolf encourages Pennsylvanians that have been treated similarly to apply for commutation," he said.
WHYY is your source for fact-based, in-depth journalism and information. As a nonprofit organization, we rely on financial support from readers like you. Please give today.