With Bill Cosby in prison, what's next?
Cosby's legal team says it will appeal, but he'll be in prison when they do.
Listen
1:11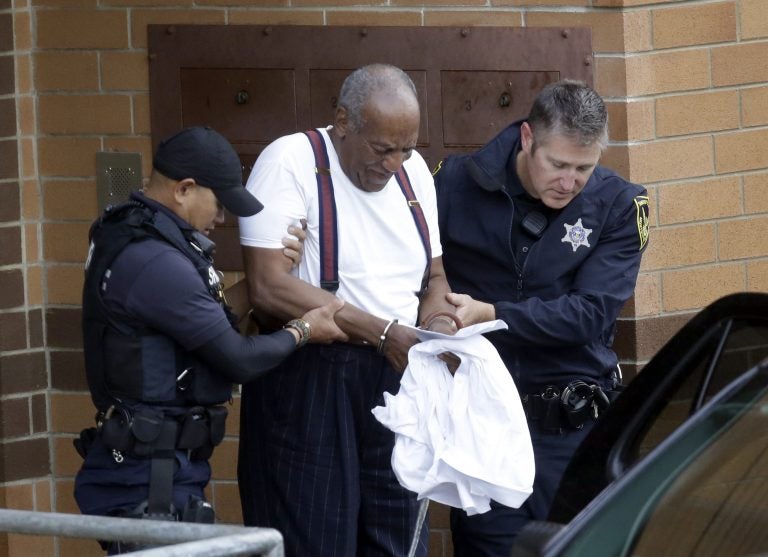 With Bill Cosby now starting his three to 10 year prison sentence imposed by a Montgomery County judge on Tuesday for sexually assaulting a former Temple University employee 14 years ago, where does the 81-year-old's case go from here?
As everyone expects, there's the long-slog that is the appeals process.
To make initial appeal objections, Cosby's legal team has 10 days to file what's called a post-trial motion. But Judge Steven O'Neill, who has had the case since 2015, would be the one ruling on it, and it would be unusual for a trial judge to find errors of law in his own decisions.
For a fresh set of eyes, Cosby's lawyers will then have to appeal to the Pennsylvania Superior Court. After their arguments, if Cosby's conviction isn't reversed, if his sentence isn't changed, or if he is not released, the next stop is the Pennsylvania Supreme Court, where receiving relief is exceedingly rare. But that's not the end of the road.
At that point, if Cosby's conviction remains unchanged and his lawyers can show something like newly-discovered evidence or a change in law, another appeals process starts with what is known as as a Post-Conviction Relief Act petition. Pennsylvania law would give Cosby one year to file this from the time his first appeal process was denied.
Key issues in the lengthy appeals process are expected to include the five "prior bad act" witnesses the judge allowed to testify against Cosby; whether Cosby's right against self-incrimination was violated when a confidential deposition from a civil suit became the basis for criminal charges; and whether an audio recording played during the trial was doctored in such a way that would have changed the verdict.
Camille Cosby called the audio recording in question the reason why Cosby was denied a fair trial. But Montgomery County District Attorney Kevin Steele told reporters if the allegation that prosecutors used falsified evidence to convict Cosby is their main basis for appeal, he is not worried. "If that's what they got, it's beyond a Hail Mary," Steele said Tuesday.
Whatever the appeal chances are, Cosby's legal team asked O'Neill to allow Cosby to put his prison time on hold to allow the comedian to focus on the appeals process.
O'Neill balked at that suggestion, saying the sex crime for which Cosby was convicted is serious.
"The nature of this crime indicates that he could quite possibly be a danger to the community," O'Neill said. "I'm not permitted to treat him any differently based on who he is or who he was."
Not long after, Cosby removed his watch and his jacket and rolled up the sleeves of his shirt. Sheriff's deputies then put him in handcuffs and walked him outside of the courtroom past a swarm of reporters. He made no comments as he shuffled by with his cane positioned between his cuffed wrists. Officials then sent him to a county facility to be booked and proceed. Cosby was then transported to SCI Phoenix in Collegeville, a brand-new supermax prison where most inmates stay in roughly 12-by-6 foot cells and many doubled up.
It is unclear where exactly Cosby will be assigned for the remainder of his sentence, but prosecutors suggested several times during Tuesday's hearing that SCI Laurel Hill in southwestern Pennsylvania would be a fitting prison, since the site handles the bulk of the state's elderly inmates.
If Cosby remains locked up, in three years, he will go in front of the Pennsylvania Board of Probation and Parole, which will decide whether he is fit to be released. There is no guarantee Cosby will be granted his freedom in three years, that is just the earliest he can ask for it.
Once Cosby is out, though, he has something else to grapple with: his designation as a "sexually violent predator" that O'Neill ordered Tuesday.
It mandates monthly counseling and regular contact with state police about Cosby's travels and life plans.
In court, Cosby asked prosecutors to clarify the requirements about notifying authorities about his travels. Would he have to give the Pennsylvania State Police a heads-up if he was traveling to another city overnight? He would.
Once the lifetime requirement was explained again, Cosby said to the court: "I don't need any more discussion on that."
WHYY is your source for fact-based, in-depth journalism and information. As a nonprofit organization, we rely on financial support from readers like you. Please give today.