With artwork, Philadelphia muralist brings support for immigrant families to Harrisburg
Michelle Angela Ortiz, creator of the "Familias Separadas" project, explains her reasons for creating this iteration of the project in Harrisburg to a crowd of people on the Capitol steps. (Dani Fresh for WHYY)

Around 200 people came to the Pennsylvania Capitol Saturday to celebrate the work of muralist and activist Michelle Angela Ortiz. With the project called "Familias Separadas," the demonstrators asked Gov. Tom Wolf to shut down Berks Family Residential Center. (Dani Fresh for WHYY)

People gather on the Capitol steps to ask Gov. Tom Wolf to issue an emergency order to shut down Berks County Residential Center. (Dani Fresh for WHYY)

Yared Portillo sings with people gathered during the "Familias Separadas" rally. (Dani Fresh for WHYY)

Adamaris Lopez of Philadelphia holds a sign with text excerpts of legal arguments from the Sheller Center for Social Justice of the Temple University Beasley School of Law. She joined a protest outside the Pennsylvania Capitol organized around the work of muralist Michelle Angela Ortiz. (Dani Fresh fpr WHYY)

A crowd on the Capitol steps listens to women read excerpts from interviews with mothers detained at Berks County Residential Center. (Dani Fresh for WHYY)

Olivia Ponce reads text from interviews conducted by Michelle Angela Ortiz with mothers formerly detained at the Berks County facility. (Dani Fresh for WHYY)

A young boy in a Captain America costume and a woman pose for a photo in front of the Capitol as Ortiz speaks during the rally on Saturday. (Dani Fresh for WHYY)

Antonio Morales holds signs in support of shutting down Berks County Residential Center. (Dani Fresh for WHYY)

Jasmine Rivera from Shut Down Berks Coalition demands the end of family detention. (Dani Fresh for WHYY)

Michelle Angela Ortiz's "Familias Separadas" project in Harrisburg includes three billboards located in high-traffic areas, visible to commuters going in and out of the city. (Dani Fresh for WHYY)

The project also includes artwork on three bus shelters near the Capitol campus in Harrisburg. (Dani Fresh for WHYY)

Ortiz dedicated the mural in Allison Hill neighborhood of Harrisburg to the immigrant community living there. (Dani Fresh for WHYY)

Michelle Angela Ortiz celebrates the dedication of her mural to the immigrant community in Allison Hill. (Dani Fresh for WHYY)

Jeanne D'Angelo (left), Manny Martinez, and Katie Driscoll traveled from Philadelphia to support Shut Down Berks Coalition and Ortiz's "Familias Separadas" project. (Dani Fresh for WHYY)
A large, vibrant mural depicting the eyes of a woman and her son has been temporarily installed on the verticals of the Pennsylvania Capitol building's west-facing steps.
Prominently visible from State Street in Harrisburg, it is one of several installations recently erected by Philadelphia-based artist Michelle Angela Ortiz and completed just prior to Tuesday's election.
This collection of public works is the second iteration of Ortiz's project, "Familias Separadas," which calls attention to the plight of immigrant families detained at Berks County Residential Center.
"The goal of this project is to amplify the stories of the families affected by detention and deportation in ways that people can connect with, so that they can empathize with the families and then channel that energy into action," Ortiz said in a release.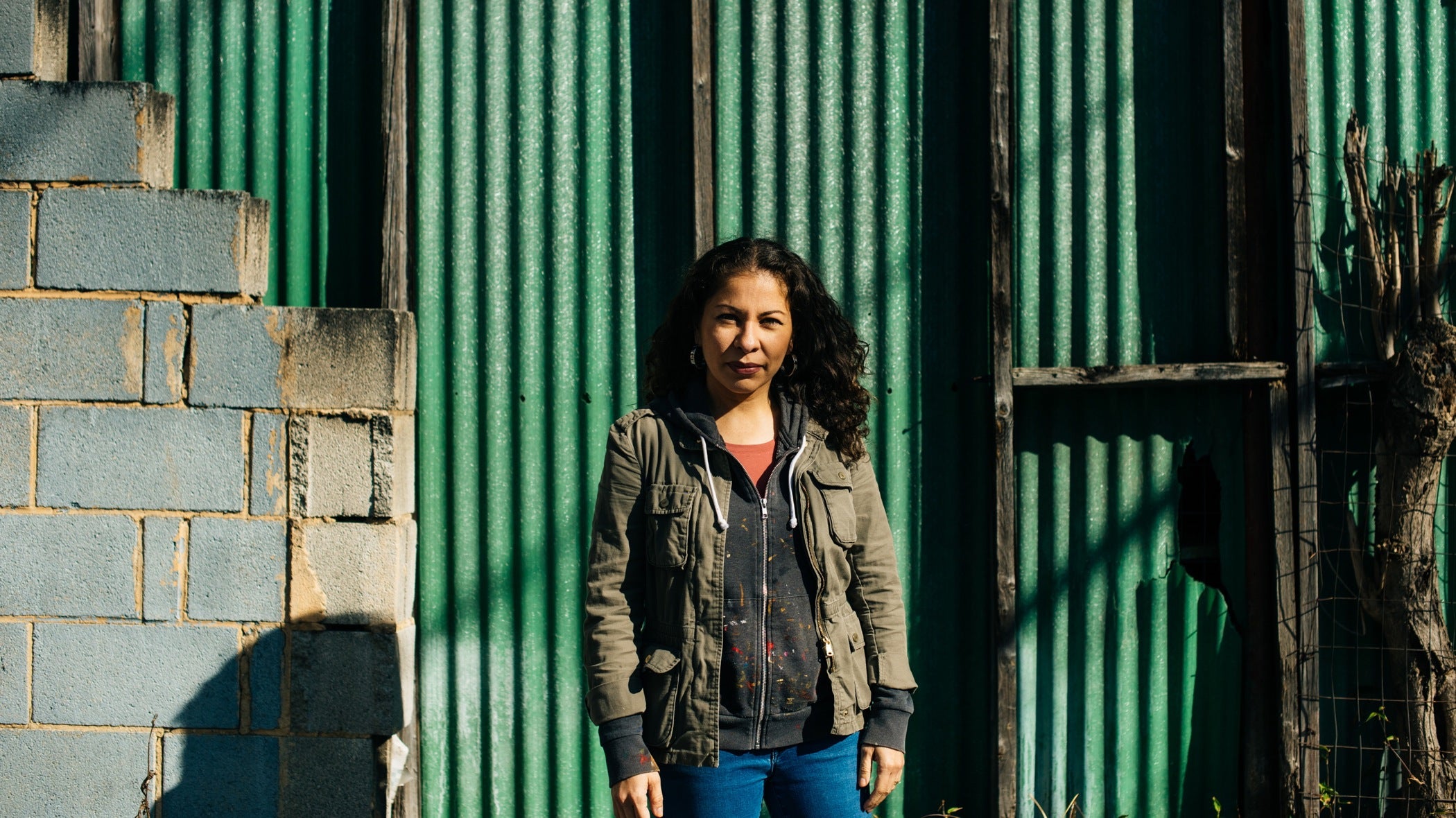 The project includes the 88-foot vinyl applique on the Capitol's steps and a second, permanent mural painted on a wall in Harrisburg's Allison Hill neighborhood with the help of community youth and in partnership with Movement of Immigrant Leaders in Pennsylvania,  Brethren Community Ministries, and the Latino Hispanic American Community Center.
Artwork also appears on three billboards with prominent visibility for commuters coming in and out of Harrisburg and three bus shelter displays located just outside of the Capitol campus.
The displays combine quotes from interviews conducted by Ortiz, imagery and illustration of the mothers and children detained at the Berks facility.
On Saturday, the Shut Down Berks Coalition and Ortiz invited people to the Capitol steps to frame the artwork, read excerpts from the interviews, and rally support.
Around 200 people gathered from Harrisburg, Lancaster, Philadelphia, and other communities to show support for the Shut Down Berks Coalition. They held signs asking Gov. Tom Wolf to issue an emergency order to shut down the facility permanently.
Nearing the end of the event, Harrisburg resident Sarafe Harris spoke before teaching the crowd a song.
"One of the things I do want to say is that we are not trying to reform a system that imprisons people, we are seeking an abolishment of ICE … we are not asking to reform, we are not asking to make Berks nicer, we are asking to shut down Berks," she said.
Participants then walked from the Capitol building to the mural location in Allison Hill to dedicate it to the immigrant community living there.