Frigid weather doesn't stop Wilmington MLK Peace March
Listen
1:04
Braving frigid temperatures, about a hundred Wilmington residents took part in the 7th annual Martin Luther King Peace March calling for justice and racial harmony.
A feels-like temperature of -2 degrees greeted the marchers as they walked nearly a mile from William "Hicks" Anderson Community Center to Be Ready Church. Coby Owens of Wilmington used his megaphone to lead the group in chants for justice. He said he marched to carry on Martin Luther King's legacy.
"Right now, our country is at a new height of racial tensions and we must come together as a community to fight together for that equality that Dr. King preached about," Owens said. "He wanted little black girls and little black boys to play with little white girls and little white boys, and we must still keep his dream alive."
The march was organized by West Side Grows Together, 302 Guns Down/Guerrilla Republik, #ItsNotOK!, Be Ready Church and the Wilmington Peacekeepers. A number of top city officials joined the march including Wilmington Mayor Mike Purzycki and Police Chief Bob Tracy. New Castle County Executive Matt Meyer and Delaware Attorney General Kathleen Jennings also took part.
New state Sen. Tizzie Lockman lives in Wilmington's West Side and says the frosty temps makes the march even more special. "On a day like this, where it's really frigid, I know everybody thought twice about coming out, it means even more to come out and demonstrate and show our solidarity as a community," Lockman said. "So many folks who have worked to get us to the point where we're at have had to go through a lot worse, so i think it's really special to see so many people- more than I thought- show up to face a small amount of adversity in the name of justice and equity."
Earlier in the day, the Delaware Art Museum hosted a day of service featuring poetry and music performance and gallery tours highlighting works by African American artists. Visitors also got to make some art of their own and write letters to send to veterans, incarcerated youth or the homeless.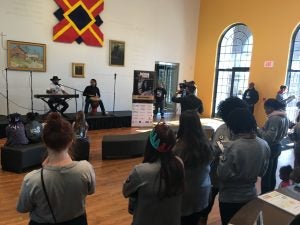 The museum event is part of One Village Alliance's Raising Kings initiative to inspire and equip young black men to fulfill Dr. King's vision. "This is an initiative to raise society's prominent image, expectations and the outcomes that we're seeing for our men and boys of color," said One Village Alliance president and CEO Chandra Pitts. "Not only celebrating the life of Dr. Martin Luther King, but living the legacy by raising the next generation of Dr. King-like leaders."
Chuck Reekmur, founder of AllHipHop.com, joined Pitts in calling for higher expectations and improved outcomes for black youth. "Right now, there are very low expectations for your average young black male, there's an inference and pretty much [it's] outright stated that they'll oftentimes end up one of two places: dead or in jail," Reekmur said. "We have to raise those standards and we have to dig deep within ourselves and also look back at our ancestors and the ones that came before us for some clues as to how we move forward."
Pitts hopes to engage more than 2,500 people through Raising Kings events through the end of January.