Why Frank Farley has a rest stop named after him
"Frank Farley is a giant in 20th century New Jersey history," said Nelson Johnson.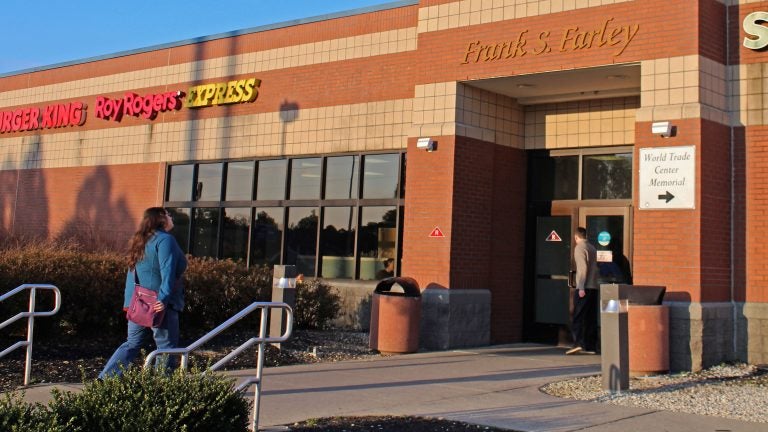 Each year, millions pass the Frank S. Farley Service Plaza, the single rest stop on the Atlantic City Expressway, on their way to and from the Jersey Shore.
On a recent visit, travelers using the rest stop knew the name but not the man, with some guessing him to be a military leader or former governor. His portrait hangs inside his namesake rest stop, along with a brief description of his political career. When he died in 1977, the New York Times described him as one of the state's most influential politicians.
"Frank Farley is a giant in 20th century New Jersey history," said Nelson Johnson, author of "Boardwalk Empire: The Birth, High Times and Corruption of Atlantic City."
A legendary powerbroker
Farley, whose childhood nickname "Happy" was later shortened to "Hap," served 34 years in the state legislature, and led the political machine that ran Atlantic City and Atlantic County governments for decades. He was first elected to the state Senate in 1940 and was re-elected again and again, serving until 1971. But his position as the leader of the GOP county chairs throughout the state gave him influence well beyond his title, often exceeding that of the governor.
At one time, little could be accomplished in New Jersey without Farley's OK, Johnson said. "Things didn't even come up for a vote unless Hap Farley gave it his blessing."
"He was like the Donald Trump of his day," said James Cafiero, a former Republican state senator and assemblyman representing the 1st Legislative District, who worked with Farley in Trenton. He described Farley as a consummate dealmaker who brought big improvements to South Jersey. "Hap Farley was ahead of his time."
Now 90, Cafiero recalled a meeting about the creation of Ramapo College of New Jersey, at which Farley stood his ground, saying there would be no new college in North Jersey unless his area got its own college. He got his deal. Stockton State College accepted its first students in 1971, operating out of an Atlantic City hotel before the campus in nearby Pomona was completed. It is now a university, with a new campus in Atlantic City and thousands of undergraduate and graduate students.
Farley had an oversized impact on the Atlantic City area for decades, playing a key role in the creation of the Garden State Parkway as well as the Expressway. Farley helped deliver New Jersey to Richard Nixon at the 1968 Republican National Convention in Miami, and he was credited with bringing the Democratic National Convention to Boardwalk Hall in Atlantic City four years before that. He launched the Atlantic City Race Track and the Atlantic City State Marina, which now also bears his name. In fact, he had a hand in most of the major events in and around Atlantic City through most of the second half of the 20th century.
Even out of office, he was described as instrumental in bringing legal casino gaming to Atlantic City and in keeping the Federal Aviation Administration facilities in Atlantic County in the 1970s.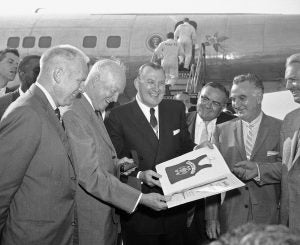 Don't call me a political boss
According to several sources, Farley disliked the term "boss," although it was often applied to him.
"'Boss' has some negative connotations," said Cafiero, whose father, Anthony J. Cafiero, also worked closely with Farley when he served in the Senate from 1949 until 1953. "Leader is a better word. He was a party leader."
Atlantic City politics have had a bare-knuckle reputation from the start, a reputation periodically reinforced through scandal and indictments. The current mayor, Frank Gilliam Jr., and Councilman Jeffree Fauntleroy II are under fire after a late-night fight outside a club.
Back in 1909, there were more votes counted than there were registered voters, according to the Press of Atlantic City archives. In recent decades, the city has seen more than its share of corruption probes and convicted officials.
Many believe Farley inherited the mantle of Enoch "Nucky" Johnson, whose Prohibition-era organization split the difference between politics and racketeering. Johnson was the inspiration for Nucky Thompson, the main character of the HBO series "Boardwalk Empire," a work of fiction inspired by Nelson Johnson's nonfiction book.
Author Johnson, who is not related to Nucky Johnson, said one of the most difficult elements of writing his book was establishing Farley's succession after Nucky Johnson went to prison on charges of tax evasion in 1941.
"The line is clear," Johnson said.
Despite numerous investigations and allegations — including accusations of close ties to racketeers — Farley never faced indictment. Committee hearings in the 1950s, which included information from four Atlantic City police officers dubbed "the Four Horsemen," and an investigation by New Jersey authorities in 1969 cast shadows on Farley. But, as Farley pointed out in numerous newspaper interviews, no guilt was ever proved.
Farley was extremely careful, Johnson said, with every element of the organization.
He also did as many favors as he could, for anyone he could, Johnson said, and tried to never hurt anyone with a "no" vote if he could possibly help it. That kept him a popular figure and helped solidify his standing.
Farley's rest stop
On July 31, 1964, Farley presided over the opening of the Atlantic City Expressway and the rest stop that would later bear his name. Then, and now, observers say he was the one responsible for getting that highway built. In April of 1977, months before Farley's death, the service plaza was named in his honor.
A year later, according to the timeline created by the South Jersey Transportation Authority that operates the expressway, the arrival of casino gambling brought a big jump in traffic along the expressway.
Read Frank S. Farley's NYT obituary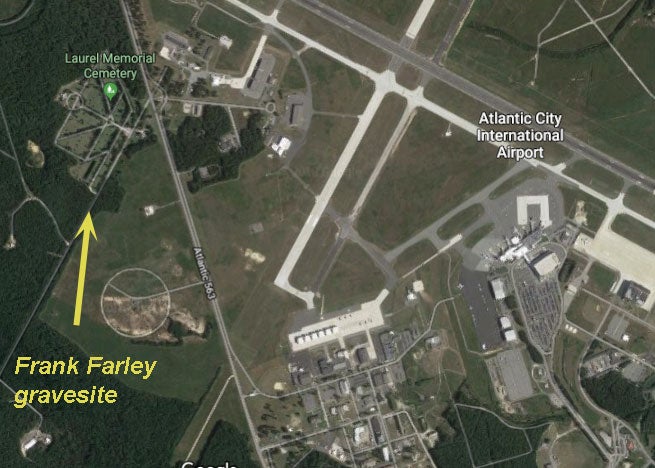 Along the Garden State Parkway, rest stops are named for nearby towns.
Rest stops along the New Jersey Turnpike carry some of the best-known names in New Jersey history, including Thomas Edison, Alexander Hamilton and Walt Whitman.
Others commemorated include Clara Barton, the founder of the American Red Cross, and Joyce Kilmer, a poet and lecturer killed in World War I whose short poem about never seeing a poem as lovely as a tree probably sounds familiar even if his name does not.
The Frank Farley Plaza is open 24 hours 7 days a week.
Sunoco gas station
Pizza Hut
Burger King
Roy Rogers Express
Hershey's Ice Cream
Starbucks Coffee
Battleship New Jersey Model
Pinelands Interpretive Center
9/11 Memorial
The Ventnor, New Jersey house Frank S. Farley's lived in.
WHYY is your source for fact-based, in-depth journalism and information. As a nonprofit organization, we rely on financial support from readers like you. Please give today.