Who owns the streetscape? An even more complicated question
PlanPhilly published a story Monday looking at the diffuse and overlapping responsibility assignments for Philadelphia's streets.
It's a long read, but here's the Reader's Digest version:
There are 9 government or quasi-governmental agencies responsible for the streets (plus a few dozen private entities): Philadelphia Streets Department, PennDOT, the Philadelphia Parks and Recreation Department, the Delaware River Port Authority, the Philadelphia Industrial Development Corporation, the Pennsylvania Housing Authority, Philadelphia International Airport, the Burlington County Bridge Corporation, and SEPTA.

On top of that, responsibility gets split again, with SEPTA responsible for the pavement over trolley tracks (even those buried ages ago) and the Philadelphia Streets Department responsible for sidewalks on PennDOT's state routes.

And on top of that, there are dozens of utilities, private companies, registered community organizations and others with other rights to, interests in, and responsibilities for the streets and sidewalks.

It's kind of a mess and it makes intergovernmental cooperation and coordination extremely important.
That article only barely touched upon the city's various streetscape improvements—things like benches, street lamps, trash containers and parking kiosks—that also make up our streets. There are a ton of things, and cataloguing them all and identifying the various agencies responsible for them all probably would have driven me batty.
Thankfully for those who were wondering about the streetscape and my tenuous grip on sanity, the Center City District has done this for us in its most recent quarterly digest.
According to the CCD, there are 23 city entities responsible for 83 different types of streetscape furnishings and installations across Center City alone. The number of agencies and breadth of streetscape improvements would likely go up quite a bit if you looked citywide.
The CCD's Community Service Representatives—those pleasant folks in what I'm pretty sure is aquamarine (Cyan? Cerulean?) who help patrol and clean Center City—keep track of all of them. Every month, armed with hand-held tablets for geo-tracking, a team of six CSRs survey Center City for defects, and then reporting them to the responsible agencies. A week after each survey, the 23 agencies are invited to a public space collaborative meeting to coordinate on correcting the problems.
As the digest notes, some are easy, like fixing a broken light or bent sign. Others are fare more complex, tied into larger systems or requiring complete overhauls of obsolete infrastructure.
In the photos below, the CCD highlighted streetscape improvements to show responsibility assignments. The CCD is in that aquamarine (Maybe teal? Seamfoam?), L+I is in green, the PPA in royal blue, PECO in purple, PGW in pink, PWD in light blue, SEPTA/PATCO in orange, Sanitation in brown, property owners in green with black stripes, Streets in yellow, Titan Outdoor (they own bus shelters per agreements with SEPTA) in hot pink, and Pacific Telemanagement Services in red.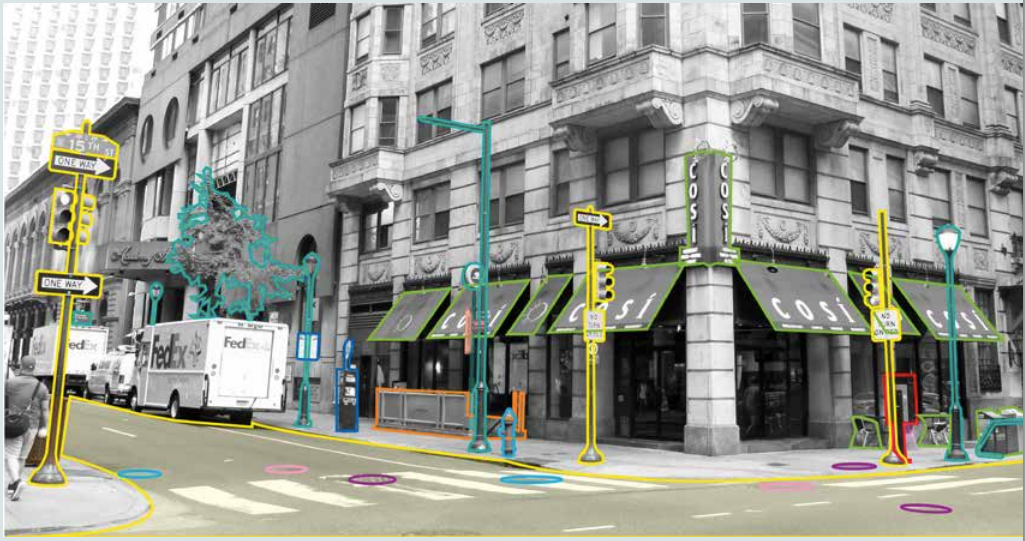 There are some caveats worth noting: either the CCD or Parks & Rec are responsible for trees in Center City, depending on the location; the "honor boxes" for free newspapers like City Paper are the responsibility of individual publishes, but are regulated by L+I; pedestrian poles are either Streets Department or CCD responsibility, depending on the location.
The CCD's digest isn't just about nearly two dozen agencies overseeing scores of streetscape improvements, or how it takes monthly sweeps by CSR teams to keep Center City looking sharp (which partially explains why some less wealthy neighborhoods seem so ragged in comparison).
The Digest also has some interesting suggestions for the next Mayor, from new-and-improved, foot-pedal-operated BigBelly cans with, to sprucing up the city's alleyways by consolidating private waste management services, ala this New Yorker article.
There's plenty of great stuff in the report, including a list of the 8,242 or so streetscape improvements maintained by the CCD. Download it here and add it to your weekend reading list.
WHYY is your source for fact-based, in-depth journalism and information. As a nonprofit organization, we rely on financial support from readers like you. Please give today.