What happened when Philly closed 30 schools? New study offers answers
Closures displaced thousands of students, but a new study suggests the kids who fared worst academically were at schools where most displaced students went.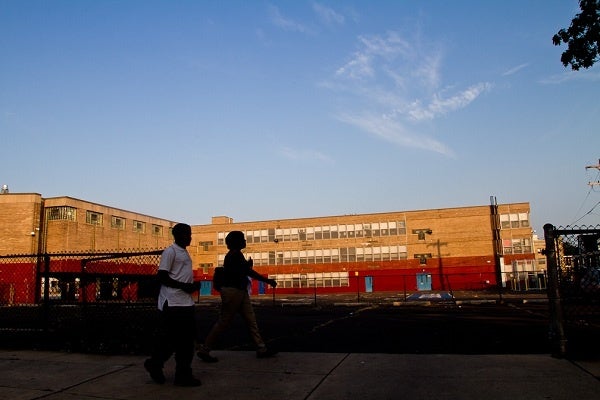 Updated: 8:05 a.m.
—
When Philadelphia closed more than 10 percent of its traditional public school buildings in 2012 and 2013, many worried about the thousands of students displaced by these closures.
A new study, however, suggests that the students who struggled most academically during this tumultuous time were those attending schools that received the most displaced students.
The paper by two University of Pennsylvania professors, to be published formally next month in the Economics of Education Review, is perhaps the most comprehensive analysis yet of the 30 school closings that rocked Philadelphia's education landscape during the early years of this decade.
Some of the study's conclusions affirm the district's approach, while others will embolden critics.
Among the more troubling findings: Displaced students had more absences and received more suspensions after their original schools closed. The farther the students had to travel to reach their new schools, the more they struggled in these areas.
This uptick in suspensions and absences did not, however, torpedo students academically. And there was a glimmer of hope in the data: When displaced students wound up at higher-achieving schools, their test scores went up.
Matthew Steinberg, a Penn professor and study co-author, says the big picture take away is that breaking up low-performing schools with disproportionate numbers of disadvantaged kids can be helpful. But simply moving those students in large numbers to new schools doesn't move the needle, and can even hurt students at the receiving schools.
"One of the key lessons is that concentrating disadvantage into the same schools is not good for any student," Steinberg said.
Philadelphia is a compelling place to study school closures because the district closed so many schools and because of the approach officials took when deciding which schools to close.
Logistics and finances were at the heart of the closure campaign. As the city lost population and many students started to choose charter schools, district officials were left with a problem: too many buildings, too few students. District officials said they needed to "rightsize" in order to cut costs.
Administrators did target schools with declining enrollment when they decided which ones to close. But they also sought to eliminate schools with poor academic outcomes.
Students displaced by the school closings scored, on average, worse on state tests than their peers at other district schools. Many of those schools also sat in some of the city's poorest neighborhoods and served some of its most disadvantaged children.
Officials hoped moving these students would boost academic achievement. In some cases, it did.
When students relocated to schools with good scores on the statewide English exam, their scores on that same exam went up. The problem, though, is that many students didn't end up at these high-achieving schools.
The worst results occurred when large numbers of displaced students arrived at a new school together. In scenarios where displaced students made up a quarter of all children enrolled at a receiving school, things went south. The displaced students performed poorly on standardized tests, and their new peers at the receiving schools also suffered academically.
Steinberg believes that in these cases the district was merely replicating the conditions that had plagued the now-closed schools — a result that seemed to hurt all involved.
"By virtue of closing those schools you're effectively moving this economic and educational disadvantage to other school settings," he said.
These findings do point to a potential solution.
When closing schools, districts can relocate students in smaller numbers to higher-performing schools and expect improved results. Steinberg also thinks officials should consider taking the money saved on school closures and routing it to schools that receive displaced students.
"Districts and schools really need to think about additional resources to help incorporate those students into new school settings," he said.
It would, however, be difficult to strategically relocate students in the method described above without running into another problem hinted at in the study.
Many of the closed Philadelphia schools were in poor parts of North and West Philadelphia. The relatively wealthy Northeast, for instance, had no school closures. Moving students from closed schools to high-performing schools — and doing so in small batches — would almost certainly require long bus rides.
Steinberg and his co-author, Penn criminology professor, John MacDonald, found that displaced students racked up more absences and suspensions the farther they had to travel from their closed schools.
Those poor behavioral outcomes didn't seem to matter much academically, but Steinberg says they're worth noting.
District officials say they met with the study's authors well before it was released and that the "recommendations and takeaways were noted," according to spokesman Lee Whack.
In particular, Whack said, district leaders learned that receiving schools needed more support and more help trying to rebuild school culture.
"The reality of school closures was much more complex than policymakers anticipated," he wrote in an e-mail.
—
This story has been updated to include comment from the School District of Philadelphia.
WHYY is your source for fact-based, in-depth journalism and information. As a nonprofit organization, we rely on financial support from readers like you. Please give today.